Everybody wants to get a good deal. I think that is just good common sense, and second nature to some people. I do know some people who will buy a second clothing iron because it's a 'good deal'.
But was it a good deal?
You can get something like that at a 100% discount by not paying for it at all. So in some cases, a good deal can cost you something, like extra space in the closet. I wonder how many 'good deals' are sitting in storage rooms soaking up a monthly rent for extra space?
Owning stock does not take up space like that. It does take up space in your total capital. It is important to think about that capital being used to earn more money over time. Those earnings are just as important of an aspect as price on a Dividend Growth stock. You know you can count on those earnings much more than you can count on price. So when waiting for a 'good deal' you are not able to earn new capital.
I want to try to understand the advantages and costs of waiting to purchase a dividend growth stock at a better price. Let's look at that.
When I think of growing stable dividends, I think right away of compounding, but for this math-centric idea, we are not going to do any re-investments, because one side of the comparison is waiting around for a better price, and the other side is theoretical.
Yeah, theoretical.
Setting up the case.
Time is money when owning a Dividend Growth, or 'DG' stock; that's easy to understand and it's easy to know how much money. If you own $10,000 of DG stock paying 4%, with a DGR of 7%, then you have about the long term average of the S&P 500 going on for total return.
So that asset, if it's a blended portfolio or a stock like Philip Morris (NYSE:PM), would pay $400 the first year and then $428 the next year and then $458 the next year and so on.
Let's keep going. If you had the $10,000 sitting there not owning the asset, it would cost you the opportunity of those same amounts. If you could buy a dip it be great. However, it would useless and risky to buy that dip if it had a smaller advantage than the money you could have made just owning the asset from the start. Also on that point, buying dips has the same ratio of success that selling tops has. It just can not be done perfectly.
How much of a dip do you need to make it worth it? Yeah, my head started spinning about now as well. But let's keep going.
To work this one up, we need to know what dips are worth in terms of yield. Now $10,000 can get you 100 shares of stock ABC at $100 each. Each share putting off $4 would give you a round $400 bucks in a year. In the case that the same $10,000 waited (mojitos will help) for a 10% pull back in price, then if would look like this.
$10,000 will buy 111 shares at $90, these shares would payout $444 per year in dividends giving you a yield of 4.44%.
This simply means that a 10% price drop gives you an 11% dividend boost. Let's set up the math that captures that. In order to get a certain boost in dividend, I need more shares. Well, each share is worth $4 so to get an extra $44 I need 11 more shares so:
$10,000/111 = $90 (a 10% discount)
If you want the double the dividend then you need twice as many shares:
$10,000/200 = $50 (a 50% discount!)
That was simple so let's add the theory. This is were I start saying "IF"......
If you had an extra $400 bucks for holding that stock for a year that would be great, and in this example, it would be worth 4% APY into perpetuity, or $16 per year. That is much less that the $44 boost we got from waiting for that 10% dip. But not by much. How much dip would give us better than $16 per year into perpetuity and thus be worth waiting for?
In order to be better than simply holding the asset for a year (extra $400 dollars in your account), you would have to buy that stock after a price drop of 3.85%.
Remember from above we need to beat that $16 into perpetuity, so we need to get at least four extra shares at a $4 per share dividend rate.
$10,000/104 = $96.15
Which is a discount of:
$100-$96.15/$100 = 3.85%
At this point, I want to take that mind numbing string of dollars and percentages and drop it into a number chart. We have to ramp up the dividends to show the perpetuity value of a growing yield, and we have to escalate the share price by the dividend growth rate to give us the proper bias. Re-investment is not appropriate, but it would shorten the time frame and suggest even more aggressive purchasing activity.
This chart shows a $10,000 investment in 100 shares an example stock, at $100 per share. The yield at purchase is 4% and the simple non-compounded dividend growth rate is 7% per year.

Source: www.piermoney.com
I made up some fancy names here, but I think it makes sense. The first line, or Year 1, is the super short chart version from my discussion above. Look at the last two columns, that is where the action is.
The column second from the right end shows the size of price dip needed to equal parity between collected dividends and advantage of more shares.
The last column is the fun one, and we can argue about it. If a stock is increasing its dividend and has enough quality to its business, then history tells us that the price will be moving up too. In fact the dividend growth rate is 90% correlated to the price growth, read here. So I have adjusted the last column to show a simple 7% increase in price each year, the same growth as our dividend pay out. What that gives you is an estimate of the dip you will need from the price after it moves up on fundamental evaluations.
If you wait three years to buy a 4% APY (7%DGR), you will have to buy after a price drop of 25% to gain any advantage from your waiting. Might not happen.
Let's take a minute to apply this to General Mills (NYSE:GIS). I have not been able to identify a dip of greater than 13% since March 13, 2009. It looks like 10% dips in General Mills are pretty rare too, about twice in five years. That means it's not worth taking the chance to wait 2.5 years for a 10% drop in GIS, because after waiting that long, you need a 14% dip to equal the earnings power of dividends collected over that time frame. You might not see that kind of dip in price, so for a low beta stock like GIS, your price drop expectations need to be smart. Yes, I know that GIS does not pay 4% yield, but it was much closer to that point in 2009. See below.
5-year Chart of General Mills, for Yahoo Finance.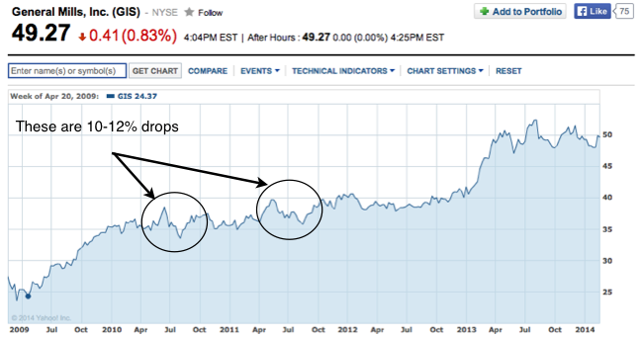 Wrap Up:
Other things are very important to consider. If an investor is losing capital to living expenses while waiting for a pull back, it can be a huge problem. I consider the "4% withdrawal plan" touted for retirement plans to be a problem like this. You need money to earn more money, and getting 4% of new capital each year can be done with out waiting at all, and you can never invest money after you spend it.
Also, the higher the yield, the more expensive waiting is, and the faster the company is growing, the more waiting costs you.
Lastly, it seems to me that many people are watching the market and imagining another 2008/2009 happening again. How long should you wait for that dip? I'm showing 5 years in my example, after that wait you will need a 50% correction to make up for all the work the dividends could have done for you.
Lastly, none of this has considered re-investment of dividends, which does not seem fair in this case, because we are trying to quantify a future purchase with cash.
Just my thoughts, but I think waiting for dips is a good idea, waiting more than two years is pretty risky from a pure income sense. The standard deviation for any single stock could be applied to quantify the chances of hitting an advantageous low point even further. That's client side research. You people do your due diligence and get started.
Disclosure: I am long GIS. I wrote this article myself, and it expresses my own opinions. I am not receiving compensation for it (other than from Seeking Alpha). I have no business relationship with any company whose stock is mentioned in this article.