The share price of Citigroup (NYSE:C) has traded off 13% since reaching its 52-week high of $55.28 in early January, which was primarily driven by the market's concern on the bank's exposure to the worrisome emerging markets. In my view, I believe the negativity on the stock is overblown and the resulting cheap valuation presents a great buying opportunity, with potential upside driven by an identifiable near-term catalyst and continued growth in fundamentals.
Owing to the recent price weakness, Citigroup now trades at 8.6x 2015 forward P/E multiple, which is at a whopping 45% discount to the same multiple of the S&P 500 Index at 15.6x (see chart below).

I view the magnitude of the valuation discount to be stretched as 1) the valuation discount averaged at 35% in the past 12 months and 2) Citigroup's consensus long-term earnings growth estimate of 7.5% is not that far off from the average estimate of 8.9% for S&P 500 companies. By factoring in the earnings growth potential, Citigroup trades at just 1.2x, compared to S&P 500's 1.7x.
Comparing to the banking comps, the stock's forward P/E and PEG ratios are 24% and 15%, respectively, below the comps averages. Citigroup now trades below its book value and tangible book value, and these valuation multiples are at more than 50% discounts to the comps benchmarks (see chart below).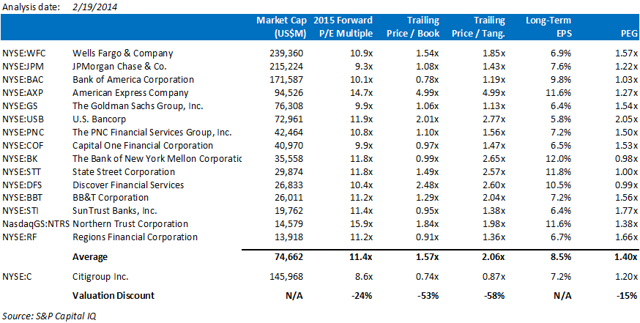 Why do I believe that Citigroup's emerging market concern is exaggerated? Firstly, the fact that a bank trades at below its book and tangible book values already suggests a very bearish investors' outlook on the bank's ability to generate sufficient return on equity. Given that management has guided a 10% return on tangible equity target by 2015 (which is fairly close to the comps current average) and that the stock still trades at such low valuations, the market likely expects Citigroup to take a significant hit from the emerging market slowdown. Secondly, I consider Citigroup's exposure to emerging market risk is likely less than what the market perceives. Although the bank generates approximately 40% revenue from emerging markets, its loan exposure to the "Fragile 5" (i.e. India, Brazil, South Africa, Indonesia, and Turkey) only totals at no more than 6%, based on JP Morgan's estimates. Of the 5 countries, the bank has the largest exposure (about 3%) to India, but more than half of that exposure is in the global transaction service business, which is less risky than other corporate and consumer loans. The bank then has the other 3% loan exposure to Brazil, and less than 1% to each of South Africa, Indonesia, and Turkey. According to an estimate from Bank of America Merrill Lynch, even with Citigroup's 4 largest emerging markets (i.e. Mexico, Korea, Hong Kong, and India) posting peak losses all at once, the bank's EPS would only take a 7% hit and its tangible book value could still grow by 11% year-on-year.
Given the above, I believe any positives coming out from the bank's emerging market operations down the road would post a solid surprise. I recommend buying shares before the March stress test, as the results would likely show a better emerging market position than the market currently imagines.
Further down the road, I expect the bank to continue benefiting from a favorable macro backdrop in the U.S. Continued improvement in employment and housing markets would support Citigroup's consumer banking and lending business. As capital market activities (i.e. M&A and corporate borrowings) are expected to be robust in 2014 and interest rate is riding on an uptrend, the bank's capital market revenue and net interest income are likely to experience healthy growth.
In a recent investor meeting, management revealed their bullish view on their card business. Owing to effort in the past 3 years to reposition product offerings and investing in core capabilities, the card business has achieved an efficiency ratio of 41% and generated 33% return on Basel III capital. Given that the business has just passed the initial redevelopment phase with heavy spending, I expect operating leverage to continue benefiting profitability going forward.
It appears that technical price support has formed at slightly above $45 since early 2013, and this would help limiting price downside (see chart below).

In summary, Citigroup is a compelling buy right now given that the share price is overly discounted due to the market's exaggerated assumption on the bank's emerging market exposure. Buyers could potentially benefit from the March stress test results and the bank's continued fundamental growth.
All charts are created by the author, and data used in the article and the charts is sourced from S&P Capital IQ, unless otherwise specified.
Disclosure: I am long C. I wrote this article myself, and it expresses my own opinions. I am not receiving compensation for it (other than from Seeking Alpha). I have no business relationship with any company whose stock is mentioned in this article.