Two Harbors Investment Corp. (NYSE:TWO) is a mortgage REIT. Its objective it to provide attractive risk-adjusted returns to its stockholders over the long term, primarily through dividends and secondarily through capital appreciation. It invests in Agency RMBS, Non-Agency RMBS, prime nonconforming residential mortgage loans, credits sensitive mortgage loans, and mortgage servicing rights. Other financial assets comprise about 5%-10% of its portfolio. It is externally managed and advised by PRCM Advisers LLC, a wholly owned subsidiary of Pine River Capital Management LP. It currently pays a 10.41% dividend.
In Q4 2013 the yield on the 10 year US Treasury Note rose from 2.61% on September 30, 2013 to 3.03% on December 31, 2013 (+42 bps). Normally this would be expected to hurt the book value of most mortgage REITs, especially those with significant fixed rate Agency RMBS holdings. However, Two Harbors managed to increase its book value in Q4 2013 from $10.35 per diluted share as of September 30, 2013 to $10.56 per diluted share (+$0.21 per share) as of December 31, 2013. Plus TWO paid a $0.26 per diluted share dividend for Q4 2013. This was a return on book value for the quarter of $0.47 per diluted share or 4.5% (18% annualized).
TWO was able to accomplish this by use of a diverse portfolio (see table below).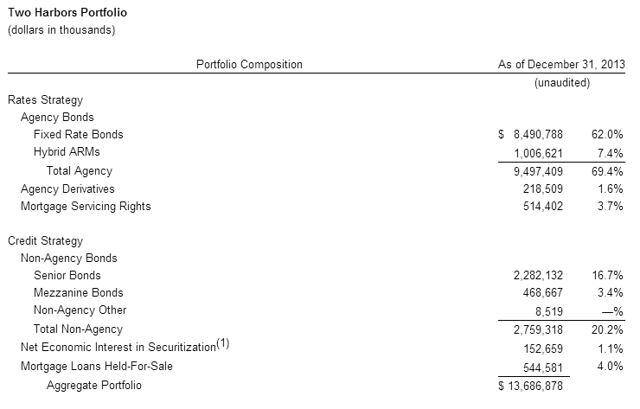 TWO still has 62.0% fixed rate Agency MBS. Yet it still managed to grow its book value in Q4 2013, when many fixed rate Agency RMBS investment companies lost book value. The table of portfolio metrics below give some insight into how each part of the portfolio performed in Q4 2013.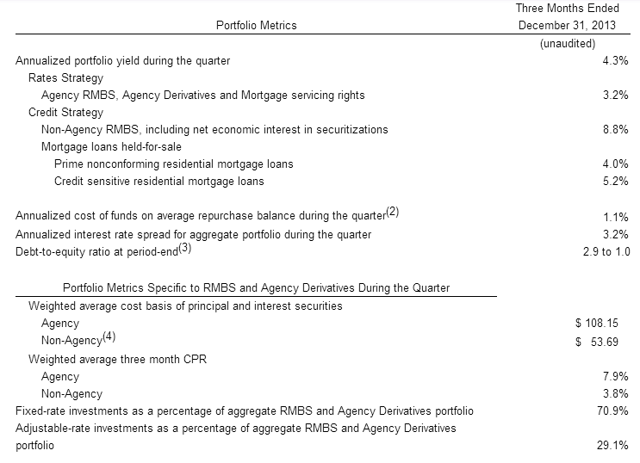 One of the significant items above is the weighted average cost basis of Non-Agency MBS of $53.69 (or less than 54% of face value cost). This means there is a lot of profit potential in this area as long as the real estate market continues to improve.
For Q4 2013 TWO had Comprehensive Income of $171.4 million (or $0.47 per diluted common share). TWO reported Core Earnings of $76.4 million (or $0.21 per share). TWO generated an aggregate yield of 4.3% in its portfolio. For FY2013, TWO had Comprehensive Income of $327.3 million. TWO delivered a return on book value of 10.4% for FY2013. It appeared to lose book value ($11.54 at 2012E to $10.56 at 2013E); but the $1.01 per share dividend for the Silver Bay stock payout amounted to a dispersal of book value. Aside from that, TWO had other dividends of $1.17. These, along with the +$0.02 per share increase in book value, amounted to a 10.4% return on book value. For a mortgage REIT, especially one with considerable fixed rate Agency MBS, this was excellent performance for FY2013, which was a very tough year for MBS investing.
In fact since its inception in 2009, TWO has far outperformed the Pine River Mortgage REIT Index (see chart below).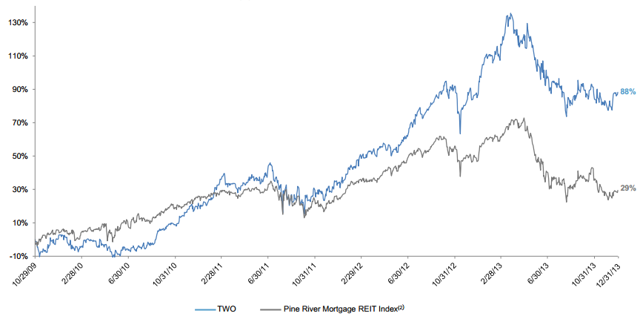 As readers can see, TWO generated a total stockholder return of 88% from October 29, 2009 through December 31, 2013. During the same period, the Pine River Mortgage REIT Index had a total return of only 29%. TWO's result is significant outperformance. It indicates good management over a sometimes troubled period.
Looking forward, the CoreLogic Home Price Index increased 11% in December 2013 versus December 2012. Home prices were down -0.1% in December 2013 versus November 2013; but this might be just a seasonal movement. The above will hopefully mean that TWO's non-Agency holdings should do well in 2014. They had an 8.9% net interest yield in Q4 2013. Plus they should gain book value as time goes on as they are currently on the books at a $53.7 cost basis (53.7% of face value). An improving or even a flat real estate market will virtually ensure good book value gains. Their Q4 2013 average CPR (constant prepayment rate) of 3.8% was a significant improvement from Q3 2013's 4.8%. If TWO's non-Agency average CPR can stay low, that should help too. In addition, the Fed will probably not allow the US housing market to fall appreciably in the next 2-3 years. This means TWO's non-Agency investments are that much safer. It means they are likely to be highly profitable.
The table below shows some important metrics for both the Agency and non-Agency portfolio holdings.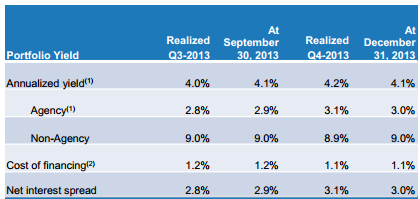 The implied Debt-to-Equity was 3.1x at the end of Q4 2013. The weighted average Agency CPR was 7.9%, which was down from 8.7% in Q3 2013. The weighted average cost basis for the Agency MBS was $108.2 as of Q4 2013. This represent perhaps more risk than you want, but it also represents stability if the interest rates don't move too quickly in the near term. Further, the largest percentage of these are 4%-4.5% 30 year fixed rate Agency MBS. These have less extension risk than MBS of other mortgage REITs.
TWO is well hedged with a notional value of $14.425B in interest rate swaps. With an aggregate portfolio of $13.687B, TWO is perhaps over hedged. This is part of the explanation for TWO's good performance in Q4 2013. However, the 10 year US Treasury Note yield has fallen from 3.03% on December 31, 2013 to 2.71% as of this writing on February 19, 2014 (-32 bps). This could mean that the hedges will be slightly costly in Q1 2014. We will have to wait to see.
TWO has been building its MSR (mortgage servicing rights) business. In Q4 2013, TWO completed a substantial bulk purchase of MSR from Flagstar Bank. There was an unpaid principal balance of $40.7B. The purchase price was approximately $500 million. TWO also announced a two-year flow agreement with PHH Mortgage Corporation. TWO gained Federal Home Loan Bank of Des Moines membership for TWO's subsidiary TH Insurance Holdings Company LLC. This should provide a diversified funding source, and it will increase portfolio flexibility through a variety of products and services provided by the FHLB.
All told, TWO still has some risks, but it has performed better than most other mortgage REITs over the past year. There is every expectation that it will continue to do so. TWO is a buy.
The two year chart of TWO provides some technical direction for a trade.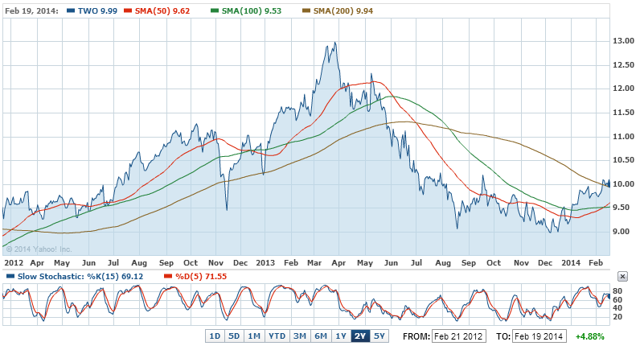 The slow stochastic sub chart shows that TWO is near overbought levels. The main chart shows that TWO had endured a downtrend since early in 2013. That downtrend appears to have bottomed in late 2013, and the trend is now headed upward. The good results of Q4 2013 should do nothing to halt this progress. TWO (looking at the Silver Bay dividend payout as a book value payout) had effectively no loss of book value in FY2013. Since FY2014 appears at this time likely a much better year than FY2013, a reasonable expectation would be that TWO will grow book value. Plus it will pay an approximate 10% dividend. It sounds like a great investment.
When readers realize that TWO's stock price of $9.99 is $0.57 (5.7%) below TWO's current book value, they must realize that TWO is a good investment. Mortgage REITs often trade at a 1.0x - 1.2x premium to book value. Thus the stock price could gain roughly 25% based on the current book value alone. TWO pays an approximately 10% dividend on top of that. That's a potential 35% return on your money without any increase in book value. With an increase in book value, the return for FY2014 may be even higher. TWO is a buy. CAPS gives it four stars (a buy). Even Insiders (+2.9% in the last six months) and institutions (+9.14% in the prior quarter to this quarter) are buying TWO. Readers may wish to join the parade.
NOTE: Some of the fundamental fiscal data above is from Yahoo Finance.
Good Luck Trading.
Disclosure: I have no positions in any stocks mentioned, but may initiate a long position in TWO over the next 72 hours. I wrote this article myself, and it expresses my own opinions. I am not receiving compensation for it (other than from Seeking Alpha). I have no business relationship with any company whose stock is mentioned in this article.