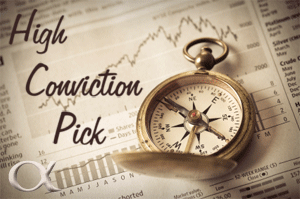 Shawn Kravetz is president of Boston-based Esplanade Capital, which focuses on capital management for a small number of families, private investors and institutions - primarily in retail, consumer products, casino gaming, business services, education and solar power. Before founding Esplanade Capital, Shawn held positions at The Parthenon Group and The CML Group.
Seeking Alpha recently got the chance to ask him about his current single highest-conviction stock.
What is your highest-conviction stock position in your fund?
Our pick is Corinthian Colleges (NASDAQ:COCO).
We invested in postsecondary education the day I launched our fund on Jan. 1, 2000. The first stock we bought at the time was the Apollo Group (NASDAQ:APOL). Their old CFO, Kenda Gonzales, used to answer the phone on the first ring because they didn't get too many phone calls at the time even though they were nearing $1 billion in market cap. We had always loved the sector and the company. They had "stalled" in Wall Street's eyes, because after years of strong growth they were reinvesting in new campuses, leading to softer near-term earnings growth (but more long-term value). It was roughly a ten-bagger from there.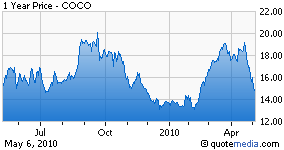 At the time, postsecondary stocks were misunderstood and barely followed. Today, after a decade of vicissitudes, they are just misunderstood. Which brings me to Corinthian Colleges.
We have owned Corinthian off and on over the years. In the early part of the decade, we tolerated less than stellar management and controls because we believed the potential reward outweighed the risks. We were rewarded. As risks and multiples grew in the face of increasing challenges, we were happily on the sidelines.
They are a for-profit education company which operates about 100 campuses in the United States and Canada, offering short-term diploma and degree programs, vocational in nature, in career fields such as healthcare, automotive, business and criminal justice. They do this well at prices north of those at community colleges, but less than the typical not-for-profit private university.
The financial crisis of 2008-2009 gave us the opportunity to buy Corinthian and some of their peers when they were, by and large, all abandoned as "financials." While we acknowledge some logic there, we remained confident that government financing would endure and that well capitalized companies would continue to thrive.
In recent years, we had become impressed with Corinthian's new management and the business operations. While their turnaround took an awfully long time, it has happened and we are seeing dramatically improved results today. We believe there is considerably more gas in the tank for the future.
It has, admittedly, been a great time to be a provider of this type of education. High and rising unemployment has been a great boon to companies like Corinthian, enabled by government-sponsored loans.
After their Q2 results just over three months ago, we had a rare opportunity to buy the stock after they reported stellar news, yet at prices below where they were prior to the announcement. The stock rebounded smartly, from $14 to almost $20, but has quickly retrenched back to $15 due to hysteria about potential government regulation.
Can you describe the company's competitive environment? How is this company positioned vis-a-vis its competitors?
The competitive environment is challenging, yet for-profits, operated as businesses, have demonstrated their ability to gain share from not-for-profits. As a relatively small percentage of the overall market, this has allowed substantial growth without constant stepping on toes of for-profit competitors. This is getting harder as for-profits get larger and not-for-profits get better at serving the needs of their "customers"—that is to say, students and the companies that hire them.
Corinthian offers solid programs that enable their students to reap a positive return on their education investment. While there are always examples of students who cannot find employment or who take on substantial debt, the value proposition is compelling and Corinthian does a good job. In tough economic climates, no school can guarantee employment after graduation. Moreover, private not-for-profit institutions and even state schools have been notorious for raising tuitions.
In this environment, no school is a panacea. The question is whether Corinthian offers fair value and a reasonable likelihood of advancement (not to mention personal fulfillment). We believe they generally deliver on that value proposition.
What is the current sentiment on the stock? How does your view differ from the consensus?
At a recent "idea dinner," several celebrated hedge-fund types unanimously derided all of these "types" of schools as frauds. While there have been and will continue to be regulatory issues (not unlike the, ahem, banking world), we believe this is absurd. If I may also generalize, many Wall Street types assume that everyone went to Princeton…and if they didn't, then surely the local community college was more than adequate.
Apart from being incredibly arrogant and out of touch, this is wrong. Ironically, many community colleges fail prospective students when the students need them most. Many schools are forced to cut offerings and raise prices in economic downturns… just when they are seeing demand for their offerings grow. For-profit institutions fill this gap well, generally offering quality educations to aspiring students who need education to advance their employment prospects.
Sentiment toward these stocks is remarkably negative. Recently, strong earnings have been largely ignored while people have clung to every sound bite and rumor out of Washington. While we are acutely sensitive to the range of possible deleterious regulatory outcomes, we are encouraged by the pathology of the "news" reports.
For example, last week the stocks were by and large crushed in reaction to "reported" comments by Bob Shireman, the Deputy Undersecretary of Education. This week we have the transcript as opposed to the rumors and while he did in fact mention selected for-profits by name, he mentioned them in a positive fashion. Mr. Shireman and the DOE do represent credible regulatory risks to the sector, but we continue to believe that the rewards greatly outweigh the risks. I have yet to see any retractions from the pundits….
If you believe that unemployment is about to fall precipitously, then, while I could argue that Corinthian can still thrive in that environment, COCO probably is not for you. However, if, like us, you believe that unemployment will remain stubbornly high (even if it moderates slightly) and that wage growth/advancement will remain subdued, then COCO can continue to boom. This is why we are cuckoo for COCO.
As a final note on sentiment, it is interesting how generally bearish both value and growth investors are on the sector. It is the value contingent that most interests me. The same folks who joined me out in Omaha this past weekend for the Berkshire Hathaway (NYSE:BRK.A) annual meeting claim that these companies are frauds/losers/worthless. Berkshire is a major investor in the sector through the Washington Post (WPO), much of whose value is derived from their postsecondary assets like Kaplan. Interesting…
Does the company's management play a role in your position? If so, how?
The Berkshire weekend is a great segue, because as was reiterated so many times in Omaha, management is key. Happily, many of these companies have upgraded their management significantly in recent years and COCO is no exception. Their management is solid and up to the task of growing the business in a highly regulated environment.
Can you talk about valuation? How does valuation compare to the competitors?
The company has recently guided to 15% EBIT margins. Given their larger base of business in their fiscal 2011 thanks to the Heald acquisition, even modest organic growth at this margin structure (which we view as conservative) leads to substantial EPS and cash flow growth.
Though we think that the company will be able to leverage the acquisition and drive organic growth through share gains, it is wise to start with a zero-based organic growth scenario which, if planned for, could still drive meaningful earnings gains. This results in a P/E ratio under 9, with terrific cash flow generation. This is very roughly half of the peer average (admittedly comparing some apples and oranges).
Consensus EPS for this coming year is just shy of $2, implying a 7.5 P/E. Our analysis suggests somewhat north of $2 in earnings power, leading to handsome year-on-year growth and a multiple potentially well under 7. More important, for our analysis, we can see an enterprise value-to-EBITDA of roughly 4, and potentially approaching 3. Given their capex, this is a remarkably cheap cash flow multiple and less than half of its peer valuation (in some cases a fraction of its peer group multiple).
What catalysts do you see that could move the stock?
What could go right?
The business could continue to perform as the regulatory panic subsides (but does not necessarily go away) and receive a reasonable multiple for doing so.
COCO could allocate capital much more aggressively than in the past. They could initiate a dividend to return some of their prodigious cash flow. They could buy back a large amount of stock with their ample cash flow. They could continue to make wise tuck-in acquisitions.
Finally, they could go private in either a leveraged buyout or strategic deal. In our history, we have sold several education stocks into buyouts, including Argosy Education to Education Management (NASDAQ:EDMC), Concorde Career Colleges in an LBO, Quest Education to Kaplan/Washington Post (WPO), Whitman Education to Career Education Corp. (NASDAQ:CECO), and Education Management in an LBO. These are cash-rich, stable growth businesses that are well understood by the private equity world. Corinthian could be a marvelous addition to selected larger for-profits, or could be a nice LBO in its own right. Our LBO/takeover model suggests a potential value of as much as $25-30-plus per share to an ideal buyer.
What could go wrong with this stock pick?
We think of five risks to our thesis, from least likely/damaging to most:
Employment markets improve dramatically and quickly, dampening demand and earnings power. I won't spend a lot of time on this one.

The regulatory environment does not lead to concrete business impediments, but the cloud keeps a ceiling on multiples. This is certainly possible, but we have seen these clouds lift before and we have also seen concerted private equity activity as a safeguard, greatly mitigating this potential outcome. The current Obama administration DOE focus on the sector makes this ongoing risk more important than in recent years.

Gainful employment regulations are being discussed/debated/implemented. The government is, in effect, putting restrictions on the levels of debt expense and/or completion/employment for beneficiaries of Title IV financing. There is a broad range of potential outcomes. "Passion" degrees such as culinary are most at risk, and these combine the worst of both worlds - large tuition expense and relatively modest average salary upon graduation. With that said, interestingly, historical default rates for many passion degrees have been quite low, making some of the proposals a solution in search of a problem. Regrettably, this is a fact of life in any sector which relies on the largesse of government. Corinthian does have some potential exposure, but given their focus and metrics, we are comfortable with this risk. We will know more later this summer.

There are company-specific regulatory hiccups that stop short of myocardial infarctions, but remain business and valuation constraints. The most recent report from the DOE accusing Everest College Phoenix of evading financial aid requirements is one such example. The company, a division of COCO, has denied wrongdoing and this represents only roughly 5% of enrollments, but these are real risks.

Cohort default rates are a very serious issue facing the sector. The history and mechanics are quite complex, but understanding CDRs is essential to understanding the companies and ultimately the stocks. Satisfying these requirements is essential to maintaining the lifeblood of Title IV funding. Instead of taking an hour and walking through the various scenarios, I will state a summary view which oversimplifies the situation but makes my point. IF Corinthian's default rates continue to get worse as the economy gets "less bad" AND IF management is not successfully able to mitigate this through an intensive effort they have undertaken, AND IF the company is sanctioned and put on provisional status, AND IF the company is not able to remedy the situations while under "probation," THEN they will likely lose their Title IV funding sometime around or after 2014. This outcome would be disastrous (but would not necessarily mean the company was then worthless—in fact it would likely still have substantial value). With that said, at current valuation levels, it is possible that they would have generated cash equal to the current enterprise value BEFORE that date if such a doomsday scenario were to occur.
These risks are indeed sobering and real. With that said, the stock in our minds prices in a very dire - and extremely unlikely - outcome. We have great conviction in Corinthian Colleges and expect to be rewarded for understanding and taking these risks.
Thanks, Shawn, for sharing your thesis with us.
Disclosure: Esplanade Capital LLC and its affiliates have long positions in Corinthian Colleges (COCO), Career Education (CECO), and Bridgepoint Education (NYSE:BPI).
Read more High Conviction Picks »
If you are a fund manager and interested in doing an interview with us on your highest conviction stock holding, please email Rebecca Barnett.