Last week we correctly forecast that U.S. retail sales would be heavily hit by the cold snap. Since then, there has been a litany of weather-related bad news - U.S. industrial production has decreased, mortgage applications have fallen, housing data disappointed, and even restaurants are struggling. The full extent of the weakness may have surprised many, but investors often underestimate the ripple effects of a supply chain interruption. This environment is evocative of Japan's 2011 earthquake and tsunami, which threw the global supply chain into such disarray that it caused an 11 percent decline in U.S. auto sales in the middle of that year.
Economic weakness may lead some investors to think the Federal Reserve might act, but policymakers are unlikely to alter their current tapering course based on short-term economic swings. Nevertheless, in the coming weeks, market jitters could push 10-year U.S. Treasury yields lower as it becomes apparent just how badly the economy has stalled.
The good news is that this is likely only transient noise, and that rising temperatures in March and April should revive everything from auto sales to factory activity, helping the U.S. economy return to its improving trend. Pent-up consumer demand should re-accelerate growth in the spring after this short, sharp pain, setting the United States on course for solid growth in 2014 of 3.5 percent or more.
Given underlying economic strength, the recent upside breakout of the New York Stock Exchange's Advance/Decline Line adds to expectations that U.S. equity prices will continue rising over the next three to six months and that U.S. bond spreads should tighten further.
U.S. Rebound Likely After Weather-Depressed January
Economic data for January continues showing the negative effect of unusually cold weather in much of the United States. However, the weak data is likely temporary, and should reverse once weather returns to more normal patterns. Based on past experiences where cold weather depressed retail sales in January, there could be a meaningful rebound in consumer activity in the coming months as pent-up demand is released.
RETAIL SALES, LEVEL IN DECEMBER=100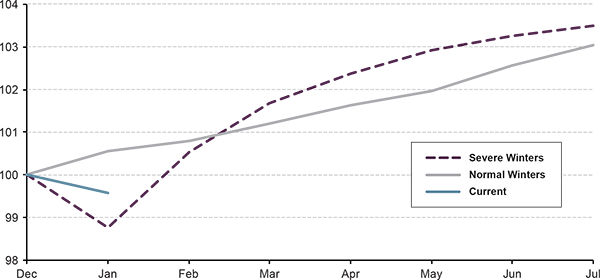 Source: Haver, Guggenheim Investments. Data as of 1/31/2014. *Note: Severe winters have Januaries in which the deviation of heating degree days (a measure of temperature) plus the deviation of precipitation is greater than 10 percent and retail sales are negative - something that has occurred five times since 1978.
This material is distributed for informational purposes only and should not be considered as investing advice or a recommendation of any particular security, strategy or investment product. This article contains opinions of the author but not necessarily those of Guggenheim Partners or its subsidiaries. The author's opinions are subject to change without notice. Forward looking statements, estimates, and certain information contained herein are based upon proprietary and non-proprietary research and other sources. Information contained herein has been obtained from sources believed to be reliable, but are not assured as to accuracy. No part of this article may be reproduced in any form, or referred to in any other publication, without express written permission of Guggenheim Partners, LLC. ©2014, Guggenheim Partners. Past performance is not indicative of future results. There is neither representation nor warranty as to the current accuracy of, nor liability for, decisions based on such information. Past performance is not indicative of future results. There is neither representation nor warranty as to the current accuracy of, nor liability for, decisions based on such information.
Disclosure: I have no positions in any stocks mentioned, and no plans to initiate any positions within the next 72 hours. I wrote this article myself, and it expresses my own opinions. I am not receiving compensation for it. I have no business relationship with any company whose stock is mentioned in this article.