Emerging market equities have had a tough ride over the last several years. In fact, through the end of 2013, the iShares MSCI Emerging Market Equity ETF (NYSEARCA:EEM) has a 3-year annualized performance history of -2.67%. That's certainly not a number that inspires a great deal of confidence, especially when you consider that the iShares Core S&P 500 ETF (NYSEARCA:IVV) has posted a 3-year track record of +16.10% over the same time frame. Clearly the hot money has been chasing domestic equities over stocks in emerging nations.
While many market watchers have predicted that we are going to see a rotation from high priced U.S. stocks to undervalued emerging market countries, I am still not sold on the shift just yet. Instead, I think that there is a much more attractive way to get exposure to emerging market countries with less downside risk. My preferred way to play this opportunity is through the credit markets.
The iShares J.P. Morgan USD Emerging Market Bond ETF (NYSEARCA:EMB) is the largest exchange-traded fund in this space that tracks 229 fixed-income securities in a mix of developing nations. EMB currently has over $3.5 billion in total assets and charges an expense ratio of 0.60%. One of the most attractive qualities of this ETF is its 30-day SEC yield of 5.19% of which dividend are paid monthly. The top three country allocations in EMB are Russia, Mexico, and Turkey.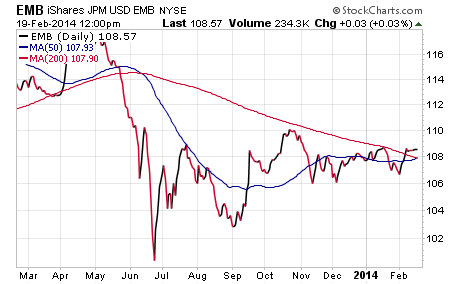 Because EMB has an effective duration of almost 7 years, it is typically more sensitive to interest rate volatility than more short-term bond funds. In fact, it saw quite a bit of volatility in 2013 when it was hit with the double whammy of rising interest rates and falling EM equity prices. However, since that time it has been able to climb steadily higher and is just peaking back above its 200-day moving average.
I recently added this holding to my client accounts as a way of diversifying our portfolio exposure to overseas countries with the expectation of future growth and income. I think that the current interest rate environment will remain accommodative in the near future and additional upside in emerging market credit will likely be fueled by the continued demand for high-yield assets with more reasonable valuations than developed nations.
When you take into account that U.S. high yield corporate bonds as measured by the iShares High Yield Corporate Bond ETF (NYSEARCA:HYG) is trading near all-time highs, it's reasonable to assume that EM bonds of similar yield and credit quality are offering a more attractive value proposition at these current levels. I expect that this divergence will eventually correct and we could see money flow into emerging markets as fixed-income investors seek more diversification overseas this year.
With so much of the exposure in EMB concentrated in sovereign debt, some investors may be looking for an alternative with more traditional corporate holdings. My favorite substitute is the actively managed WisdomTree Emerging Markets Corporate Bond Fund (NASDAQ:EMCB) which has a slightly lower effective duration of 5 years and similar yield of 5.12%. It also has more concentrated holdings in Russia and Brazil than EMB does.
No matter how you structure your income portfolio, I think it makes sense to include a position in emerging market bonds as a way to enhance your yield and seek higher returns. While there is the potential for downside risk if interest rates significantly rise or emerging markets once again experience slowing growth, I think that the risk to reward proposition is reasonable right here. As I always do, I will be approaching this sector with a risk management mindset that takes into account the need to preserve capital should the prevailing trend reverse.
Disclosure: I am long EMB, HYG. I wrote this article myself, and it expresses my own opinions. I am not receiving compensation for it. I have no business relationship with any company whose stock is mentioned in this article.
Additional disclosure: David Fabian, FMD Capital Management, and/or its clients may hold positions in the ETFs and mutual funds mentioned above. The commentary does not constitute individualized investment advice. The opinions offered herein are not personalized recommendations to buy, sell or hold securities.