The last time I wrote about E.I. du Pont de Nemours and Company (NYSE:DD) I stated, "…I'm not going to layer into my position for now and wait for a pullback." After the writing the article it dropped 4.12% in a month but then proceeded to move higher to the tune of 4.48% versus the 1.17% gain the S&P 500 (NYSEARCA:SPY) posted. It's quite unfortunate that I didn't plow additional money into the company at the time. DuPont is a diversified technology company operating in the segments of Agriculture, Electronics & Communications, Industrial Biosciences, Nutrition & Health, Performance Chemicals, Performance Coatings, Performance Materials, Safety & Protection, and Pharmaceuticals.
On January 28, 2014, the company reported fourth quarter earnings of $0.59 per share, which beat the consensus of analysts' estimates by $0.04. In the past year the company's stock is up 39.22% excluding dividends (up 42.22% including dividends), and is losing to the S&P 500, which has gained 21.05% in the same time frame. With all this in mind, I'd like to take a moment to evaluate the stock on a fundamental, financial and technical basis to see if it's worth buying more shares of the company right now for the basic materials sector of my dividend portfolio.
Fundamentals
The company currently trades at a trailing 12-month P/E ratio of 21.5, which is fairly priced, but I mainly like to purchase a stock based on where the company is going in the future as opposed to what it has done in the past. On that note, the 1-year forward-looking P/E ratio of 13.47 is currently inexpensively priced for the future in terms of the right here, right now. Next year's estimated earnings are $4.85 per share and I'd consider the stock inexpensive until about $73. The 1-year PEG ratio (1.86), which measures the ratio of the price you're currently paying for the trailing 12-month earnings on the stock while dividing it by the earnings growth of the company for a specified amount of time (I like looking at a 1-year horizon), tells me that the company is fairly priced based on a 1-year EPS growth rate of 11.57%. The company has great near-term future earnings growth potential with a projected EPS growth rate of 11.57%. Below is a comparison table of the fundamentals metrics for the company for when I wrote all articles pertaining to the company.
| | | | | | | | |
| --- | --- | --- | --- | --- | --- | --- | --- |
| Article Date | Price ($) | TTM P/E | Fwd P/E | EPS Next YR ($) | Target Price ($) | PEG | EPS next YR (%) |
| 22Dec13 | 62.71 | 21.85 | 14.55 | 4.31 | 65 | 1.77 | 12.32 |
| 20Feb14 | 65.35 | 21.50 | 13.47 | 4.85 | 73 | 1.86 | 11.57 |
Financials
On a financial basis, the things I look for are the dividend payouts, return on assets, equity and investment. The company pays a dividend of 2.75% with a payout ratio of 59% of trailing 12-month earnings while sporting return on assets, equity and investment values of 9.4%, 35.4% and 11.6%, respectively, which are all respectable values. The really high return on equity value (35.4%, which is second best in the industry) is an important financial metric for purposes of comparing the profitability, which is generated with the money shareholders have invested in the company to that of other companies in the same industry (for comparison purposes, Syngenta AG (NYSE:SYT) sports a ROE of 41.0%, and CF Industries Holdings, Inc. (NYSE:CF) sports a ROE of 29.6%). Because I believe the market may get a bit choppy here and would like a safety play, I don't believe the 2.75% yield of this company is good enough for me to take shelter in for the time being. Below is a comparison table of the financial metrics for the company for when I wrote all articles pertaining to the company.
| | | | | | |
| --- | --- | --- | --- | --- | --- |
| Article Date | Yield (%) | Payout TTM (%) | ROA (%) | ROE (%) | ROI (%) |
| 22Dec13 | 2.87 | 63 | 9.4 | 39.1 | 11.5 |
| 20Feb14 | 2.75 | 59 | 9.4 | 35.4 | 11.6 |
Technicals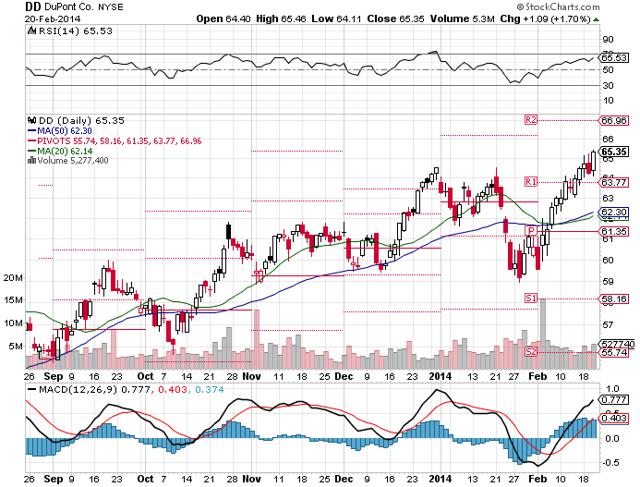 Looking first at the relative strength index chart [RSI] at the top, I see the stock near overbought territory with a value of 65.53. I will look at the moving average convergence-divergence [MACD] chart next. I see that the black line is above the red line with the divergence bars decreasing in height, indicating bearish momentum. As for the stock price itself ($65.35), I'm looking at $66.96 to act as resistance and $63.77 to act as support for a risk/reward ratio which plays out to be -2.42% to 2.46%.
Recent News
The company says the violence in Ukraine is slowing the sales of seeds. You probably didn't know this, but Ukraine is the third largest exporter of corn in the world and Dupont has a $40 million plant in the country just for the purpose of producing those seeds. The company however says that there shouldn't be any revenue effect if the delay to seed deliveries is resolved in three months time which marks the end of the planting season.
Dupont's 1507 corn genetically modified organism is set to be approved by Europe. This will be only the second GMO approved in Europe after fifteen years.
Barron's put out an article saying that Dupont should beat expectations due to the agriculture business picking up steam. The Barron's piece says that Dupont should see some 20% price appreciation due to the agriculture business segment.
Conclusion
Dupont's management team is hitting on all cylinders by initiating the spin-off of the highly cyclical portion of their business and focusing on the agriculture side of the business. I believe it is important to select stocks which are undervalued and Dupont is one of those names in this industry. Fundamentally the company is inexpensively priced based on 2015 earnings but fairly valued on future growth potential. Financially the dividend payout ratio is middle of the road and I'm hoping for a dividend increase the next time a dividend is announced in May, but the problem here is that the return on equity value is deteriorating. On a technical basis I believe the bullish momentum is getting long in the tooth and we may be due for a price drop. Due to the tiring bullish technicals, deteriorating return on equity, and fair valuation on growth potential I'm not going to be buying a position at this price.
Disclaimer: This article is meant to serve as a journal for myself as to the rationale of why I bought/sold this stock when I look back on it in the future. These are only my personal opinions and you should do your own homework. Only you are responsible for what you trade and happy investing!
Disclosure: I am long DD, SPY. I wrote this article myself, and it expresses my own opinions. I am not receiving compensation for it (other than from Seeking Alpha). I have no business relationship with any company whose stock is mentioned in this article.