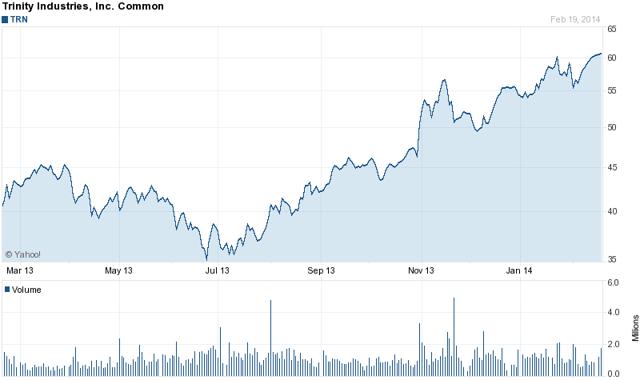 Trinity Industries (NYSE:TRN) is the leading manufacturer of railcars in North America that also operates a profitable railcar leasing service, inland barge construction, construction projects group and energy equipment group. The company's rail group segment shipped 7,280 rail cars during 4Q2013 for a total of over 24,000 in 2013. Trinity received orders for 7,125 new railcars during the quarter with strong demand from the oil, gas and chemical industry. Backlog totaled $5.0 billion for 39,895 railcars as of 12/31/13, representing over 50% of total industry backlog. The railcar segment is Trinity's largest, most profitable, and fastest growing business segment.
Twelve months ending 12/31/13

($ Millions)

2013

2012

Y/Y % change

-Rail Group

$ 2,867

$ 2,013

42%

-Rail Leasing

$ 645

$ 647

0%

-Inland Barge

$ 576

$ 675

-15%

-Energy Equipment

$ 665

$ 558

19%

-Construction Projects

$ 525

$ 483

9%

-Other Projects

$ 86

$ 81

6%

-Eliminations (Lease & Other)

$ (1,000)

$ (646)

-55%

Total Revenue

$ 4,365

$ 3,811

15%

Cost of sales

$ 3,322

$ 3,051

9%

Operating Profit

$ 772

$ 574

34%

Net Income

$ 375

$ 255

47%

EPS

$ 4.75

$ 3.19

49%
EPS Growth
Trinity hit a homerun with their 4Q2013 earnings report. Not only did they report a record quarter and year in terms of revenue and profit, but they are also projecting an even stronger 2014. The company expects 1Q2014 earnings between $2.45-$2.65 compared to $0.99 in 1Q2013. This first quarter numbers includes $1.00-$1.10 profit from railcar sales already closed during 2014 under the Company's program agreement with Element Financial. Trinity expects 2014 EPS to total between $6.30-$7.00, an increase of 32-50% over 2013. If Trinity is able to hit the higher end of their EPS estimates, they can effectively double EPS in just 2 years.
2014 Growth Factors
Strategic Alliance with Element Financial Corp.
In December 2013, Trinity entered into a $2 billion strategic alliance with Element Financial Corp. On January 28, 2014, Trinity finalized the sale of $396 million of leased railcars. The recognized profit from this sale alone will add $1.00-$1.10 to EPS in 1Q2014 alone. Element is expected to purchase an additional $500 million of leased railcars in 2014 primarily consisting of new TrinityRail manufactured railcars, the majority of which are in Trinity's current leasing order backlog. Element will spend the remaining $1 billion under the $2 billion alliance in 2015.
Safer oil tankers
As a result of the shale oil boom across North America, the number of crude oil shipments in tank cars has risen from 4,000 carloads in 2006 to 400,000 in 2013. The number of serious accidents is also rising. In July 2013, a train carrying oil derailed in the middle of Lac-Megatic, Quebec killing 47 people and leveling part of the city. On December 30, 2013, two trains collided in North Dakota creating a huge explosion and fire. The Transportation Safety Board said 18 of the 20 oil tank cars (DOT-111) had been punctured in the crash. As a result of the huge increase in oil shipments in tank cars across North America and the vulnerability of these oil tank cars in accidents, the Association of American Railroad (AAR) urged the U.S. Department of Transportation to press for improved oil tank car regulations by requiring all tank cars used to transport flammable liquids to be retrofitted or phased out, and new cars built to more stringent standards. The AAR estimates there are roughly 92,000 tank cars currently being used to transport oil and other flammable liquids and 78,000 of those will require retrofitting or be phased out as a result of their recommendations. 14,000 newer tank cars that meet the industry standard today would require certain modifications as well based on the newest recommendations.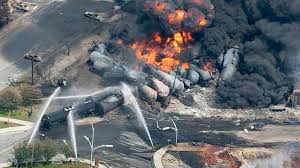 (Source: ABC News)
increase federal tank car design standards for new cars to include an outer steel jacket around the tank car and thermal protection, full-height head shields and high-flow capacity pressure relief valves;
require additional safety upgrades to those tank cars built since October 2011, when the rail industry instituted its latest design standards that today exceed federal requirements, including installation of high-flow-capacity relief valves and design modifications to prevent bottom outlets from opening in the case of an accident;
aggressively phase out older-model tank cars used to move flammable liquids that are not retrofitted to meet new federal requirements, and
eliminate the current option for rail shippers to classify a flammable liquid with a flash point between 100 and 140 degrees Fahrenheit as a combustible liquid.
The oil industry isn't waiting for regulations to force them to make these changes, many companies are already taking action to improve the safety of tankers. On February 20, 2014, BNSF stated they plan to buy their own fleet of up to 5,000 new crude oil tank cars with safety features that will meet these recommendations. While BNSF hasn't stated which company will receive the contract, it's a clear sign that companies are willing to take the lead and invest in safer oil tank cars in hopes to avoid another major accident like the North Dakota and Lac-Megatic crash. This sentiment in the industry will lead to new orders being placed over the next several years.
The Canadian National Railway Co. and Canadian Pacific Railway recently stated they would charge higher rates for customers using railcars to transport oil that were built before October 2011. While American railways likely won't take this hardline stance, it's clear change is coming to the industry as a whole.
Conclusion
Trinity Industries received a huge bounce on 4Q2013 earnings and news of BNSF's potential order. With management expecting 30%-50% EPS growth in 2014, the future looks bright. There are strong catalysts in the industry with sweeping regulations coming to the oil tank cars and companies trying to stay ahead of the game. The shale boom across North America makes the continued demand for transportation by rail a necessity and Trinity stands to benefit as a result. The transformation of DOT-111 tank cars won't happen over night, but Trinity will be busy over the next few years building and upgrading tank cars to meet stringent safety requirements. With the big bounce in stock price on February 20, 2014, investors may want to wait for a pull back before getting in on the stock.
Disclosure: I have no positions in any stocks mentioned, and no plans to initiate any positions within the next 72 hours. I wrote this article myself, and it expresses my own opinions. I am not receiving compensation for it (other than from Seeking Alpha). I have no business relationship with any company whose stock is mentioned in this article.