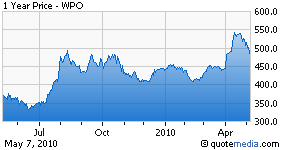 The Washington Post Company (WPO), the diversified media and education company, recently posted first-quarter 2010 results. The quarterly earnings, excluding one-time items, jumped to $4.91 per share from 41 cents delivered in the prior-year quarter.

While the company's diversified business mix is faring better than many of its publishing house competitors – Education, Television Broadcasting and Cable Television divisions – The Washington Post announced its plans to further shrink its role as a publisher.

Revenue for the quarter rose 11% year over year to $1,171.2 million, driven by revenue growth at the Education, Television Broadcasting and Cable Television divisions, offset by revenue declines at the Newspaper and Magazine divisions.

Education division delivered strong performance – revenue was up 20% to $711.4 million – which we think will continue in fiscal 2010. At the end of the quarter, enrollment totaled 119,293, up 25%.

Television Broadcasting revenue soared 20% to $73.5 million due to improvement in advertising demand in a majority of the markets, including Olympics-related advertising and political advertising revenue.

The Cable division is also performing well; revenue was up 3% to $189.4 million, driven by sustained growth in cable modem and telephone revenue, and rate increase in June 2009.

However, the weakness across Newspaper and Magazine divisions persists.

Newspaper Publishing division revenue dropped 3% to $155.8 million, driven by an 8% decline in print advertising revenue at The Washington Post due to the fall in general and retail advertising. Revenue from newspaper's online publishing activities, principally washingtonpost.com and Slate, rose 8%, whereas display online advertising revenue soared 17%. However, online classified advertising revenue on washingtonpost.com tumbled 13%.

Magazine Publishing division, whose fortunes are tied to the advertising market, also reported a decline in revenue, down 36% to $29.4 million driven by a 38% drop in advertising revenue at Newsweek.

The publishing industry has long been grappling with sinking advertising revenue, and the recent global economic meltdown has worsened the situation. This comes in the wake of a longer-term secular decline as more readers choose to get news free online, thereby making the print-advertising model increasingly irrelevant.
This has compelled many newspaper companies to undertake cost-cutting measures such as headcount reduction, pay cuts, furloughs, and closure of facilities. Recently, in December 2009, Newsweek sold its Newsweek Budget Travel magazine.

Washington Post recently notified that it has also put the Newsweek magazine, purchased in 1961, on the block as it has been incurring heavy losses for quite some time. The company has hired Allen & Company for the purpose. Another instance is the sale of struggling Business Week magazine by McGraw-Hill Companies Inc. (MHP) to Bloomberg in 2009.