First of all, since Tesla (NASDAQ:TSLA) stock jumped after reporting earnings, some people are kind of thinking that my article "Tremendous Risk Awaits Tesla Investors In Q4 2013 Earnings Release" was wrong. Nothing could be further from the truth - the article predicted exactly what Tesla reported.
It predicted both the yearly deliveries guidance:
So the question here is, what development would either validate or invalidate this new thesis? That's where the Q4 2013 report becomes important, particularly the part about forward Q1 2014 and 2014 guidance. It's easy for the company to guide 2014 towards to the expected 35,000 or 40,000 deliveries since those don't need to be produced immediately, but doubts quickly crop up if near-term Q1 2014 guidance reflects stable or lower deliveries.
Tesla guided towards 35000 deliveries in 2014.
And the quarterly deliveries guidance:
Incoming data for January 2014 Model S sales in Tesla's main markets again call into question the thesis that Tesla is production-constrained. The publicly available data regarding January 2014 sales implies lower Model S sales on all of Tesla's main markets simultaneously (when sequentially compared to Q4 2013).

With Tesla's Q4 2013 report, we'll get guidance for Q1 2014 as well as for the whole of 2014. If this guidance is somehow flat or down from Q4 2013's 6900 units, then the production-constrained thesis fails. If this happens, the stock might well suffer considerably. There is thus, tremendous risk in the earnings release for TSLA longs.
Tesla guided towards 6400 deliveries in Q1 2014, which is lower (flat to down) than the 6900 delivered in Q4 2013.
Second, what does this lowered deliveries guidance mean?
While the entire market seemed to be concentrating on the dream of growth to be, Tesla predicting lower deliveries in Q1 still has significance. Tesla knows this, and quickly attributed the lowered deliveries to cars in transit to Europe and China (Source: Shareholder letter):
First quarter production is expected to be about 7,400 vehicles, which is significantly higher than the prior quarter production of 6,587 cars. However, as the number of cars in transit to Europe and Asia must grow substantially to support those markets, we plan to deliver approximately 6,400 vehicles in Q1. Deliveries will grow dramatically in future quarters as the logistics pipeline fills.
China is a wildcard, it's hard to tell how many cars will sell there. However, the transit time between the U.S. west coast and China for seaborne freight is around 1 month. So it's quite possible that some vehicles produced in Q1 2014 would arrive in China during Q1 2014. The deliveries guidance doesn't seem to allow for any such vehicles, though.
After all, if we simply allow for flat European deliveries from Q4 2013 of around 2900 vehicles, the 6400 guidance already implies substantially lower U.S. deliveries of 3500. And that's without a single car bound for China being included! This is surprising in the sense that Q4 2013 U.S. deliveries were already at a low 4000. Think about it, 3500 deliveries is 32% below the Q2 2013 peak of 5150 U.S. deliveries!
Since Europe in this scenario would be seeing stable deliveries, there's little reason to believe that the pipeline would have to be filled from what already happened from Q3 2013 to Q4 2013. Tesla's balance sheet confirms as much, with "inventory" being rather stable when we compare September 30 to December 31: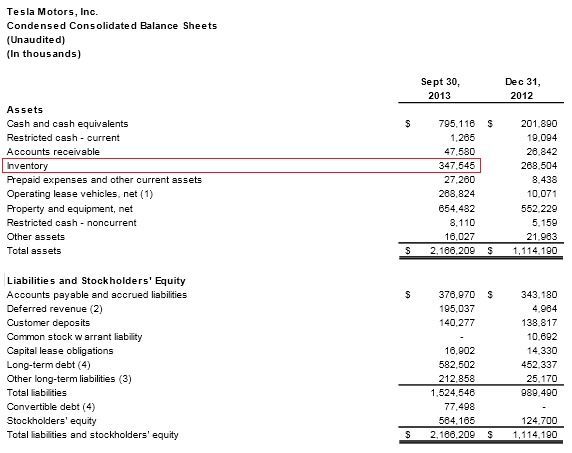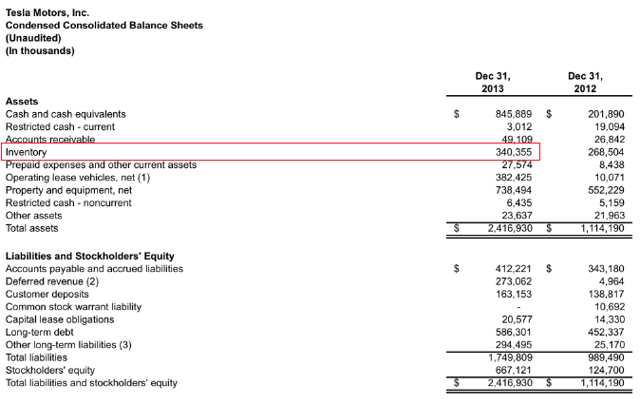 So in the end this is downright amazing, in that the stock continues to trade as if peaked U.S. deliveries and flat European deliveries weren't reality even though there's no other possible explanation. Indeed, with U.S. deliveries at 3500, not even I expect them to go much lower at this point.
Another interesting tidbit
In many ways Tesla is turning into Amazon.com (AMZN). One of those ways is how it is stopping to divulge information. First it stopped reporting orders. And in the latest quarter it stopped saying how many deliveries were bound to the U.S. and to Europe.
My own take is that orders stopped being reported when it became obvious that they were stagnating/peaking. And now U.S. deliveries have stopped being reported because they too are obviously peaked (and now stand 32% below the peak).
Luckily, we have some balance sheet data which allows us to confirm how much those deliveries might have dropped. Remember, my original estimate was for 4000 U.S. deliveries in Q4 2013. This estimate was derived from 6900 overall deliveries minus 2900 European deliveries, with the European deliveries coming from 3900 European sales in 2013 minus 1000 deliveries in Q3 2013.
Can this estimate be confirmed by another source? It can. Tesla divulges the number of U.S. cars bought with leases and resale value guarantees. This is how a balance sheet item regarding those vehicles has behaved in the last 3 quarters:

Tesla at this point is only using this program in the U.S. It will be expanding to Europe and this line will stop giving us relevant information, but at this point what we know is that cars sold with RVG in the U.S. fell 17.7% from Q3 2013 to Q4 2013. That's an even bigger drop than the 4500 to 4000 drop estimated by me (-11.1%) and thus again confirms that the U.S. is still seeing lower deliveries.
Needless to say, the 6400 deliveries guidance for Q1 2014 again confirms such drop. Indeed, if we are to see stable European deliveries, then it implies a drop towards 3500 deliveries from 4000 in Q4 2013.
Consumer deposit demand myth
Some analysts take the continuous growth of the "consumer deposit" line in the balance sheet as meaning demand is still increasing. Here's an example from the earnings call:
Andrea James - Dougherty & Company LLC, Research Division

Okay, fair enough. And then the next question. Obviously, customer deposits are up 16%, so demand looks good. But I think it will be helpful if you could address the effect on demand that was caused by the vehicle fires last fall and the subsequent media firestorm regarding all that. And then is it measurable? What did you see?
This is a myth. The consumer deposit line includes deposits for the Model X, which isn't yet being delivered. Thus, this line only expands as those deposits accumulate. It does not translate into increased demand for Model S vehicles, and indeed, Tesla says as much in the earnings call, earlier (bold highlight is mine):
Elon R. Musk - Co-Founder, Chairman, Chief Executive Officer and Product Architect

I think the biggest thing we can attribute that sort of growth to is that the Model X demand is very high. But there's a number -- obviously, we don't disclose it, but even though there's 0 marketing for the Model X -- essentially, it's like if you're going fishing, it's like the fish are jumping in the boat. We're not actually trying to sell the Model X at all, but demand seems to be remarkably high. And we're seeing a steady accumulation of Model X deposits.
How the dream is built
For speculators to be so greedy over Tesla stock, a dream has to be sold. In the case of Tesla, like in many other stories, the dream is simple so that enough people might buy into it.
These are the relevant parts from the latest earnings call where the dream is sold (bold emphasis is mine):
Elon R. Musk - Co-Founder, Chairman, Chief Executive Officer and Product Architect

Yes, but -- I mean, I should emphasize that we expect the reinvestment opportunities to be quite significant, I mean, for a long time. So our actual profitability will be quite a bit less than that. But if we would just sort of level out the business at any given point, I think something like a mid-teens type of number is very achievable.

Elon R. Musk - Co-Founder, Chairman, Chief Executive Officer and Product Architect

Right, right. I mean, the car business is truly staggeringly big. It's over $2 trillion a year in new car sales. That's just new car sales, it's not even taking into account servicing and used car sales and just accessories and all the other things. So there's just a pretty big ramp ahead in terms of reinvestment.
$2 trillion worldwide new car market. Tesla gets 10%. Tesla then runs at 15% EBIT margins. Tesla makes $30 billion in EBIT. At 10 times EBIT, Tesla is worth $300 billion or roughly 10x more than today.
It's the same logic underpinning the buying of Amazon.com at any price in spite of clear indications of structural lack of profitability and fading growth.
This dream can come true. It can happen. It's just that odds are 100:1 that it won't happen, while TSLA stock discounts odds better than 10:1 that it will.
Conclusion
Tesla investors are being sold a dream at the same time that U.S. deliveries of the Model S keep on falling from quarter to quarter, inexorably. At this point, those deliveries already look to be around 2/3rds of their Q2 2013 peak.
Perhaps Tesla will turn around and find massive new demand for the vehicle. But at this point, the delivery statistics don't paint a picture consistent with that thesis. In the coming 2 quarters, Tesla will make or break its 35000 deliveries projection for 2014. I don't believe Tesla will reach that level of Model S deliveries over the year (unless China is somehow a massive success).
It's strange for Tesla to keep on adding new geographies left and right when it supposedly cannot yet service the existing geographies. It's also strange that it would guide for lower deliveries from one quarter to the other in the face of much-expanded production.
Disclosure: I have no positions in any stocks mentioned, and no plans to initiate any positions within the next 72 hours. I wrote this article myself, and it expresses my own opinions. I am not receiving compensation for it (other than from Seeking Alpha). I have no business relationship with any company whose stock is mentioned in this article.