In today's Oxen Group market recap, What's Next For The Market, we will be examining today's important news, digesting key economic data, delving into company news that matters, charting the markets, and forecasting what we see coming next. Our focus ticker today will be Tesla Motors (NASDAQ:TSLA). Tesla is a company that The Oxen Group covers closely, and we want to take a deep, long look at their latest earnings report in the vein of our recent articles and thesis for 2014 using those as a lens to examine the success/failure of the report.
Market Overview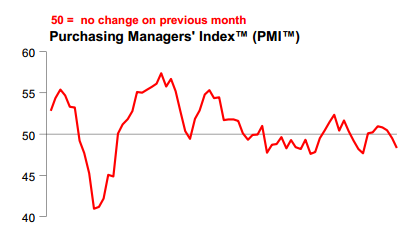 The market was surprisingly strong on Thursday, which was a bit unexpected in the early going. Stocks were down in pre-market after a round of weak data from overseas markets. China's (NYSEARCA:FXI) weaker than expected HSBC Flash Manufacturing PMI (seen above) as well as so-so Eurozone PMIs did not help futures. The market, though, ignored these concerns and rallied early before flattening out in the afternoon. Helping to lead the way were strong results from Tesla Motors' earnings as well as decent jobless claims. Economic data, though, was weak again in the manufacturing area as the Philly Fed report fell to -6.3 from 9.4, and Leading Indicators missed 0.4% expectations with a 0.3% report. Weakness here was seen in manufacturing as well as new orders for manufacturing.
We believed the most important releases were from overseas markets today. China's HSBC/Markit Flash PMI is always taken as one of the best gages of the Chinese economy as it is not state-run, and it looks at China's most important industry - manufacturing. Today's number was not outstanding, coming in at 48.3. That number dropped from 49.5 in January. The 48.3 number is below the 50-threshold, which signals growth. Now, that does not mean that the economy is not growing at a tremendous rate. What it does mean, though, is that comps are getting harder and the economy is slowing down (a natural process for any growth market/stock).
Additionally, the Lunar New Year covered mostly the early part of February, which does affect manufacturing as well. That number is somewhat shocking as well after a very strong Trade Balance and Export number that came out this month from China. Some analysts suspect that this sluggishness could get state officials to lower the reserve ratio to help open up capital markets and improve on the situation. Overall, the number was only a slight miss amidst a holiday that is nationally celebrated and shuts down many factories. It is hard to get a good sense of things in a scenario like that, and it's important to get more data.
In Europe, though, Service and Manufacturing PMIs were also looking a bit weaker. Flash PMIs for the Eurozone showed more expansion coming in at 52.7 versus expectations of a 52.9 reading. A slight dip is not a big deal here. Additionally, Germany's service PMI jumped to a 32-month high, showing a lot of strength in the private sector. France was weak, seeing a contraction in both services and manufacturing at lower rates than expected. All in all, analysts suggest this news means that GDP for the region will grow at 0.5% for Q1 - the highest level in three years. The recovery is on in Europe, but it will be painful.
At the close, the Dow Jones (NYSEARCA:DIA) is up 92 points. The Nasdaq (NASDAQ:QQQ) is up 30 points, and the S&P 500 (NYSEARCA:SPY) is up 11 points.
In Focus - Tesla Motors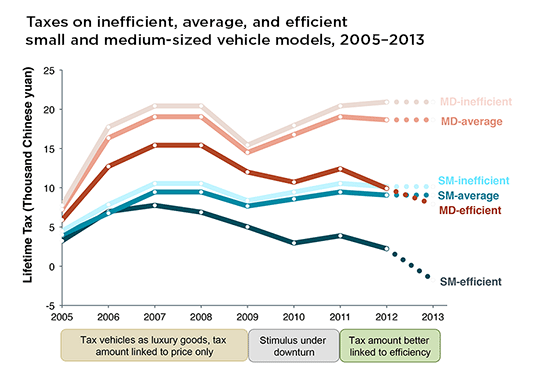 Today, in our In Focus section, we will take a deeper look into the latest round of earnings for Tesla. After what was a great building block year in 2013, this year for Tesla is all about beginning to see stronger profitability, growing in international markets, and releasing the Model X prototypes. For us, our focus on Tesla has been mostly on the remarkable vehicle delivery growth that was seen in the back half of 2013, and it is why we may have underestimated Tesla as the company exceeded our Model S sales model. Vehicle deliveries will keep growing without a doubt as Model X and Model E or Gen III are expected to release in the next 2-3 years. The second reason we are bullish on Tesla (within reason) is that Tesla's turning to China and Europe for growth. We believe the company has potential in these markets based on tax policies that benefit the company. Coming into today, however, we had questions about the success of these products based on style for Europeans as well as charging station access. In China, the pricing model is very attractive and tariffs on gasoline cars, based on engine side, makes EV attractive.
The major question for us moving forward, though, is going to be the company's execution to meet demand and grow its Supercharger network:
Speculators that believe in this company have an argument for upside at least of 20-30% from these levels, and that can be even higher when one considers Gen III potential. What it comes down for Tesla is execution. The latest results were pretty outstanding and show the company doing well with supply chain, manufacturing, and delivery - something we questioned earlier. This is a good sign for the company. Buyers need to understand, though, that the company has to be perfect to see more upside. If the Model X is not on the road in the back half of this year, the stock will drop significantly. If Model E does not start to show up in auto shows next year, downside will happen. If international sales do not start to ramp up significantly this year, downside will occur. If the company does all of those very well, though, there is still some upside. We will admit that we have underestimated the company and have been incorrect in our earlier assumptions.
With that lens in place, the company released their Q4 2013 earnings today. The market was very satisfied with the report, as shares rose roughly 10% on the day. The major highlights were the company's crushing of EPS at 0.33 versus expectations in the 0.21-0.22 range. The company delivered revenue at $760M versus $677M expectations. TSLA announced record deliveries at 6,892 vehicles and exceeded their target automotive gross margin of 25%, achieving 25.2% on a non-GAAP basis and 25.8% on a GAAP basis. In addition, they expect over 55% vehicle delivery growth in 2014 and 28% gross margin by Q4. Further, the company expects to deliver over 35K Model S in 2014 to about 1000/cars per week, and the company will see production improving in the back half of the year as their battery supply issues diminish due to capacity expansion.
Another major win for Tesla that will hurt the bear argument further is the company's reliance on tax credits dropping considerably versus the backdrop of rising profitability. This scenario should continue to play out further for the company, and the conversation about them being a government credit-based winner are no longer valid. This chart from Forbes further proves that point: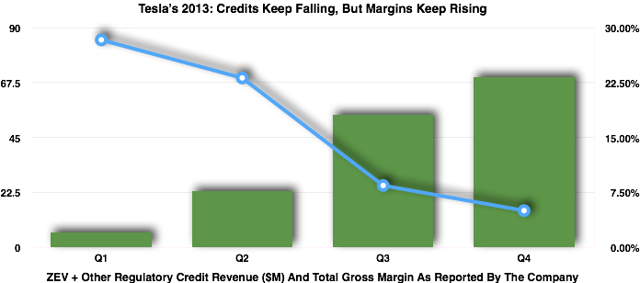 The questions that we have for the company and our thesis are based on the timely delivery and success of the Model X as well as growth in overseas markets, especially China. CEO Elon Musk continued to show great faith in the Model X in the company's Q&A session with analysts:
I think the biggest thing we can attribute that sort of growth to is that the Model X demand is very high. But there's a number -- obviously, we don't disclose it, but even though there's 0 marketing for the Model X -- essentially, it's like if you're going fishing, it's like the fish are jumping in the boat. We're not actually trying to sell the Model X at all, but demand seems to be remarkably high. And we're seeing a steady accumulation of Model X deposits.
The next question is can the Model S continue to be as strong as it was in the back half of 2013. The report seems to give a resounding yes. In the U.S. market, for the year 2013, Model S was the top selling vehicle in North America among comparably priced cars. Nonetheless, TSLA believes there is still great room to improve in 2014 as they completed the Supercharger network and can enable vehicle service almost anywhere in North America.
As for the China and European markets, "the potential in Europe and Asia is even more significant. Towards the end of the year, we expect sales in those regions combined to be almost twice that of North America," according to Q4 & Full Year 2013 Shareholder Letter. Our argument for international growth has been based mostly on favorable tax/tariff situations, especially in China. That catalyst seems to be playing out well. China, above all, seems to be an amazing market for Tesla to enter. The Chinese government has started to take steps to alleviate some pollution problems - closing down factories and adding heavy taxes to high-powered gas engines. According to research, car exhaust is the second biggest cause of haze problems in China, just next to industrial pollution. EV tax breaks are a solution, and TSLA is showing confidence in these markets as we have pointed out in previous articles they would be able to.
For every catalyst we see for the company in 2014, the company appears to be saying the right things in the latest report. The questions of execution are still there as we go through the year, and the positive confidence Musk exudes has to become reality throughout the year. In the coming weeks, we will once again update our pricing model as our $200 target has now been taken out. Given these recent numbers, though, that the company forecasted, we are definitely seeing upside to that number.
Charting the Markets
In this section, we examine the current market setups in the S&P 500, Dow Jones, Nasdaq, and Russell 2000 (NYSEARCA:IWM).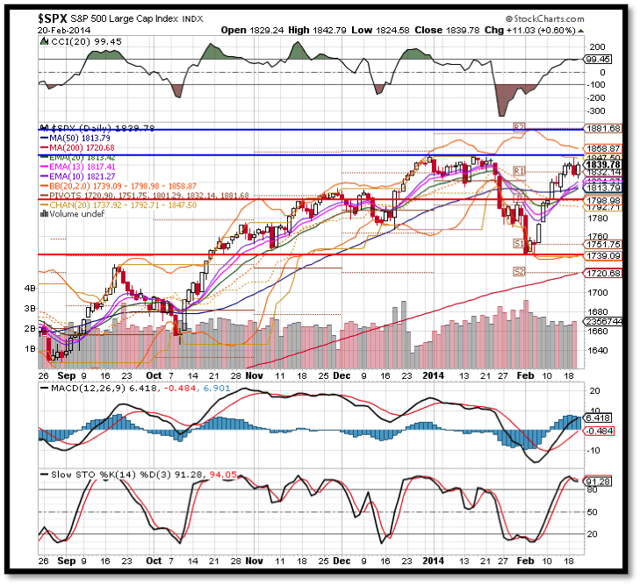 S&P 500
Resistance lines to watch:
1st - 1850 2nd - 1880
Support lines to watch:
1st - 1800 2nd - 1730
Current Sentiment:
Rangebound at Inflection Point
Analysis:
The S&P retook 1800 and is nearing key resistance at 1850. A test of that line this week will be key to see if we are chugging higher or staying range bound. 1800 is now support with another key line now until 1730.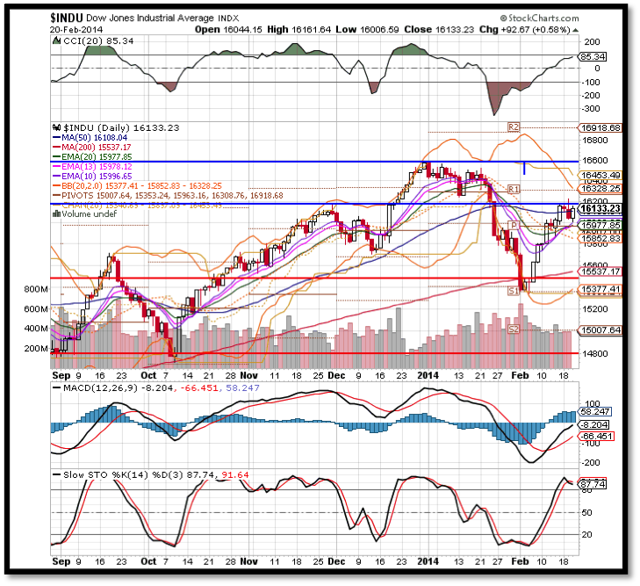 Dow Jones Industrial
Resistance lines to watch:
1st - 16150 2nd - 16500
Support lines to watch:
1st - 15470 2nd - 14800
Current Sentiment:
Bottoming of Correction
Analysis:
The Dow Jones retook its 200-day MA at 15470, and it has formed some support at the 15400 area. From there, the 148-line is the next major support line. 16150 is the key resistance area right now before 16500. Dow is not as strong as the S&P.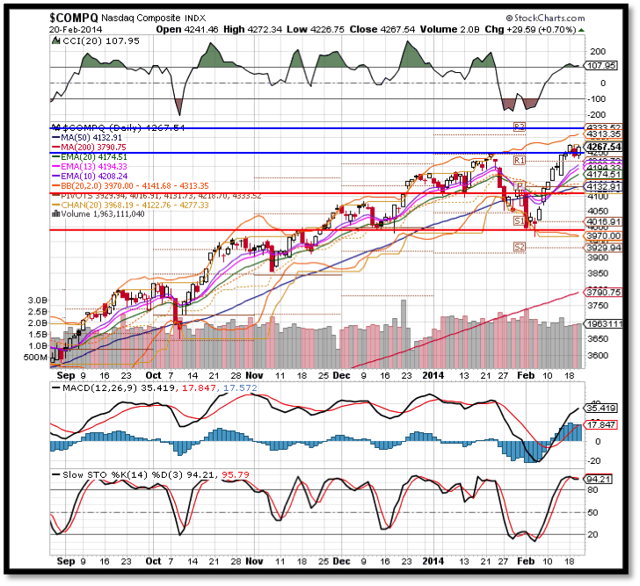 Nasdaq
Resistance lines to watch:
1st - 4250 2nd - 4300
Support lines to watch:
1st - 4120 2nd - 4000
Current Sentiment:
Bullish
Analysis:
The QQQ is the most bullish as it broke key resistance on Tuesday at 4250, which was the high of the year. That breakout is strong and now has resistance at 4300 next. Support now sits at 4120. If we see follow through tomorrow, it will signal another cycle higher.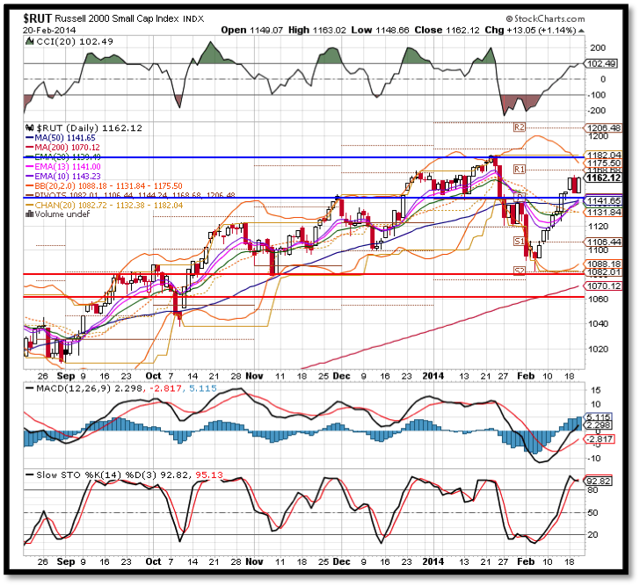 Russell 2000
Resistance lines to watch:
1st - 1145 2nd - 1180
Support lines to watch:
1st - 1080 2nd - 1060
Current Sentiment:
Bullish, Inflection Point
Analysis:
The small-cap index finally broke out from the 1145 area but still has a ways to go before the 1180 resistance area. The "V" recovery looks strong, and the CCI, MACD both have room to grow.
Friday's Outlook
The market has been fairly solid despite a number of weak indicators, and we thought that it might play out to weakness on Thursday. Yet, the market stood strong again without blinking an eye, so the question has to be asked - what is allowing us to have this strength. In our opinion, a lack of shorts as well as sellers must be part of the answer. During the pullback, shorts likely started to get back involved, and when the market stormed higher again, it caused another major series of losses for them. So, the question now is are we ready to explode to new highs again?
Given the economic backdrop around us, it is hard to believe that could occur at all. Yet, at the same time, we have been saying that for a week and a half now without much downward pressure. Tomorrow, the market gets a lighter day of news, so we will see how that plays out. On the data front, the sole report is Existing Home Sales. Given the other housing reports, we would expect another major hit here. If this holds up, it will give the bulls some more ammo to push higher. Given other weak reports, it appears the market is giving these all a free pass right now.
Outside of that, we have limited data from overseas markets for tomorrow. On the earnings front, we get some important reports from Priceline.com (NASDAQ:PCLN), Express Scripts (NASDAQ:ESRX), and Hewlett-Packard (NYSE:HPQ). We also get important industry-specific earnings from important names like Nordstrom (NYSE:JWN), Groupon (NASDAQ:GRPN), and Ecolab (NYSE:ECL) tomorrow before the market open.
Earnings should take center stage, which could be bad or good. Overall, though, the market is starting to look very strong again. Now, it's without the Fed, without employment, and without great earnings - that is a little scary in our opinion.
Disclosure: I have no positions in any stocks mentioned, and no plans to initiate any positions within the next 72 hours.
Business relationship disclosure: Business relationship disclosure: I have no business relationship with any company whose stock is mentioned in this article. The Oxen Group is a team of analysts. This article was written by David Ristau, one of our writers. We did not receive compensation for this article (other than from Seeking Alpha), and we have no business relationship with any company whose stock is mentioned in this article.