It should come as absolutely no surprise that the price of natural gas is a big determinant of the earnings of a natural gas producer. This is a basic truth that exists among all natural resource extraction businesses: their fortunes are inextricably linked to the price of the commodity they extract. While extraction costs and other factors certainly have a role too, a certain correlation between producer stock prices and the price of the commodity they extract definitely exists.
When that relation does not hold over short periods of time, one should take a closer look, as an opportunity may be in the making. A case in point is the present relationship between the price of natural gas and general performance of natural gas producer stocks.
Natural gas has been on a tear this year, already having turned in a YTD gain of an impressive 47%. Since it made a historic low in April of 2009, natural gas has rallied 325%.
But natural gas producer stocks have not participated in the rally anywhere near to the degree that one would expect. Look at the startling difference in the two charts immediately below. The first tracks the price of natural gas over the last year, the second tracks the price of the First Trust ISE-Revere Natural Gas ETF (NYSEARCA:FCG), which tracks the price of a basket of natural gas producers.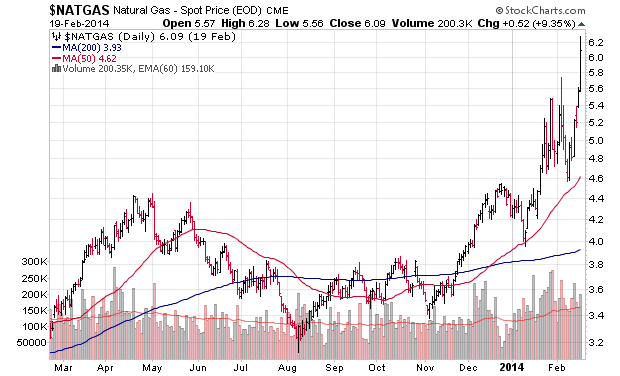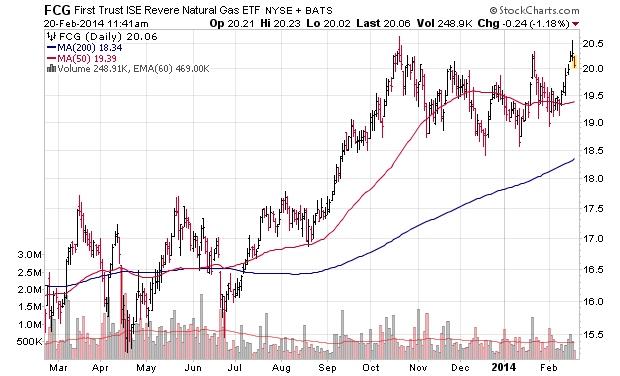 (Source: StockCharts)
The move in the commodity has been almost 100% over the past year, while the move in the producers has been barely 30%. So far in 2014, the less-than-6% move in FCG pales in comparison to the previously mentioned 47% move in natural gas. This is hardly what one would expect. While costs and other factors also have an important impact on producer profits, revenues are directly impacted by commodity prices. Due to operating leverage, an increase in gas prices should have a more than commensurate effect on the increase in a producer's earnings. This effect can and will be muted by any hedging that producers may undertake. But the producers and the commodity should track each other both directionally and to some greater or lesser extent, proportionally. A failure to do so should be considered an anomaly, with an expected reversion to the mean coming. Such is the case presently with the prices of natural gas and the producers. In fact, the ratio of the price of FCG to natural gas is at its lowest in the last 4 years: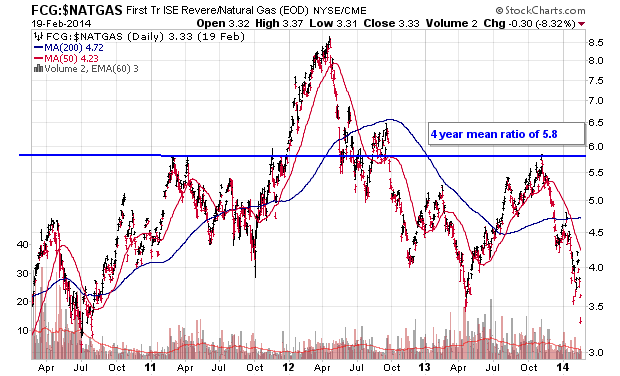 (Source: StockCharts)
The ratio of FCG to natural gas now sits at 3.3, over 60% below where it peaked at during 2012 and some 43% below the 4-year average for that ratio. Natural gas producers will certainly benefit from the strong rally that this year's cold winter has helped to ignite in natural gas. Stock market investors should be able to benefit from an expected reversion to the mean as natural gas producer prices catch up with the move in the commodity. A return to the mean would imply the potential for a 70% increase in FCG. While this is not meant to imply that a direct one-to-one correlation between gas prices and producer stocks does or should exist, it is meant to indicate the present anomalous situation and relative mispricing that currently exists. Markets have a way of correcting these mispriced situations over time.
For investors wanting to look at individual names for further study, as opposed to the basket of stocks represented by the ETF, I suggest looking at Ultra Petroleum (NASDAQ:UPL) and Chesapeake (NYSE:CHK). Both companies are large-capitalization, have ample trading liquidity, are gas-focused, and importantly, have relatively smaller use of hedges and are therefore most likely to benefit from these higher gas prices. Cabot Oil & Gas (NYSE:COG) and Range Resources Corporation (NYSE:RRC) offer some unhedged exposure in the prolific Marcellus Shale play in and around Pennsylvania. In the mid-cap area, EXCO Resources (NYSE:XCO) has traditionally made minimal use of hedges and has a highly levered balance sheet. This makes it even more geared to the price of gas.
Disclosure: I am long FCG, XCO. I wrote this article myself, and it expresses my own opinions. I am not receiving compensation for it (other than from Seeking Alpha). I have no business relationship with any company whose stock is mentioned in this article.