By Anton Vrba and Georg Vrba
Advisor Perspectives welcomes guest contributions. The views presented here do not necessarily represent those of Advisor Perspectives.
---
iMarketSignals' BCIw indicates a 27 weeks possible lead to a recession with a statistically remote probability of a recession occurring then. The BCIw is derived from our Business Cycle Index (BCI), which stands at 161.9 marginally up from last week's revised 161.8. The BCIp, a measure of BCI relative to its last peak, is at 50.3. The BCI annualized growth indicator BCIg lost further ground to stand at 11.7, down from last week's - 12.8. On past performance, it is too early to call a recession.
Figure 1 tracks BCIw, the weeks to recession indicator, in relation to the past tracks prior to the previous recessions; on past performance a recession followed once BCIw moved below 19 weeks. Figure 2 plots BCIp, BCI, BCIg and the S&P500 together with the thresholds (red lines) that need to be crossed to be able to call a recession.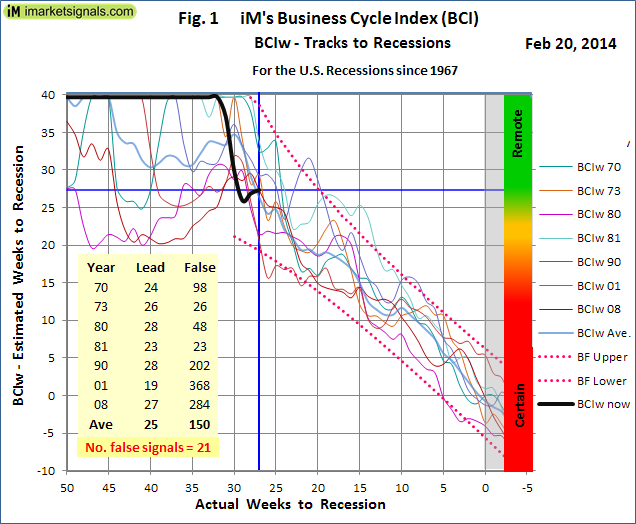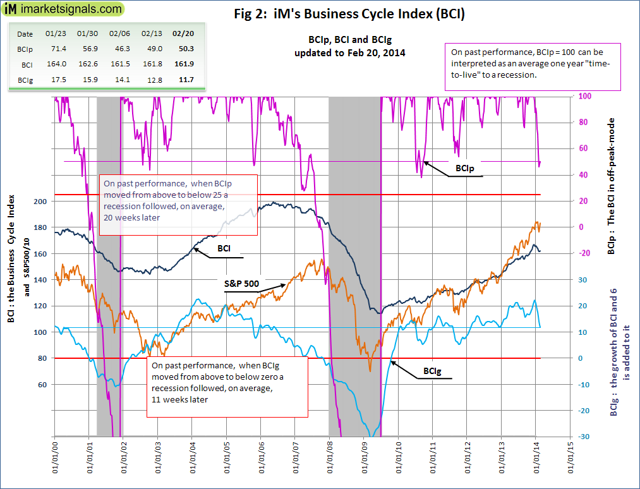 The BCI, BCIp and BCIw are described in article 1, article 2 and article 3 respectively. Historic values of BCI, BCIg and BCIp can be downloaded from the author's website.
Apart from the weekly Business Cycle Index, updates of a number of weekly and monthly financial macro models are also available on the website.