The Mortgage Bankers Association (MBA) released their National Delinquency Survey results. The delinquency rate on one to four family mortgages declined to 6.39% the lowest level since the early 2008. The foreclosure rate similarly dropped to its lowest level since 2008 marking a return to normal foreclosure inventory levels.
As the housing market normalizes conditions greatly improve for banks focused on the domestic market with housing undoubtedly tied to overall credit conditions. While bank's mortgage units may continue to struggle with higher rates and subdued sales activity, improving housing conditions are likely to correlate well with other business lines.
Stabilizing values will allow banks to capture consumers borrowing under home equity loans financing purchases and home improvements and will do so at far more attractive rates than before the crises that once had credit worthy borrowers with Prime less lines. Today most lines carry a modest spread over prime rate. Secondly improving balance sheets have led consumers to increase borrowing. While student loan debt continues to increase consumers are showing signs of increasingly returning to credit for purchases. Again with the rates picture much more favorable for banks than before.
Banks with broad brokerage and wealth management units should benefit as wealthy consumers begin to increasingly see stability in the housing portion of the overall net worth. Many will begin to deploy their capital more aggressively in financial investments increasing demand for these units.
Among the banks expected to benefit from the housing tailwind is Bank of America. (NYSE:BAC) It is among the cheapest mega-cap banks on a price to tangible book basis with only Citigroup (NYSE:C) lagging. Certainly there are risks with the legal environment. However, BAC is well positioned to capture more upside from the improving housing environment. BAC's domestic franchise is second to none with its substantial branch footprint poised to capture more of the increasing consumer market. Further, BAC's wealth management business, on the back Merrill Lynch, will capture a substantial share of the wealth management pick-up. JP Morgan (NYSE:JPM) and Wells Fargo (NYSE:WFC) will see relatively positive tailwinds from the improving housing trend. However WFC seems to have a significant premium priced in.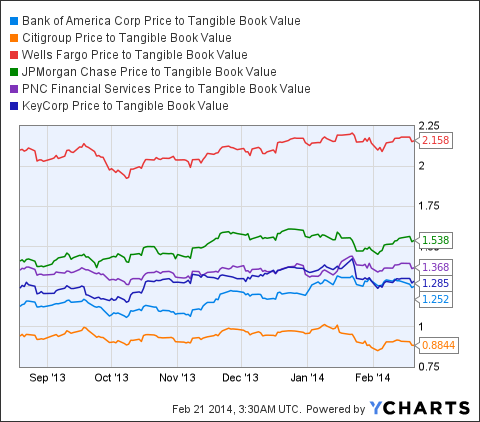 BAC Price to Tangible Book Value data by YCharts
Disclosure: I am long BAC. I wrote this article myself, and it expresses my own opinions. I am not receiving compensation for it (other than from Seeking Alpha). I have no business relationship with any company whose stock is mentioned in this article.