While the financial media tends to focus its discussion on gold, serious precious metals investors typically are more interested in silver. This is because, in terms of a risk/return matrix, silver's price movement behaves as a "leveraged derivative" of the price movement of gold. One "tool" that can be useful in forecasting the directional movement of both gold and silver is the gold/silver ratio, or GSR. It also can give us insight into how the price of silver might behave relative to the price of gold. Currently, in my view, the GSR is telling us that there is a high probability that gold and silver are starting to embark on a big bull market move higher. Additionally, if you like a little "leverage" with your market play, silver should outperform gold.
The GSR - has traded over the last 100 years in a range from 15 to 100. The low end of the range has typically correlated with the end of long bull move in the precious metals and the start of bear market. Similarly, the high end of the range has correlated with the end of bear market in precious metals and the beginning of a long bull move. On the assumption that this historical relationship holds, the bull market in precious metals that started in 2001 is still in force. Furthermore, after spiking up to 70 during 2013, the GSR appears to be headed lower and is thereby forecasting a big move higher for gold and an even bigger move up for silver.
This chart shows the GSR for the last 100 years to present (source: Macrotrends.net, edits in red/black are mine, based on month-end prices):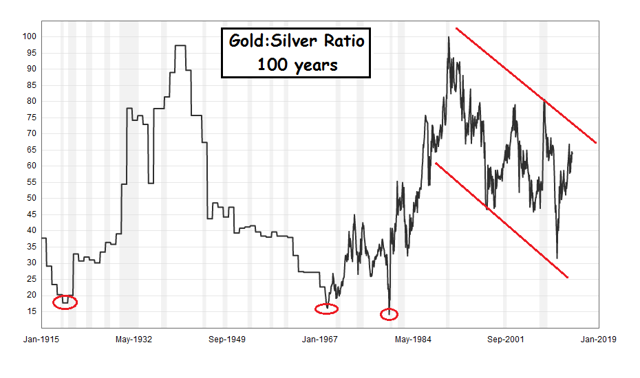 As you can see, over the last 100 years, the GSR has traded close to 15 three times and is currently in a distinct downtrend channel, possibly headed back to tag the 15 area once again. In fact, over 100's of years, the long term GSR has been close 15: 324 Years of the Gold to Silver Ratio. On the assumption that eventually the GSR will be pulled back to 15 by the gravity from a "regression to the mean" effect, my view is that we'll see this level before the bull market in precious metals has run its course. Given that the GSR is currently 60.5, it means that silver would ultimately outperform gold by a 400% from now until the bull market is over.
In terms of why I think the recent move in the GSR is signaling the potential for a big bull move in both gold and silver, take look at this 3-yr graph the GSR: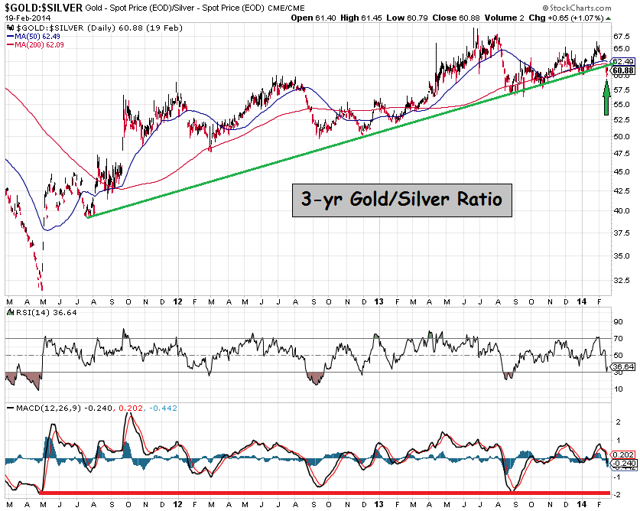 As you can see, after hitting a low at the end of April 2011, which coincided with silver's run up to $50 back then, the GSR has been trending higher over the last three years. After peaking at 68 in August 2013, the green arrow shows that the recent decline has broken below the 3-yr uptrend/support line. Assuming that the downside break of that uptrend line holds and the GSR begins to trend lower, I believe that we will see higher prices for both gold and silver and that silver will outperform gold. In fact, YTD as of today (Thursday, Feb. 20) gold is up 9.9% and silver is up 12.6%.
One more point about the graph above. The bottom panel shows the MACD momentum indicator. It is currently reflecting the downside momentum trend for the GSR. As you can see from the horizontal red line I added, there is a lot room for the MACD to go lower - and thus for the GSR to go lower - before any move lower might be considered "exhausted." In other words, it would appear that the GSR is headed lower for now and the precious metals will continue the move higher that started at the end of 2013, with silver continuing to outperform gold.
On the basis of this analysis, there are a few leveraged plays available to express a bullish view of silver. First and foremost, however, I always recommend that long term investors accumulate physical gold and silver. In terms of shorter, trading-oriented ideas, I like to trade the VelocityShares 3x Long Silver ETN (NASDAQ:USLV). Because it typically has a relatively large bid/ask spread, I recommend using buy/sell stop orders when executing trades. For slightly less "torque" to the price of silver, I like the ProShares Ultra (2x) Silver ETF (NYSEARCA:AGQ). It's more liquid than USLV and it also has options which are relatively liquid.
Finally, for a longer term play I recommend silver stocks. One of my favorite plays is Rye Patch Gold (RPM.V/RPMGF), which should be named "Rye Patch Silver and Gold." RPM has roughly 5 million ozs of 43-101 certified gold resource, 2.5 million of which is in gold-equivalent silver ounces. The market is largely unaware of the high silver component of RPM's resource base. It also has a sizable Net Smelter Royalty agreement with Coeur Mining (NYSE:CDE) on a large Nevada silver mine which RPM estimates will generate $6.8-8.6 million annually between now and the end of December 2017. In other words, RPM will not have to issue more shares for quite some time in order to fund the continued development of its properties. This is a somewhat unique cash position to be in for a junior mining company. RPM is up 100% since bottoming in late November and it's up 50% YTD. If the price of silver continues to move a lot higher, RPM in my view will outperform the junior mining stock indexes.
Disclosure: I am long RPM.V. I wrote this article myself, and it expresses my own opinions. I am not receiving compensation for it (other than from Seeking Alpha). I have no business relationship with any company whose stock is mentioned in this article. The fund I manage is long physical gold, silver, USLV and Rye Patch Gold.