Wells Fargo & Company (NYSE:WFC) posted net income of $5.6 billion for the fourth quarter of 2013, increasing 10% from a year earlier and coming ahead of estimates. Per-share earnings after the payment of preferred dividends rose to $1 versus 91 cents a year earlier while revenue declined 5.8% to $20.67 billion. The annual net income was $21.88 billion that made the San-Francisco bank the most profitable of the US mega banks in 2013. Whilst the stock is trading at upper end of the US bank spectrum, I believe that these results, coupled with improving macroeconomic conditions will support the stock performance. The stock has already performed greatly and moved upwards by 33% year over year, and now it is trading at eleven times earnings.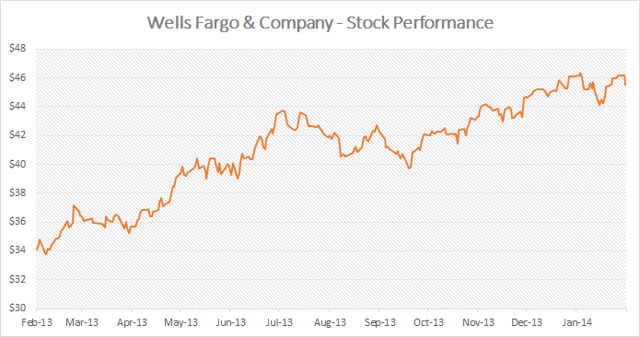 (Source: Yahoo)
Now I want to enlighten the income statement with a focus on business lines of the bank. Well Fargo operates in three segments: community banking, wholesale banking, and wealth, brokerage and retirement. The community banking segment offers deposits and loans, also provides real estate financing. The wholesale banking segment offers commercial loans, international trade facilities etc. Wealth, brokerage and retirement segment provides financial advisory services for clients.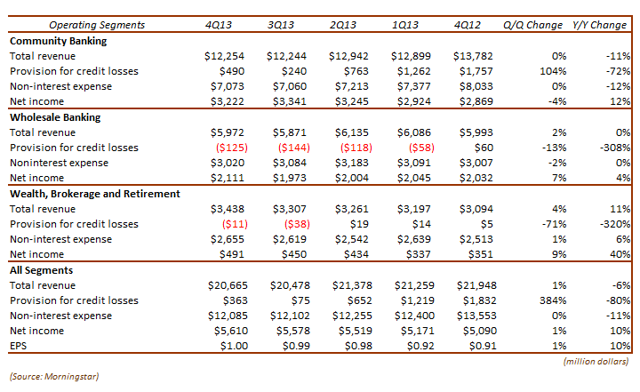 Compared to last year total revenue in community banking dropped by 11% which due mainly to lower mortgage banking revenue. However substantial declines in both provision for credit losses and non-interest expense helped the segment to be more profitable than it was last year. Investors should note that the bank wrote about a fifth of all U.S. home loans in 2013 that made the profitability of the bank perfectly responsive to the developments in the housing market. Federal Reserve data does not suggest a promising rise in mortgage lending by banks in the US. Therefore, Wells Fargo's wholesale banking revenue may not show a rapid rise but cost reductions that leads lower non-interest expense could help it to rise its income. Interestingly, the bank saved more than $1 billion with the declines in three sub-categories of non-interest expense (FDIC and other deposit assessments, operating losses, and foreclosed assets).
I expect revenue to grow on the wholesale banking side. According to Federal Reserve, the commercial and industrial loans of commercial banks in the United States is up 1.8% year to 14 Feb. At the end of last quarter, the annual growth rate was 6.1%, meanwhile Wells Fargo's commercial loans grew by 5% from $187.8 billion to $197.2 billion. A sharp rise in business lending will help all the bank boosting the profit this year.

With fee growth acceleration, net income in the wealth, brokerage and retirement segment showed a rapid upside move by 40%. Its contribution to total income is substantially rising as well.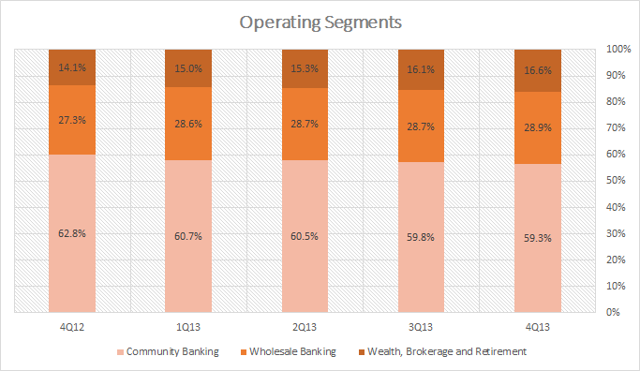 (Source: Morningstar)
The bank logged a credit loss provision of just $363 million, down 80% from the year earlier. It seems that bank is also benefiting from improving credit, allowing it to write off fewer bad loans and set aside less money for future losses. Also the ratios regarding capital adequacy are getting stronger.

Well Fargo is amongst the most profitable franchises within the US banking universe, with its high yielding asset mix and cost efficiencies. The bank has further potential to improve its revenue. I expect it to continue to enjoy premium valuations.
Disclosure: I have no positions in any stocks mentioned, and no plans to initiate any positions within the next 72 hours. I wrote this article myself, and it expresses my own opinions. I am not receiving compensation for it (other than from Seeking Alpha). I have no business relationship with any company whose stock is mentioned in this article.