Introduction
In this article I'll have a closer look at Eldorado Gold (NYSE:EGO) which produced in excess of 700,000 ounces of gold in 2013. I will provide my view on the company's financial results and the status of its balance sheet. Thereafter I will briefly discuss the outlook for 2014 which will result in my conclusion at the end of this article.
All images in this article were sourced from the company's press release and financial statements.
My view on the financial results
In 2013, Eldorado Gold produced 721,000 ounces of gold, which is a remarkable 10% increase compared to the production numbers in 2012. This caused the annual revenue to decrease by just 2% compared to last year, so the production increase compensated for the lower metal prices. Unfortunately the operating costs increased (which seems to be a common theme in the mining sector) by a double-digit percentage to $630M, which reduced the gross profit by almost 19% to $493M. As Eldorado also recorded a $808M impairment charge, the final result for 2013 showed a net loss just shy of $650M or $0.91/share.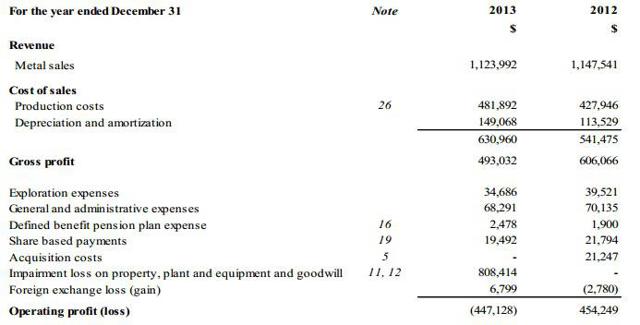 However, as an impairment charge is a non-cash charge, I think it makes a lot of sense to look at the cash flow statements as well to see if the company was free cash flow positive or not. When looking at those cash flow statements, Eldorado Gold reported an operating cash flow of $382M before changes in working capital. Unfortunately this was not sufficient to cover the $482M which was spent on capital expenditures, meaning Eldorado had a negative free cash flow of approximately $100M. However, the sustaining capex is expected to fall by $100M in 2014, which is encouraging as this will very beneficial to the company's free cash flow profile.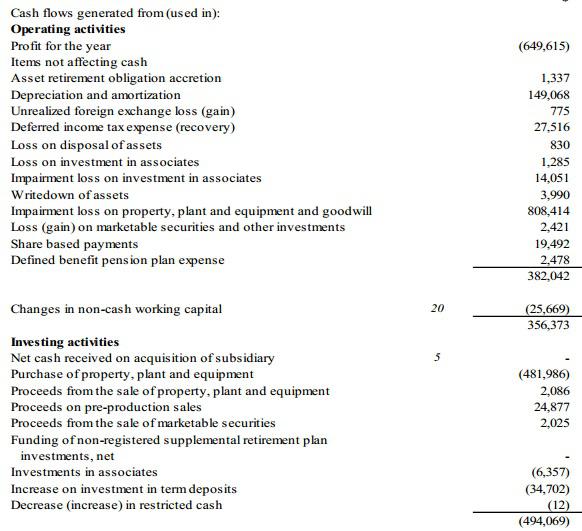 My view on the balance sheet
Moving over to the balance sheet, as of at the end of 2013, Eldorado Gold had a working capital position of $734M, which is less than the $917M at the end of 2012. This was obviously caused by the fact that the company was free cash flow negative in 2013. However, I'm not worried about Eldorado's short term financial situation, as the current ratio still is a very respectable 4.22. Keep in mind a current ratio higher than one means the company has sufficient current assets to cover its current liabilities.
The equity side of the balance sheet obviously decreased after recording the huge impairment charge, but the book value is still quite robust at $7.29/share which means the company is currently trading at its approximate book value which isn't expensive at all considering the asset base of the company.
Outlook for 2014
After producing 721,000 ounces of gold in 2013, Eldorado is once again aiming to increase its production rate to 730,000-800,000 ounces of gold in 2014. On top of that the sustaining capital expenditures are expected to drop by almost 40%. This means that if the company can keep its operating costs under control, Eldorado Gold will very likely be free cash flow positive at the current gold price of $1300/oz.
However, I would expect CEO Paul Wright to take a pay cut as I think his salary of $9M in 2012 is quite excessive given the continuous problems in the sector. This excessive salary is actually the main reason for holding me back on buying the shares right now.

Conclusion
Eldorado Gold was able to keep its cash flow relatively under control and for this year I'm actually expecting the company to be slightly free cash flow positive this year. However, even though the company has a lot of quality assets, I'm still not too keen on taking a position in Eldorado Gold as long as the CEO earns $25,000 per day. Keep in mind the CEO of Goldcorp (NYSE:GG) earned less than 1/3rd of that amount.
For investors who'd like to gain exposure to Eldorado Gold, it might make sense to write some put options. I'm particularly looking at writing a P 5 January 2015 at $0.30 for an annualized yield of 6.5%. However, I probably won't write an option myself as the CEO compensation is a "no go" for me.
Disclosure: I have no positions in any stocks mentioned, and no plans to initiate any positions within the next 72 hours. I wrote this article myself, and it expresses my own opinions. I am not receiving compensation for it (other than from Seeking Alpha). I have no business relationship with any company whose stock is mentioned in this article.