We have to admit that some of the deals we are seeing in the M&A market have us scratching our heads, but the venture capital sphere is even more outrageous in our opinion. Our friends who work out in Silicon Valley are telling us stories that remind us of the boom days in tech, but the stories have not yet approached a level where we are worried about the overall tech market like some. Instead, our take on the happenings in California center around the possibility that this is one of those "gold rushes" that take place every few business cycles. Once new machines are built, software and add-ons are developed at a steady pace. Every now and then, however, something speeds this process up and forces companies to quickly adapt; and that is what we believe is happening right now.
For those who doubt the quality of the current companies, look no further than the recent IPOs - especially the highly visible ones like Facebook (NASDAQ:FB) and Twitter (NYSE:TWTR) - and compare them to some of the more visible names from the last tech boom. The comparisons are night and day.
Chart of the Day:
People are getting a bit carried away if they think that the Nasdaq is extremely overpriced at these levels. Now we do believe that the large industrial names offer a lot of value at these levels, and the Dow's underperformance on this chart does back that thinking up, but truth be told the Nasdaq's performance seems reasonable when compared with that of the S&P 500's.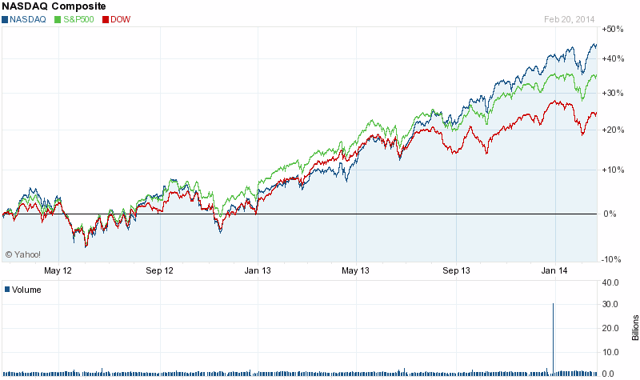 Source: Yahoo Finance
We have economic news today and it is as follows:
Existing Home Sales (10:00 a.m. EST): Est: 4.70 M Act: 4.62 M
Asian markets finished higher today:
All Ordinaries -- up 0.49%
Shanghai Composite -- down 1.17%
Nikkei 225 -- up 2.88%
NZSE 50 -- up 0.36%
Seoul Composite -- up 1.41%
In Europe, markets are trading higher this morning:
CAC 40 -- up 0.40%
DAX -- up 0.20%
FTSE 100 -- up 0.35%
OSE -- up 0.57%
Our Take On Tech
There are a lot of comments coming out right now concerning the tech heavy Nasdaq Composite and the feeling that it is topping out at these levels. The evidence that many are pointing to are these (mostly) private transactions out in Silicon Valley where venture capital firms are paying extremely high prices for stakes in start-ups or those in the early stages of their business plan. The other transactions that are cited are those where a public company is purchasing a private company to monetize a user base or product that is currently under-utilized.
The publicly traded company deals could be cause for concern, but in reality this is a very small part of current M&A activity and even less so of current IPO activity. Yes, these are the headline-grabbing deals, such as those where Facebook (FB) is purchasing Whatsapp, which has less than $100 million in revenues for about $19 billion, or Twitter (TWTR) coming public in a multi-billion dollar deal. Although the headlines paint one picture, the truth of the matter is that the tech market is not anywhere near the bubble levels we saw back in the late 90s and any pullback would impact only a small portion of the tech names out there rather than the entire industry. With most of the hot money being invested through private deals, it also stands to reason that most of the volatility would be centered there and not in the public markets.
Even with certain areas of tech appearing frothy, our view remains that the overall tech sector holds value for investors and shall continue to trend higher. Our prediction of the Nasdaq trading near its all-time highs in the next 12-24 months also remains in place, especially with the strength building in other sectors which make up a large portion of the Nasdaq.
HP On The Prowl?
As many readers know, we are bullish on tech in general but believe that one still needs to choose their spots wisely when investing in the individual names and subsectors of tech. While looking at last night's earnings releases, we were kind of struck by the stark contrast in results from those companies which are clearly the "Old Guard" in the industry and those companies which are most definitely the growth engines.
The commentary out of Hewlett-Packard (NYSE:HPQ) surrounding its solid quarterly results pretty much says it all for the mature tech companies. The company continues to say that its new product offerings are gaining traction, however, results are being driven by turning around legacy business units, in HP's case it was the desktop business. Cost cutting and productivity growth are necessary to keep a business at the top of its game, but if you are going to continue to be a tech titan, innovation is needed and real organic growth is required.
Even with HP's strong stock performance recently, the stock is still cheap on many metrics, especially when compared to the 3D printing names they have been rumored to potentially be interested in.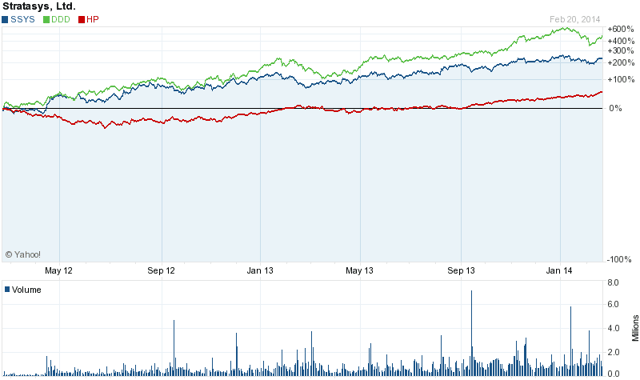 Source: Yahoo Finance
Thus far Hewlett-Packard has refused to go the route of shrink to grow, which down the road might very well work. However, in the meantime it will drive shareholders crazy as the good news will take longer to appear in the results.
The growth industry that many are expecting HP to venture into, either via internal development or an acquisition, is the 3D printing business. The more we look at management's comments and the pace of consolidation within that industry, the more we question the viability of an HP product line versus the established players such as 3D Systems (NYSE:DDD) and Stratasys (NASDAQ:SSYS). Trying to compete with these two right off the bat would be quite difficult and unless HP were able to license some technology or strike marketing deals with certain key suppliers, the company would not be able to offer a full stable of 3D printing gear in a short time frame, in our opinion.
Investors in the 3D printing sector should look for HP to do a licensing deal if anything over the next year or two. The company's stock, although having performed quite well from its lows, is still cheap by many metrics and certainly not an attractive currency to use at this point for acquisitions; either for HP management or the shareholders of 3D Systems or Stratasys in any potential deal. Also, remember that HP has an incredibly poor history of deals as they pertain to M&A, so something along the lines of a licensing or marketing deal might better suit the company's risk tolerance under Meg Whitman.
Disclosure: I have no positions in any stocks mentioned, and no plans to initiate any positions within the next 72 hours. I wrote this article myself, and it expresses my own opinions. I am not receiving compensation for it (other than from Seeking Alpha). I have no business relationship with any company whose stock is mentioned in this article.