Inter Pipeline (OTCPK:IPPLF) announced record Q4 and full year 2013 financial and operating results yesterday. Funds from operations ("FFO") of $135 million were a new quarterly record and were up 30% year-over-year. Full year 2013 FFO of $473 million was also a record and up 9% over 2012. Q4 net income per diluted share was $0.26, up 24% from the year earlier period ($0.21/share).
Inter Pipeline yields 4.5%. At year end 2013, management announced on the Q4 webcast that the company has achieved a 10-year average annual total return of 23%. Yet the company is not done yet. Inter Pipeline is poised to rapidly grow EBITDA as a result of large development projects in its oil sands transport business. Meantime, the dividend growth story continues.
I encourage potential investors to listen to the Q4 and full year 2013 webcast.
Inter Pipeline Is A Dividend Growth Story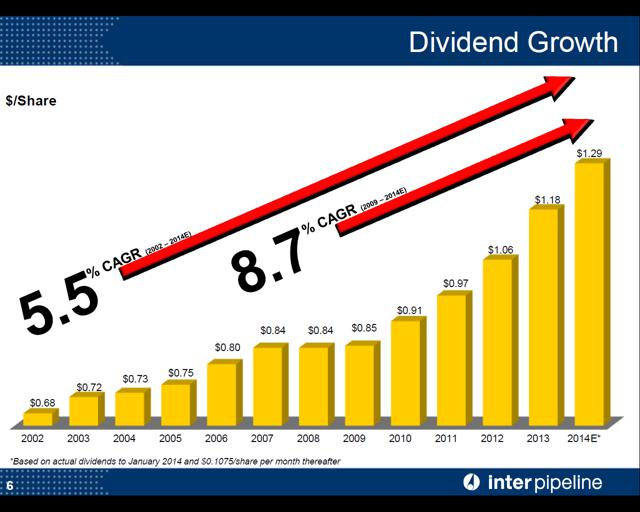 Inter Pipeline raised the monthly dividend twice in 2013. In June, the company raised the dividend $0.03/unit on an annualized basis. In September, after the conversion to a dividend paying corporation, the company increased the monthly dividend again from $0.095 to $0.1075/share (13%). For full year 2013, total dividends were $1.1775/share compared to $1.0550/share for full year 2012, an increase of 12%. The annual payout ratio in 2013 was a very comfortable 74%. Annualized, the current monthly dividend equates to a yearly $1.29/share payout and a 4.5% yield.
Notice on the chart above that dividend growth began accelerating in 2009 and has not looked back.
Operations
In a February investor presentation, Inter Pipeline reports it processes and handles 1.8 million bbls/day of energy products which includes:
Gathering ~40% of total Canadian oil sands production.
Transporting ~15% of Western Canadian conventional crude oil volumes.
Processing ~40% of natural gas exported from Alberta.
2013 full year FFO for Inter Pipeline's four major business segments are show below:
Oil sands transportation: $219.7 million
Conventional oil pipelines: $174.9 million
Natural Gas Liquids ("NGLs") Extraction: $170.7 million
Bulk Liquids Storage: $73.2 million
So the oil sands transport business unit accounted for 34% of 2013 FFO. This segment also represents the biggest volume growth opportunity going forward.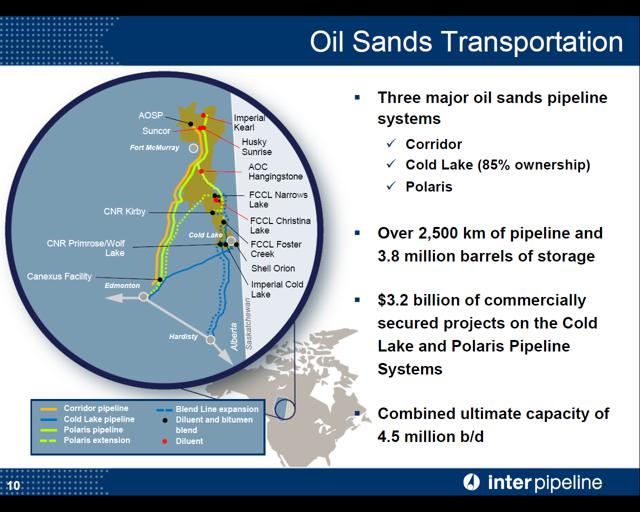 As shown above, Inter Pipeline has interests in three major oil sands pipeline systems - owning two of them and having a majority 85% stake in the third. These pipelines have an ultimate aggregate capacity of 4.5 million bbls/day. As of Q3 (see chart below), the current throughput of these three pipeline systems was only 830,700 bbls/day, or less than 20% of the systems' total ultimate capacity. Obviously Inter Pipeline's oil sands transport business has excellent growth potential as oil sands producers like Suncor and ExxonMobil (NYSE:XOM) ramp up production.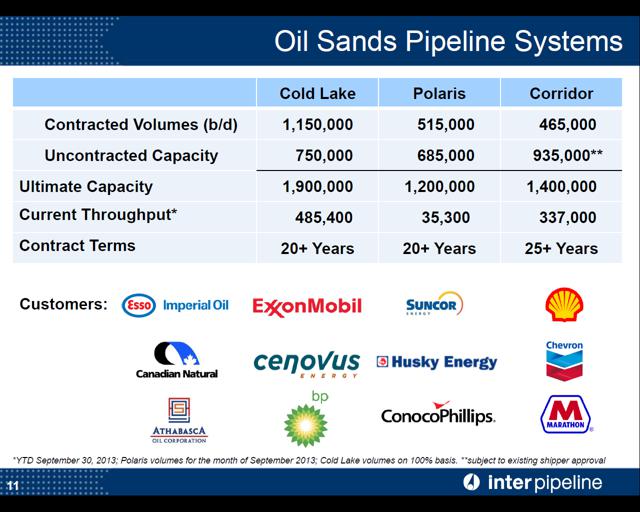 As Inter Pipeline pointed out in the full year earnings release, 2013's capital program centered on a $2.9 billion development program to expand and integrate the Cold Lake and Polaris pipeline systems. The expansions are anchored by commercially secured long-term contracts with the Foster Creek/Christina Lake ("FCCL") partnership. FCCL is a 50/50 joint venture between ConocoPhillips (NYSE:COP) and Cenovus Energy (NYSE:CVE). FCCL is operated by Cenovus and includes upstream projects at Foster Creek, Christina Lake and Narrows Lake. The joint venture has expansion plans to raise production to 740,000 barrels of bitumen per day. Under terms of the contract, Inter Pipeline will provide FCCL with 850,000 b/d of bitumen blend and diluent capacity for these projects. New capacity to meet FCCL requirements is expected to enter commercial service in phases beginning in mid-2014. The FCCL contract is estimated to generate up to $330 million in annual EBITDA when fully operational. To put that in perspective, Inter Pipeline's full-year 2013 EBITDA totaled $615.8 million.
Another example of the growth potential in its oil sands transport business is the expansion of Inter Pipeline's Polaris pipeline system to support growing production from Imperial Oil's (NYSEMKT:IMO) Kearls Oil Sands project. Inter Pipeline currently receives ~$37 million in annual EBITDA for diluent transportation services under the existing Polaris ship-or-pay agreement with Imperial. As a result of Imperial's higher capacity commitment, IPPLF expects to receive incremental EBITDA of $19 million/year once the new Polaris mainline facilities are in service.
The big jump in EBITDA due to these and other commercially secured long-term contracts is shown graphically below: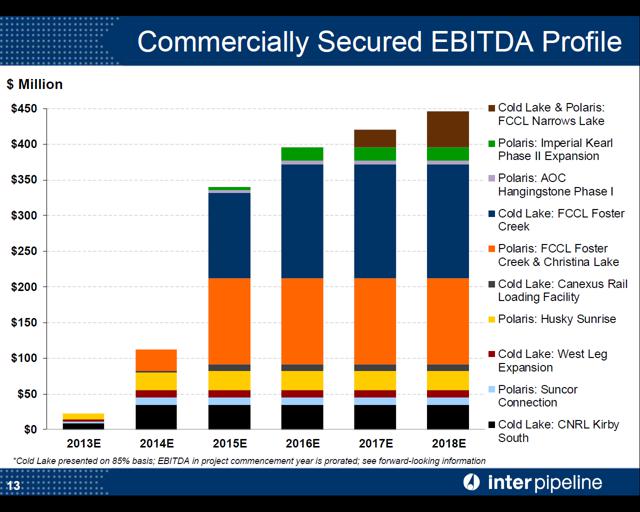 NOTE: The chart above does not depict total company EBITDA, only EBITDA generated by commercially secured long-term contracts.
Debt
As of December 31, 2013, Inter Pipeline's recourse debt to capitalization ratio was 52.8% compared to 58.5% at the end of Q3. While this is a relatively high debt load, the ATM-like reliability of long-term fee-based contracts with large and highly respected oil companies is a big plus for Inter Pipeline. In addition to making it easier to manage the balance sheet and reducing risk, inking these long-term commercially secured commercial contracts enables access to capital at very attractive rates. For example, in 2013 Inter Pipeline was able to issue $500 million of senior notes maturing in 2020 at a very attractive interest rate of 3.448%. Also, during 2013 the company was able to raise over $345 million in a secondary offering of shares that was very well received by the market. The bottom line is this: Inter Pipeline has no problem raising capital at very favorable terms in order to fund its development plans and drive future growth in EBITDA.
Summary & Conclusions
Inter Pipeline is the dominant pipeline transportation provider for oil sands producers. The company's three main pipeline systems have an ultimate capacity 5x larger than current throughput. Commercially secured long-term fee-based contracts with large well known oil producers enable Inter Pipeline to finance capital intensive development programs at very attractive rates. EBITDA from these commercially secured long-term contracts is expected to grow from under $25 million in 2013 to over $300 million in 2015. As a result, shareholders can expect continued and substantial dividend growth over the next few years. The time to buy Inter Pipeline is now, before the big increases in EBITDA are announced. The impact of the FCCL contract alone, which begins coming online in phases starting in mid-2014, could generate up to $330 million in annual EBITDA - more than 50% of 2013's total EBITDA ($615.8 million). As a result of the acceleration in EBITDA growth, shares will likely exceed its 23% 10-year annual total return record and appreciate by 25% over the next 2-3 years. Add in the growing 4.5% dividend, and investors could reap 30% total returns over the next couple years.
Inter Pipeline is a STRONG BUY.
Note: the chart below is IPL as traded on the Toronto Stock Exchange. You can read more about the company here.
The IPL.TO shares are much more liquid than the IPPLF shares traded on the US OTC market, which traded only 1,825 shares on an earnings release day.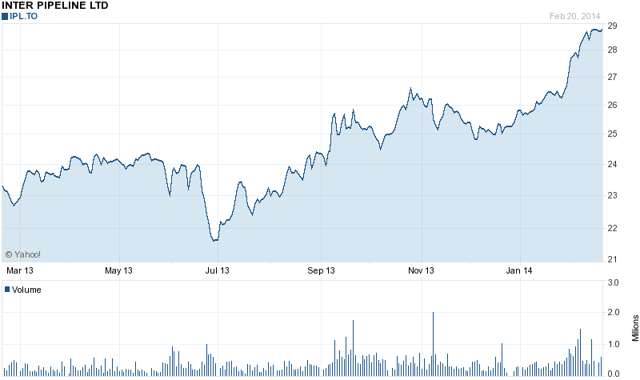 Disclosure: I am long IPPLF, COP, SU, XOM. I wrote this article myself, and it expresses my own opinions. I am not receiving compensation for it (other than from Seeking Alpha). I have no business relationship with any company whose stock is mentioned in this article.
Additional disclosure: I am an engineer, not a CFA. The information and data presented in this article was obtained from company documents and/or sources believed to be reliable, but has not been independently verified. Therefore, the author cannot guarantee its accuracy. Please do your own research and contact a qualified investment advisor. I am not responsible for investment decisions you make. Thanks for reading and good luck!