The good news has been piling up for Ford (NYSE:F) over the last couple of weeks - a record 2013, major traction in both China and Europe. But you'd never know if you were watching the company's stock for the last six months.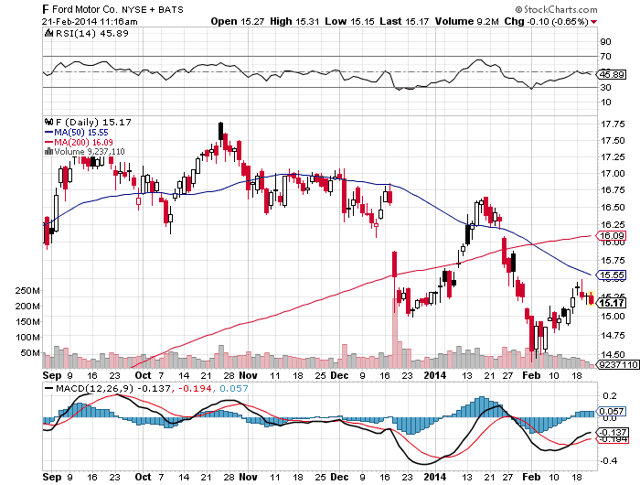 To piggyback on the good news coming from overseas, Seeking Alpha reported this morning that both General Motors and Ford remain confident about how they're moving forward in China:
General Motors (NYSE:GM) is "working hard" to increase sales in China by 10% or more this year, says Matt Tsien, president of the carmaker's operations in the country. Such growth would take sales to almost 3.5M vehicles from 3.16M in 2013.
Ford is way behind GM in China, although it expects to top 1M vehicle sales this year after the company and its joint ventures sold 935,813 units last year. That represented growth of 49%.
But the latest concerns with both Ford and GM have been both companies' reliance on returning to incentive selling to try and spike sales again after a winter that kept most people safely locked inside their homes with plenty of food in the fridge and liquor in the cabinet. The story just days ago was the sales dip during January and rising inventory levels for domestic automakers.
I pointed out in a previous article that incentive selling, while definitely becoming more pronounced during the slow start to this year, is nowhere near the levels that it was at in 07-08, when U.S. automakers hit catastrophe. I argued that it really wasn't something I was worried about and it was likely a "quick fix" to the poor winter we had across the U.S.
This continued news from overseas, in my opinion, is a good thing. Some of this news is going to catch up to the stock eventually, and it's around then that I'm predicting we should have no trouble seeing the U.S. automaker trading at or above $22.
Seeking Alpha reported this morning:
Automobile sales made an impressive jump in the second week of February, according to data compiled by J.D. Power.
Winter storms had auto sales for the month tracking 5% lower than a year ago, but a strong bounce has now cut the falloff to closer to 1%. A monthly forecast for 15.7M vehicles delivered is back on track with more late-month momentum expected.
Perhaps of equal importance, pricing has held up with the average transaction price of $29.9K looking good for a challenging month to get potential buyers onto dealer lots.
Of course, one month a pattern does not make - we need to continue to see this type of growth throughout the year, and we need to see it continue when Ford backs off of incentive selling. Not unlike when the Fed starts to taper, we need to continue to see progress and confidence when the company is weaned off the dole of incentive selling. When the weather picks up for the U.S., I think we're simply going to see a bit of a macro push across all sectors heading into spring, as consumers finally make their way out to spend money.
In addition to the boost in sales, Ford got some backhanded validation on its aluminum truck idea already, as GM announced just days ago that it's also going to be working with Alcoa (NYSE:AA) to implement these same strategies for its trucks by 2018.
Ford is trying to take this innovation a bit further without stepping on the toes of the macho men who buy their trucks - it also announced that the 2015 Expedition is going to ditch the V-8 in favor of an EcoBoost turbo. However, the vehicle is expected to look every bit as sexy as the new F-150. If you would have told me in 2007 that I'd be making a statement like that about a Ford, I would have told you that you were insane.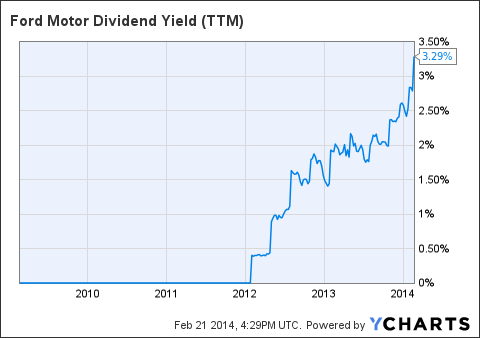 F Dividend Yield (TTM) data by YCharts
As Ford continues to pull back, its yield continues to rise. There is no doubt that if Ford continues down the track that it's on, the stock is going to become more expensive in the future. Global growth and impressive continued innovation and domestic sales will catalyze Ford's stock to move upwards in the coming year - the news will catch up to the stock, and when it does, I'm expecting Ford to steamroll to $22 by end of year.
Here's to a great start to 2014, and best of luck to all investors.
Disclosure: I am long F, GM. I wrote this article myself, and it expresses my own opinions. I am not receiving compensation for it (other than from Seeking Alpha). I have no business relationship with any company whose stock is mentioned in this article.