Editors' Note: This article covers a stock trading at less than $1 per share and/or with less than a $100 million market cap. Please be aware of the risks associated with these stocks.
Opexa Therapeutics, Inc. (OPXA) is a publicly traded biotechnology company dedicated to the development of patient-specific immunotherapies for the treatment of multiple sclerosis. The Company's leading therapy candidate, Tcelna, is a personalized T-cell immunotherapy in a Phase IIb clinical development program (the Abili-T trial) for the treatment of Secondary Progressive Multiple Sclerosis. It is a personalized therapy specifically tailored to each patient's individual disease profile and has received fast track designation from the Food and Drug Administration as a potential treatment for SPMS.
About Multiple Sclerosis
Multiple Sclerosis is a chronic disease of the central nervous system, which includes the brain, spinal cord and optic nerves. It is the most common neurological disease in young adults, affecting approximately two million people worldwide.
Currently there is no cure for MS, but the condition has become increasingly manageable with the help of disease modifying drugs (DMDs). These therapies can change the course of the disease by reducing the number, frequency and severity of attacks as well as the number and volume of lesions in the brain. Some DMDs have also been shown to delay the progression of disability in patients with MS. Studies indicate that drug therapy should be started as early as possible following diagnosis to give the patient the best possible long-term prognosis.
Multiple Sclerosis at a glance:
MS is a complex, multifaceted disease of the central nervous system with multiple pathways.
MS interferes with the brain's ability to control such functions as seeing, walking and talking. It is unpredictable and every person with MS will have his or her unique set of symptoms.
It can be difficult to diagnose, although technologies such as magnetic resonance imaging (MRI) and optical coherence tomography (OCT) are improving the ability to diagnose and treat MS earlier.
MS is usually diagnosed between the ages of 20 and 40, and is twice as common among women as it is among men.
Symptoms vary, ranging from mild to more severe, but most commonly include: blurred vision, problems with strength and coordination, and numbness or tingling in the limbs.
There are several clinical patterns of MS:
Relapsing-Remitting MS RRMS is the most common form of MS, and affects approximately 85% of people with the disease.1 RRMS follows a course of relapses where there is an increased level of symptoms, followed by recovery periods (remissions) where there are fewer or no evident symptoms.
Secondary-Progressive MS (SPMS) starts when people with RRMS begin to experience worsening of their symptoms and disability, generally without developing new relapses. In some cases, people with SPMS continue to experience relapses. Research has shown that about two thirds of patients with RRMS go on to develop SPMS.
Primary-Progressive MS (PPMS) occurs in about 10 percent of patients with MS. It is defined by a steady accumulation of disability from the onset of the disease.
Progressive-Relapsing MS (PRMS) is very rare (occurs in approximately 5% of MS patients) and involves a steady increase in disability with interspersed acute attacks.
Tclena
The lead, and so far only, product in the pipeline is Tcelna. In MS patients, the faulty immune system is not able to prevent the attack of a small sub-population of myelin reactive T-cells (MRTCs). Opexa's strategy is to identify which specific antigens within each individual patient may be targeted by the immune response, and to inject a large therapeutic bolus of attenuated MRTCs back into the patient. Tcelna consists of attenuated antigen specific Myelin Reactive T-cells, and the injection is meant to educate the body's immune system to recognize the similar MRTCs as "foreign" and destroy them.
Click to enlarge images.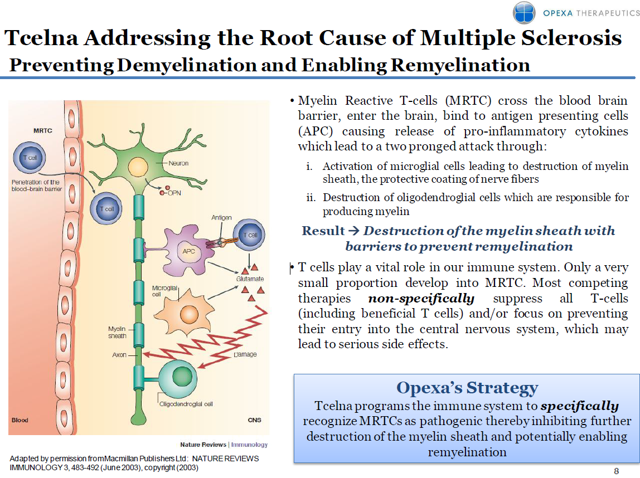 In February 2013, Opexa Therapeutics partnered with Merck Serono. Under the terms of the agreement, Opexa will receive an upfront payment of $5 million in return for granting an option to Merck Serono for the exclusive license of the Tcelna program for the treatment of MS. The option may be exercised prior to or upon completion of Opexa's ongoing Phase IIb clinical trial, the company said. Potential payments to Opexa from the option and license agreement could total $225 million based upon the successful development and commercialization of Tcelna for MS.
Licensing Option
Upon exercising the licensing option, Merck Serono would pay an upfront license fee of either $25 million or $15 million, depending on whether certain conditions are met, Opexa said. In return, Merck Serono would receive worldwide development and commercial rights to Tcelna in MS, excluding Japan. After exercising the option, Merck Serono would be wholly responsible for funding clinical development, subject to Opexa's co-funding option, as well as regulatory and commercialization activities for the MS program, the company said.
Additional financial aspects of the agreement include development and commercial milestone payments to Opexa of up to $195 million and a tiered royalty rate based on net sales payable to Opexa. The potential payments to Opexa could, therefore, total $225 million (roughly $8 per share) excluding royalty payments, according to Opexa. Additionally they will receive up to 15% in royalties, even stepping up, should sales reach the $500 million, $1 billion and $2 billion milestones.
The estimated potential market for SPMS is over $7 billion in the United States alone.
Cash Position and Balance Sheet
This is a very important issue for Biotech firms. Opexa has roughly $30 million in cash, In December 2013 they raised $7 million at a offer price of $1,70. Opexa is currently trading just $10 million above its net cash. Opexa did not issue warrants as part of this offering, thus minimizing the dilutive consequences to exiting shareholders. Opexa has no debt on their balance.
In the annual report over 2012 (page 24) they stated:
The estimated future costs of the study, as well as the ongoing expenses of our operations through the expected completion date of the study and release of top-line data, are estimated to be between $33-35 million.
With the current cash position they have enough cash to last them till the Phase IIb results in 2016. Their cash burn rate during the six months ended June 30, 2013, inclusive of the cost of our ongoing Abili-T clinical study, was approximately $855,000 per month. After they finish the Phase IIb successfully, Merck Serono is wholly responsible for funding clinical development and regulatory and commercialization activities for the MS program. So the Phase III for Tclena will bring no additional costs for Opexa.
Insider Purchases
There were no Insider sales the last four years. In 2013 there were the following insider buying transactions: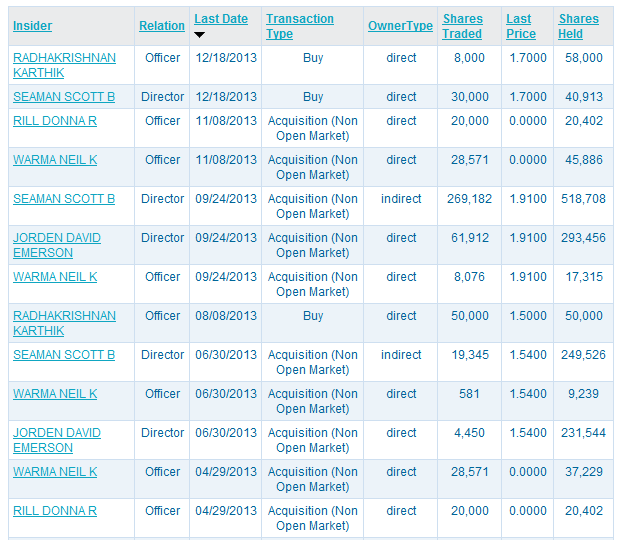 From a longer-term investment perspective, the success of Opexa's drug pipeline will ultimately determine how high the stock is valued. In the interim, a variety of other factors play a large part in where shares of Opexa trade. Before Opexa will publish it's Phase IIb clinical results on Tcelna there are some near-term catalysts.
Possible Upcoming Catalysts for the Stock
1. Upcoming Analyst Coverage
So far Opexa has no Analyst coverage at all. Aegis Capital led the underwriting of Opexa's recent secondary offering. Aegis is well-known on the Street for raising funds for a wide array of small-cap biotechs. Quite frequently, the research department of Aegis will subsequently initiate coverage of these biotechs. It's possible that Aegis, among others, will start following Opexa, which will generate some interest in the stock.
2. Complete enrollment of Phase IIb for Tcelna
As of November 6, 2013, there were 100 patients enrolled (out of the 180 needed) in the Phase IIb "Abili-T" clinical study of Tcelna (imilecleucel-T) in patients with Secondary Progressive Multiple Sclerosis (SPMS).
The company enrolled roughly 25 patients per month. On December 16th, they reported 70% (126 out of 180) of Patients enrolled. So it looks like they will complete enrollment somewhere in March 2014.
3. New Indications
CEO Neil Warma emphasized in the quarterly conference call, Opexa has retained full rights to all other indications for Tcelna outside of MS. The company has told investors during the 16th Annual BIO CEO and Investor Conference, that they will add a new indication to their pipeline. Management also emphasized the possibilities that its drug platform potentially holds possibilities in treating diseases outside of MS.
4. Takeover Speculation
Occasionally rumors emerge about Merck, these could surface again:
The rumor mill is abuzz: Comments from Merck KGaA (OTCPK:MKGAF) regarding a 2%-3% market share loss for the MS treatment Rebif at the hands of Biogen's Tecfidera are fueling speculation that the German drug and materials company may heighten its focus on Tcelna, a treatment for Secondary Progressive MS being developed in conjunction with Opexa Therapeutics.
Trading desks further speculated that Merck may be interested in buying Opexa outright, adding fuel to the fire and rocketing shares still higher.
Merck was apparently not the only big Pharma interested in Opexa as their collaboration was being negotiated. CEO Neil Warma revealed that the company received interest "from a number of other pharmaceutical companies because there are few treatment options for patients with multiple sclerosis." The company ultimately decided to partner with Merck for its widely acknowledged leadership role in the fight against MS.
5. Merck Serono will exercise its option on Tclena
As stated in the agreement dated Feb. 6, The option may be exercised prior to or upon completion of Opexa's ongoing Phase IIb clinical trial, the company said. Should Merck take this option, it would be paying an upfront license fee of $25M, this would add roughly $1 per share.
6. Opexa announces a deal for commercial rights for Japan
Opexa has a deal with Merck Serono for the development and commercialization of Tcelna worldwide, excluding Japan.
7. Q4 Numbers
On March 28, Opexa will announce their Q4 numbers. While this is most often a non-event, an update on one of the above topics could give this stock wings.
Risks
Trading in Biotech Stocks is a high risk operation, and in the case of Opexa it's a typical binary bet. Opexa still is an one-product company. Obviously if Tcelna fails, it's game over for the company. There's no SPMS treatment approved by EMA so far; only one is approved by the FDA with limited use due to toxicity. Some competitors in the SPMS market are Biogen Idec (NASDAQ:BIIB), Novartis AG (NYSE:NVS), and Innate Therapeutics Limited. In terms of potential, the SPMS market in the North America alone could exceed $7 billion (150,000 SPMS patients at average cost of $50,000 per year of treatment).
Conclusion
Opexa has a lot of potential, with a number of short-term catalysts upcoming. The cash position, while it lasts, will limit the downside risk for the stock. This stock could have some nice rallies the coming months, like it had in the last two years: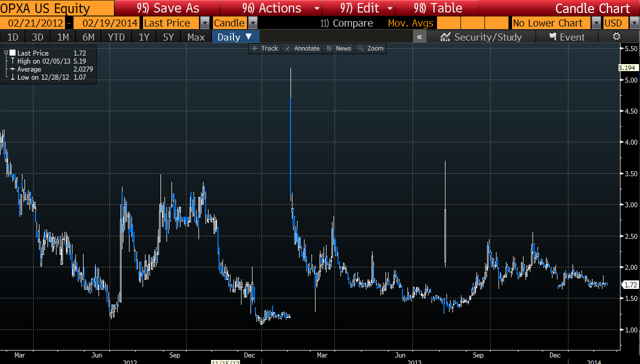 If the Phase IIb trial meets its primary end targets, they will receive $20 million form Merck. If Tcelna enters the market after Phase IIb, Opexa will earn in potential roughly $1 billion in upfront fees and royalties.
The estimated potential market for SPMS is over $7 billion in the United States alone. If Tcelna gains a market share of 10% in 2018, they will receive roughly $100 million in royalties. If we put a multiple on the stock of 10, the company could be worth $1 billion. There are currently only 27 million shares outstanding, and a $1 billion market cap divided between the current 27 million shares would put a price target of $37 on this stock. The downside is $1.70 and the upside is $37.
Disclosure: I am long OPXA. I wrote this article myself, and it expresses my own opinions. I am not receiving compensation for it. I have no business relationship with any company whose stock is mentioned in this article.