Costco (NASDAQ:COST) reported its January sales report that showed positive growth across all of its segments. The company also reported its performance during the past 22 weeks that showed growth in all segments.
Growth in Comparable Sales
With regards to the US segment, the company's largest segment, we see that Costco experienced a 5% growth in January ending February 2nd. The company made net sales of $7.99 billion in the month of January compared to $7.51 billion during the same period last year. Four percent growth was experienced in the 22-week period.
The international segment showed 1% growth in both the 4-week period and 22-week period. This growth rate is better when the impact of the decline in the gasoline price and exchange rate is removed (discussed below). On a whole, the company's sales grew by 4% in the 4-week period and 3% in the 22-week period.

Sales growth including impact from gasoline price deflation and forex (Source: COST website)
The following table shows the improved results when the impact of gasoline price deflation and foreign currency is removed. The 22-week period result for the US improved by 1% to 5% while the 4-week period's result for the US remained unchanged. There was substantial improvement in the international sales results after this adjustment that improved by 6% to 7% in the 22-week period and 7% to 8% in the 4-week period. The company needs to employ better measures to counter these blows from fluctuations through effective use of derivatives. Total sales improved by 2% in both the 22-week and 4-week periods to 5% and 6%, respectively.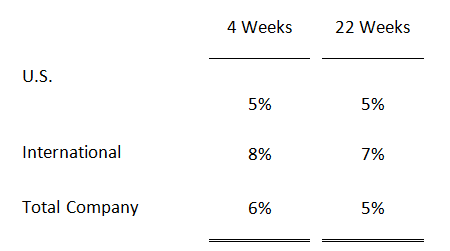 Sales growth excluding impact from gasoline price deflation and forex (Source: COST website)
Constant Increase in Efficiency
Let's look at the efficiency of Costco measured through the revenue per square foot of US operations that make up the major segment with 462 warehouses out of a total of 649. Costco's efficiency in its US operations has consistently improved over the years (see graph below). According to trefis.com Costco is forecasted to improve its efficiency in upcoming years. With this projected improvement in efficiency, Costco is expected to improve its top and bottom lines.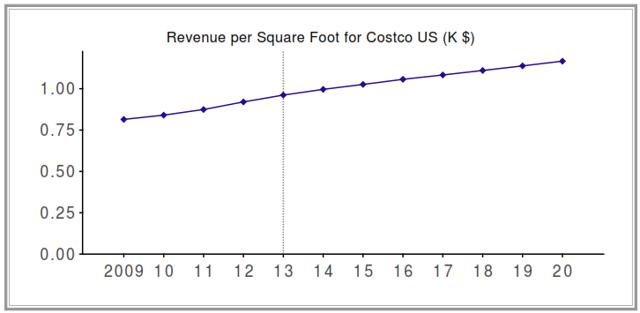 Huge Unexplored Markets
While the company is said to face a threat of self-cannibalization through saturation in the US market, there is large room for growth in international markets. With 187 warehouses in international markets out of a total of 649 warehouses there is a huge global market that is still open for exploitation. The emerging markets of China and India where Wal-Mart (NYSE:WMT) has a strategic focus are big markets with huge potential.
Costco should have strategic focus on these markets and needs to invest in these markets because they will be the biggest consumer markets in the future. The Rest of Asia and Australia regions where Costco has a limited presence are potential markets that are mostly unexplored by the company. With its expertise Costco is well placed to capitalize on these opportunities that can offer sustained growth to both the top and bottom lines.
US Business will Keep Costco Strong
The US segment contributes around 70% of total revenues. Costco is a consistent performer and is well positioned to grow despite sluggish US economic conditions. One of the key assets of the company is its strong and loyal relationship with its customers. Executive membership accounts for one third of the total customers but accounts for two thirds of total revenues. Executive membership for the company has increased over the years from 23% in 2007 to around 38% in 2012.
There is room for increases in efficiency in US operations as discussed before and Costco is forecasted to achieve its targets. The US segment will continue to be a very important segment but the source of growth in the future is expected to come from international expansion.
An important quality of Costco is that it is strategically looking to tap into new segments to boost its top and bottom lines. This trait will help sustain its operations profitably in the future. Costco's lending website, costconfidence.com, and its mortgage program run in partnership with several lenders is a good proactive step taken where COST is paid for marketing competitive quotes to its customers. Another instance where Costco is tapping into a new segment and benefiting from its large customer base is its partnership with Aetna to offer health insurance services. In my opinion Costco has a very keen sense of exploiting prospective profit making opportunities.
Costco's online service is performing well and the company is further expanding its services by making use of M-commerce that is presently one of the fastest growing trends.
Target price
The average target price for Costco according to the Wall Street Journal is $123.03 and that presents an upward potential of around 6%. The median target price is $125 and that presents a price potential of around 7.7%. The most optimistic analyst target price estimate of $143, if realized, presents an upward price potential of 23%. I don't see Costco's price going down in the long run since I am quite optimistic about the company's prospects.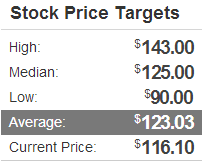 (Source: Wall Street Journal Website)
Yahoo Finance gives the same estimates as given by Wall Street Journal with regards to upward potential.

Bottom line
Costco is a great company that has proved its enterprise in the US market and is successfully finding new ways to fuel growth in its top and bottom lines. Its business model and its expertise give it a strong footing to expand into new markets, especially rapidly-developing emerging markets. Its business model is expected to add great value to these new markets as it has added value in the US economy. Analysts are forecasting lucrative upward potential that investors would not want to miss. Therefore an investor seeking a good long-term investment should seriously consider investing in Costco.
Disclosure: I have no positions in any stocks mentioned, and no plans to initiate any positions within the next 72 hours. I wrote this article myself, and it expresses my own opinions. I am not receiving compensation for it (other than from Seeking Alpha). I have no business relationship with any company whose stock is mentioned in this article.