iCAD Inc. (NASDAQ:ICAD) announced financial results for the fourth quarter and year ending December 31st. Revenue growth momentum continues as does improvement in operating income. Revenue and operating income for both Q4 and the full-year were the highest for each respective period since 2008. This is the highest since acquiring Xoft in December 2010. The Xoft acquisition brought with it the Axxent System, an electronic brachytherapy device used for the treatment of cancer. The initial target market was for intraoperative radiation therapy (IORT) for breast cancer but use for non-melanoma skin cancer has quickly become the driving force behind ICAD's recently ramping revenues.
Much of the growth continues to come from the Cancer Therapy business and, in particular, Axxent console sales and consumables feeding ever-increasing demand and utilization for non-melanoma skin cancer. The skin cancer channel has provided a substantial and (perhaps) until recently somewhat unexpected buoy to ICAD's operating results. This was the main catalyst to pushing total revenue up 17% in 2013 as many of the other product lines, including upgrades and new product launches in the Cancer Detection segment were still in various stages of initial roll-outs and contribution from the breast IORT channel treaded water as reimbursement remained a headwind.
Revenue
Q4 Revenue of $9.1M was up 17% y-o-y and about 3% ahead of our $8.9M estimate - the difference due to 20% more than modeled Therapy revenue, which was partially offset by an 11% difference in Detection revenue. For the full year, revenue increased 17% with Therapy revenue up 47% and Detection revenue falling 2%.
Cancer Detection(Q4): $4.2M actual (-12% yoy) vs. $4.7M estimate
Total product revenue in cancer detection was about $1.9 million, down from about $2.5 million in Q4 2012 and below our $2.4 million estimate. For the year Detection revenue slipped 2%. It's been well detailed that Detection-related revenue growth had been hampered in the past given ICAD's previous focus on squeezing the last vestiges of the benefits from the conversion by imaging facilities from film-based to digital mammography. Film-based revenue, which was as much as $5.8M in 2010 has shown a regular erosion over the past few years, ending 2012 at approximately $1.4M and falling to just ~$600k in 2013. This ~$800k decrease from 2012 to 2013 represents all and more of the ~$360k drop in Detection related revenue over the last year. We point this out as it provides even greater insight into the success that ICAD has had in growing of revenue from the Detection segment's new product lines as well as their services and subscription-based offerings. Had it not been for declining sales of the film-based business, Detection revenue would have posted approximately 3% growth in 2013.
In 2012, iCAD implemented a shift in strategy to one with a greater focus on services and subscriptions with the goal of leveraging more recurring revenue and higher margins. We think it's now obvious that this is bearing fruit with Detection services (as opposed to Detection products) revenue growing 22% in Q4 2012 and almost 14% for the full year in 2013. Management noted that the number of customers under service agreements has increased by 14% since the end of 2012. And despite the newly implemented 2.3% medical device tax, ICAD has been able to maintain beefy margins, which we think is a direct benefit of the recent shift towards services/subscriptions.
We continue to expect the Detection segment to remain on track for sustained growth over the long term. This is being fueled by the recent and expected new product launches (PowerLook AMP, CAD for tomosynthesis, etc.), more annual licensing agreements, increased service contracts (to iCAD's installed base as well as OEM partners'), partnership deals with OEMs with new products, development projects and service contracts, and the recently penned MRI software development deal with Invivo. iCAD launched the first two products through this new Invivo relationship in March 2013 and has already seen a meaningful revenue contribution from this. We expect this to further accelerate going into 2014.
And as we've noted in the past, while CT colon CAD revenue has yet to gain much traction in the U.S. as a result of a dearth of reimbursement, management recently indicated they are seeing some growth internationally and this remains a viable domestic growth opportunity with sufficient reimbursement. We see this as one area in the Detection segment that could surprise on the upside in 2014. The additional data from the ACRIN study that were recently published could be a catalyst to eventually gaining Medicare reimbursement for CT colon CAD.
However, the Detection pipeline product that likely holds the most promise is the company's CAD platform for 3D breast tomosynthesis. ICAD continues to work to complete the initial product, which is expected to be rolled out later this year in Europe on GE's (NYSE:GE) SenoClaire tomosynthesis instruments. SenoClaire received CE Mark in July 2013 and has been submitted for FDA clearance. Upon FDA clearance, ICAD expects to roll-out their tomo platform in the U.S. We think this could be a big winner for ICAD given the criticism and debate over the utility of stand-alone mammography and increased demand for more accurate detection of breast cancer. GE's instrument is billed as producing a lower x-ray dose (i.e. - safer) than Hologic's (NASDAQ:HOLX) Selenia Dimensions machine (FDA cleared in 2011), currently the only 3D breast tomosynthesis instrument sold in the U.S., providing a real opportunity for GE's machine.
Our modeled step-up in Detection revenue beginning in 2015 represents meaningful contribution from ICAD's 3D breast tomosynthesis platform.
Cancer Therapy (Q4): $5.0MM (+60% yoy) actual vs. $4.2MM estimate
Cancer therapy revenue in Q4 jumped 60% yoy and 25% sequentially. For the full year 2013 cancer therapy revenue increased 49%. As noted, the main catalyst has been use for non-melanoma skin cancer. In Q4 ICAD sold 14 controllers, 187 balloon applicators and treatments were over 1k. This compares to 8 controllers and 233 balloon applicators sold in Q4 2012 and only about 400 skin lesion treatments. For the full year 2013, ICAD sold 44 controllers (2012: 30), 751 balloon applicators (2012: 664) and, we estimate, treated ~3.5k skin lesions (2012: ~800). Importantly, management noted on the call that they believe utilization is increasing at all sites using the machine for skin cancer.
As we have noted in the past, growth appears to be coming from several fronts, including more favorable reimbursement, positive clinical outcomes data and greater awareness of the benefits of the therapy. This is particularly benefiting the skin indication, which dually benefits revenue as skin cancer treatment typically requires more than one visit.
Management again noted on the earnings call that they continue to make progress with both regional and national payers on reimbursement. Currently 16 states have a "positive policy" related to non-melanoma skin cancer whereas this stood at just 10 states in mid-2013. Clearly the reimbursement picture is improving which has almost certainly aided uptake and utilization of Xoft for skin cancer.
Much of the recent growth in Therapy is coming from skin which we think will continue given catalysts such as positive clinical trial data supporting the use of eBx in non-melanoma skin cancer, fairly rapid geographic growth in reimbursement and overall increased awareness (by both dermatologists as well as consumers) of its benefits over traditional surgical excision. ICAD remains very active in promoting at all these levels.
We think it is reasonable to expect that an increase in reimbursement, from both an uptake on the payer side as well as level of reimbursement, will be facilitated with additional positive clinical data. This will be supported by published manuscripts and presentations such as the recent presentation at ASTRO detailing positive three-year follow up data on non-melanoma skin cancer patients (n=187) treated with Xoft. Dr. Bhatnagar is scheduled to present additional three-year follow-up data related to 247 non-melanoma skin cancer lesions from 172 patients in March at the American Academy of Dermatology Meeting.
The company is also now tapping international markets with a handful of sites in Europe and one in Asia currently using Axxent. In April 2013, they announced distribution agreements for parts of China and Russia, the launch of which is expected to happen following requisite regulatory approvals - potentially culminating during 2014. More recently they penned a distribution agreement in Canada.
We continue to see tremendous upside in the breast cancer indication. We think utilization remains relatively low and penetration of Axxent in the U.S. breast IORT market is likely only in the low single digits. Greater awareness and improved reimbursement could provide catalysts to ramp penetration, utilization and revenue. Despite the slow ramp in breast to-date, ICAD clearly remains highly committed to fully exploiting this opportunity. They continue to dedicate time and resources towards building awareness and generating additional clinical data in support of the treatment. This includes a multi-center IORT early-stage breast cancer study expected to enroll ~500 patients. The study, which has enrolled ~250 patients to date, could have interim data available in 2015. Positive outcomes from this study should provide additional support for utilization and reimbursement of the treatment.
And in addition to skin and breast cancer, the Therapy business should further benefit as additional indications come online, including for cervical cancer, which is now still in the early launch phase. This is an area in the Therapy business that we think could potentially surprise on the upside.
Outlook
For 2014 we expect the Therapy business, and particularly for the skin indication, to again drive the top-line as catalysts to growing this business, including improved and expanded reimbursement, greater awareness of the therapy and additional positive clinical outcomes data continues to benefit demand. And while the Detection segment saw a low single digit contraction in total revenue in 2013, all (and more) of this decrease was related to the continued erosion of film-based mammography - which we would characterize as a legacy line and not fundamental to ICAD's future.
Meanwhile, revenue from the remainder of the Detection segment (i.e.- the fundamental portion) increased by about 3% in 2013. This included about 6% growth in the second half as new products, upgrades and beefed up services menu began to gain greater traction and provide a more meaningful contribution. Through 2014, we think the services side of Detection continues to show fairly consistent growth with the product side gaining more momentum towards the back half, particularly if the new tomosynthesis product is rolled out in Europe during the year.
While we model 17% revenue growth in 2014 (model below), we continue to expect a much more dramatic inflection in 2015, with continued strength in Axxent-skin complemented by a full-year (or near full-year) contribution from tomosynthesis sales in Europe and, anticipated, partial year of sales of the initial tomosynthesis platform in the U.S.
Management also continues to remain focused on controlling costs and on maintaining gross margins. While both slipped somewhat in Q4, indications on the call were that a portion of the Q4 op expenses were one-time in nature and gross margins should return to the ~70% level. This is despite the bite to gross margin from the 2.3% medical device excise tax, which became effective in 2013.
The double-digit revenue growth, cost-control measures and healthy gross margins resulted in just about cash flow break-even (ex-changes in working capital). The balance sheet remains very healthy. We expect revenue, cash flow and health of the balance sheet to all improve further in 2014.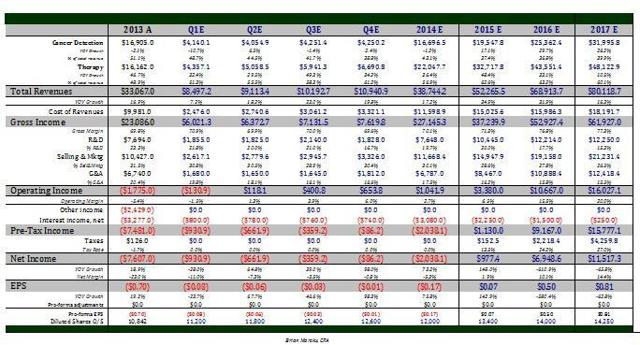 Disclosure: I have no positions in any stocks mentioned, and no plans to initiate any positions within the next 72 hours. I wrote this article myself, and it expresses my own opinions. I am not receiving compensation for it (other than from Seeking Alpha). I have no business relationship with any company whose stock is mentioned in this article.
Disclosure: I/we have no positions in any stocks mentioned, and no plans to initiate any positions within the next 72 hours.
Business relationship disclosure: I work as a Consultant Analyst for Zacks Investment Research. The article is written by me and is 100% my opinion. I receive compensation from Zacks for writing equity research reports and providing valuation analysis on this company's stock and expect to do so in the future. Zacks receives compensation from the company. Please see the Zacks Disclaimer for further information: http://scr.zacks.com/Disclaimer/default.aspx