There are numerous deals in the works in the energy sector, but right now it is all a matter of when they are completed, not if. The next year or two should see some dramatic shifts in the landscape that we now know, and we would not be surprised to see numerous $10 billion or higher deals announced in the coming months. There has been a lack of deals as assets have been developed, but as companies switch their focus from developing assets to operating them it appears that cost cutting and synergies will play a greater role in consolidation than they currently do. That favors big deals where 'Big Oil' buys the independent E&P names and overhauls their operating structure.
Many names are undergoing new capital programs, with many of those names being European energy companies that are thirsty for growth. Our view is that North American names will be targets, but also those companies with production assets in Australia and Asia.
Chart of the Day:
With WTI Crude having been strong lately, the differential in price between WTI and Brent has continued to narrow. Although geopolitics could be playing a role in some of this, we believe that WTI is due for a pullback as it is highly unlikely that the US government allows the exportation of domestically produced crude, something some traders have been pointing to as one of the catalysts for the recent rally.
With winter ending soon and companies finding it easier to get production to market via pipeline in a number of areas, it seems that the short-term price movement is down in WTI Crude terms and not higher.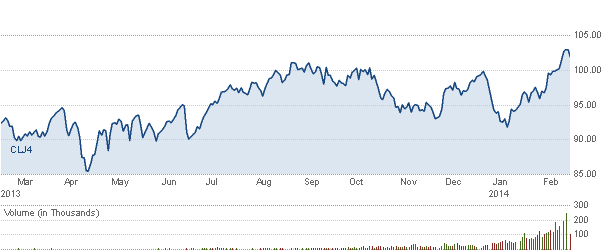 Source: CNBC
Commodity prices this morning are as follows:
Gold: $1,320.70/ounce, up by $3.80/ounce
Silver: $21.69/ounce, up by $0.006/ounce
Oil: $101.80/barrel, down by $0.95/barrel
RBOB Gas: $2.8182/gallon, down by $0.0284/gallon
Natural Gas: $5.97/MMbtu, down by $0.094/MMbtu
Copper: $3.288/pound, up by $0.009/pound
Platinum: $1,425.90/ounce, up by $13.40/ounce
Shell Exits Australian Retail Business
As asset sales continue in the industry, many have been looking at Australia as numerous companies are looking to exit the retail, or downstream, business within that country. Refining margins have been decreasing in the region as the boom in building of refineries in Asia has created an oversupply of key outputs, namely gasoline.
Royal Dutch Shell (NYSE:RDS.A) (NYSE:RDS.B) was one of a few names that was looking to exit this business, but the company did announce that they had agreed to an agreement with Vitol to sell the Australian assets for $2.6 billion. The deal is just part of Royal Dutch Shell's strategy to exit lower margin businesses and reinvest the capital in assets with better returns. Royal Dutch Shell has more asset sales to come, including the sale of its 20%+ stake in Australia's Woodside Petroleum, but we should soon see the company start looking for ways to reinvest this capital, either through acquisitions, joint ventures or new development projects.
More Oil Deals
It appears that Teck Resources (TCK) is nearing a deal to buy InterOil (NYSE:IOC), according to an article from the UK's Daily Mail (link here). According to the article, it is believed that Teck Resources has already reached a deal to get the backing of InterOil's largest shareholder and is now working on the company's management in order to transact a friendly merger. The deal is believed to be worth about $4 billion, valuing InterOil shares at about $85 each. Also believed to be interested in a potential deal is Royal Dutch Shell, according to the Daily Mail.
Royal Dutch Shell shareholders have bought into the new capital plan, so the company might have to pay up in order to buy some of the more attractive names available. That might mean overpaying or outbidding (or maybe both!) competitors to get those assets.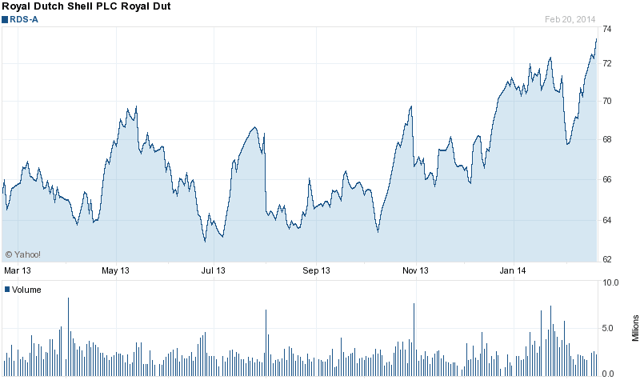 Source: Yahoo Finance
Utica Upgrade
EV Energy Partners, LP (NASDAQ:EVEP-OLD) is seeing its units rise in trading today after Wunderlich raised its rating on the MLP to a "Buy" from a "Hold". This has been a name many worry about in the MLP space because their coverage ratio has been suspect for some time as the sale of the Utica has taken longer than expected and management has stuck with their belief that buying natural gas properties at current prices outweighs diversifying into more liquids.
After the latest unit sale we think that there is plenty of cash to get the partnership through this rough patch, especially with midstream assets set to ramp up significantly in the Utica and provide a new source of revenues. Wunderlich thinks that the firm is at an inflection point now and has a $40/unit price target.
if one buys into the Wunderlich report, and thinks valuations in the play will rise as the pipeline and other infrastructure issues are alleviated, then other names are a buy too. One idea would be Chesapeake Energy (NYSE:CHK) which is a partner in the EV Energy UEO processing plant joint venture but has a more diverse asset base than EV Energy Partners.
Disclosure: I am long EVEP. I wrote this article myself, and it expresses my own opinions. I am not receiving compensation for it (other than from Seeking Alpha). I have no business relationship with any company whose stock is mentioned in this article.