Saturday, March 1 will mark the conclusion of the 25 day quiet period on underwriter research for Auspex Pharmaceuticals, Inc (NASDAQ:ASPX) that began with the firm's February 4 IPO.
The quiet period's expiration will likely lead to a temporary rise in the price of ASPX as the IPO underwriters distribute positive research reports on the rare disease biopharmaceutical firm. ASPX has seen significant early success on the market, beginning with an IPO that priced at the high end of the expected range at $12 per share. The stock gained 30.5% on its first day and has continued to perform impressively, closing at $23.17 on February 20.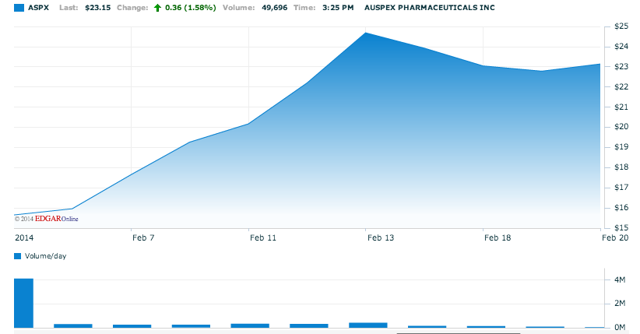 Source: Nasdaq.com
ASPX's underwriters, BMO Capital Markets Corp, Stifel Nicolaus & Company Inc, Ladenburg Thalmann and Co Inc, Robert W. Baird & Co Inc, William Blair and Co LLC, will try to push the stock to even greater heights with a burst of positive detailed reports, beginning on the first of March.
The past two years of our research, along with the results of recent academic studies, have provided confirmation of the correlation between the reputation and number of an IPO's underwriters and a corresponding increase in the price of shares at the conclusion of the quiet period.
This increase typically starts to appear several days before the quiet period has expired; experienced investors make early buys in order to take advantage of the potential bump in prices, resulting from the underwriters' investment reports. These speculative purchases give the stock the appearance of increasing demand, causing upward pressure on the price of shares in advance of the expiration.
Business
ASPX is a clinical-stage biopharma company, engaged in the development and commercialization of novel treatments for orphan diseases. ASPX's lead candidate, SD-809, is being developed for the treatment of the involuntary movements associated with Huntington's disease, known as chorea. SD-809 is a modified form of tetrabenazine, which is currently the only approved chorea treatment. ASPX believes that SD-809 will provide decreased dosing frequency, improved patient tolerance, smoother blood levels, and reduced drug interactions, compared to tetrabenazine.
SD-809 is currently in a Phase 3 registration clinical trial for the treatment of chorea, and ASPX is also planning a Phase 2/3 efficacy trial for the treatment of tardive dyskinesia, and a preliminary efficacy and safety Phase 1b trial for the treatment of adolescent patients with tics associated with Tourette syndrome. See ASPX product pipeline in our previous article on the company's IPO.
If it is approved, SD-809's main competition will be Xenazine, a brand of tetrabenazine distributed by a subsidiary of Valeant Pharmaceuticals Intl. Inc. (NYSE:VRX), an established pharmaceutical firm with far greater financial resources than ASPX. Numerous firms are in the process of developing their own treatments for Huntington's disease, any of which could potentially reduce demand for SD-809. These firms include Prana Biotechnology Ltd. (NASDAQ:PRAN), Teva Pharmaceutical Industries (NYSE:TEVA), Siena Biotech S.p.A., Omeros Corporation (NASDAQ:OMER), Raptor Pharmaceutical Corp. (NASDAQ:RPTP), and Pfizer Inc. (NYSE:PFE).
Management
Pratik Shah, Ph.D. has served as ASPX's President and CEO since October 2013. He served as Chairman of the Board from September 2008 to October 2013. Dr. Shah is also a partner in Thomas, McNerney & Partners, a venture capital firm. He previously co-founded and served as the Chief Business Officer of Kalypsys Inc.
Conclusion
ASPX is one of several recent IPO successes among biopharmaceutical and biotechnology firms. Its development model, which consists of modifying and improving already-approved treatments, makes for a much clearer path to approval than most clinical-stage firms can produce. Though there is always risk in investing in clinical-stage firms, ASPX seems like a better bet than most, and the market's positive response and the upcoming quiet period expiration make this a promising time to buy into ASPX.
Disclosure: I am long ASPX. I wrote this article myself, and it expresses my own opinions. I am not receiving compensation for it (other than from Seeking Alpha). I have no business relationship with any company whose stock is mentioned in this article.