BP (NYSE:BP) hasn't had it easy since 2010. Nearly four years ago, BP's Deepwater Horizon platform in the Gulf of Mexico exploded and precipitated the largest oil spill in US history. Add to that the increased uncertainty regarding global growth and energy demand that developed in 2011 after China's cooling economy started to become a stock market issue. Moreover, many oil majors including Royal Dutch Shell (NYSE:RDS.A) (NYSE:RDS.B), ExxonMobil (NYSE:XOM) and ConocoPhillips (NYSE:COP) presented weak upstream results in 2013 and oil majors which operated downstream businesses also reported declining refinery margins cutting deep into profits.
BP's share price certainly reflected BP's financial worries with respect to looming lawsuits related to the oil spill disaster that also turned out to be a public relations disaster. For most of the last four years BP's stock price has traded lethargically in a trading range of $35-50 while the trading range narrowed even further to $40-45 in 2012/2013.
(Source: Yahoo Finance,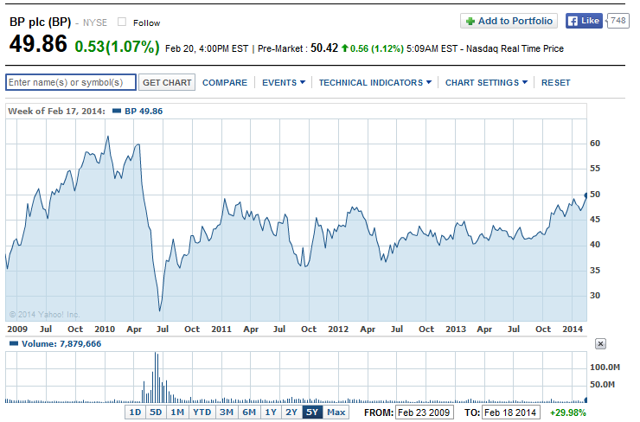 In September 2013 I started recommending BP (here) to investors who were sharing a contrarian mindset and who also wanted to benefit from BP's outstanding dividend yield of above 5% as a result of its ludicrously low valuation. Reason for my optimistic outlook for the stock was that the multinational oil corporation was trading at only eight times forward earnings at the time while other oil majors achieved higher valuations in the range of ten-eleven forward earnings (which still seemed to be depressed). Oil companies continue to be cheap compared to their long-term earnings outlook.
Five reasons why BP is a great equity investment
1. Looming settlement charges overly depressed BP's stock price even though I acknowledge that short-term risks stem from an adverse court ruling of U.S. District Judge Carl Barbier. On December 26, 2013 Reuters reported:
BP Plc has failed to persuade a federal judge to require businesses seeking to recover money over the 2010 Gulf of Mexico oil spill to provide proof that their economic losses were caused by the disaster.

U.S. District Judge Carl Barbier in New Orleans said the British oil company would have to live with its earlier interpretation of a settlement agreement over the spill, in which certain businesses could be presumed to have suffered harm if their losses reflected certain patterns.

Barbier said BP could not now take a new position on causation of damages, and reverse an interpretation that it had once termed "more than fair," even if this resulted in the substantially higher payouts that the oil company feared.

BP had originally projected that its settlement with businesses and individuals harmed by the spill, would cost $7.8 billion.

As of late October it had boosted this estimate to $9.2 billion, and said this sum could grow "significantly higher."

The company has complained that payments were being inflated by "fictitious" claims, and because court-appointed settlement administrator Patrick Juneau has paid out too much and compensated businesses and individuals who were not harmed.
While it is impossible to quantify exactly how much the company will have to pay out, the majority of expenses have already been accounted for in my opinion. BP has so far recognized charges in the amount of $42.7 billion of which "only" $470 million were added in 2013. Even if settlement charges increase in 2014 and beyond as a result of another adverse court ruling, BP has the resources to pay such claims out of operating cash flow.
2. BP has sold its 50% stake in TNK-BP to Rosneft (OTCPK:RNFTF) in 2013 and received $12.5 billion in cash and an 18.50% stake in Rosneft (this came in addition to BP's prior 1.25% stake in the Russian oil- and gas company). Russia is a very attractive, resource-rich exploration market and BP's now 19.75% stake has significant value: Rosneft contributed a massive $0.8 billion to BP's third quarter underlying earnings and $1.1 billion in the fourth quarter of 2013.
(BP fourth quarter 2013 investor presentation, )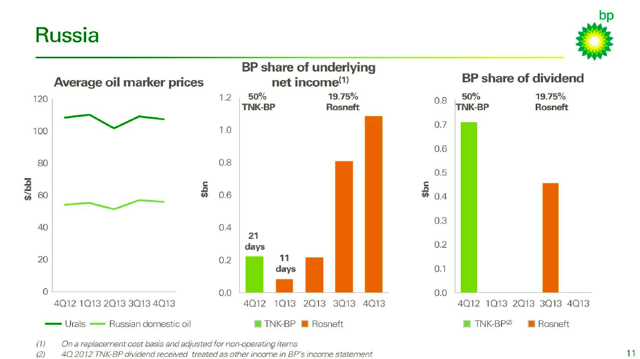 3. BP announced a $10 billion asset divestment program in 2013 in order to increase its distributions to shareholders. I estimate that the company will use 80% or more of disposal proceeds from non-core asset sales to repurchase shares which should provide crucial support for BP's share price in 2014.
4. BP is still one of the cheapest, highest-yielding, diversified companies in the large-cap oil- and gas sector. BP trades at just eleven times forward earnings and provides investors with a dividend yield of 4.57%. Investors are also looking at an increasing dividend stream in the coming years especially if BP commits a part of their divestment proceeds to increasing its quarterly dividend.
5. BP has demonstrated strong short-term momentum and just marked a new 52-week High on February 20, 2014 at $49.96 under high volume. BP now quotes at $50.42 in pre-market trading. Both developments, new 52-week High under high volume and a recapture of the psychologically important $50 mark, are bullish signs for BP's stock.
Conclusion
BP offers investors asymmetric rebound potential as litigation/settlement issues dragged down BP's share price way too long. I think long-term investors will do well with BP as its low price and high dividend yield both provide a significant margin of safety. At just eleven times forward earnings BP is more expensive than just two month ago, but the oil major still faces a set of catalysts that could positively affect BP's stock price. Non-core asset sales in the amount of $10 billion, manageable settlement payouts, share repurchases and a higher quarterly dividend could be instrumental in propelling BP's shares higher in 2014. In addition, BP's Rosneft stake could prove to be a true cash cow over the next years if earnings momentum from 2013 is sustained. Strong, long-term BUY.
Disclosure: I am long BP. I wrote this article myself, and it expresses my own opinions. I am not receiving compensation for it (other than from Seeking Alpha). I have no business relationship with any company whose stock is mentioned in this article.