One of the most hotly-debated turnaround stories of 2014 is J.C. Penney (NYSE:JCP). The vitriol on both sides of the aisle - short and long - is frankly startling. The longs see a tremendous value play, and their stalwart support is often characterized by a nostalgic longing for an American icon that employs thousands of hard-working staff just trying to scrape by. Conversely, the shorts see a mismanaged, broken company whose time is up, a relic of a bygone retail era now eclipsed by lower cost brick and mortar on the one hand, and leaner online competitors on the other. Darwinism at its finest.
The short argument is primarily supported by "indisputable" financial analysis, almost forensic in nature, concluding that bankruptcy is inevitable in the next year or two at the latest. Even the company's stated liquidity of $2B+ is discounted by JCP bears as not only insufficient, but also just smoke and mirrors, filled with inflated inventory numbers and questionable credit instruments. The bears' explanation for JCP's $6 stock price is the currently massive short interest (accounting for 73% of the entire float as of February 17th), to the point where there are no shares left to short and brokers are calling longs to borrow their shares. There is some truth to this but I don't think it tells the whole story (more on that later).
There are three main thrusts of this article:
1. The rumors of JCP's demise as a going concern are greatly exaggerated, being peddled by vacuum-sealed, forensic modeling that may be missing some "intangible" considerations.
2. JCP stock is brushing off negative news and grasping for any positives, and there is recent precedent for this behavior in some other notable turnaround plays.
3. Given #s 1 and 2 above, in my view JCP is a good contrarian turnaround play with risk that can be hedged with the right derivatives.
Let me also give you some background on how I view things. I'm a marketing and sales guy with a quantitative bent. I try to take a holistic approach and simplify/visualize whenever I can. I am not an expert investor. And yes, admittedly, I love comeback stories.
Questionable Assumptions
I believe many of the bear arguments for JCP's demise over-rely on pure financial modeling and don't factor in "conditions on the ground," such as the abysmal winter weather over the holidays and thereafter, as well as staff morale and customer traffic. The bears' growth and other assumptions are also too conservative, typically. To their credit, one such view grants to longs that $800M in 2014 EBITDA would probably allow JCP to "muddle through" and avoid a near-term bankruptcy. The chart below (from the same article) shows how the key metrics break out in various scenarios.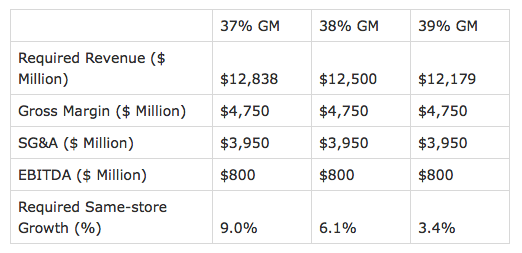 Again, I'm no expert in distressed investment analysis, but I can read an income statement and x-check some basic assumptions against available data.
First, let's look at gross margins. The chart below shows JCP's historical gross margins under here-there-here-again CEO Mike Ullman, and Ron Johnson, who found he couldn't turn J.C. Penney locations into Apple Stores. We can clearly see that during his first tenure, Ullman had margins at 40%, or just a point or two under. When Johnson pulled the high-margin, private label brands, and "right priced" all the new merchandise, margins suffered significantly. With Ullman's return and his reinstatement of the private brands, margins are up off their lows.

Can margins return to their past 40% glory in today's more competitive market with more price-conscious shoppers, and considering that JCP's growing online sales are typically lower margin? Probably not, so let's split the difference and settle on 35-36% gross margins for this year.
Now on to SG&A. The below chart clearly illustrates a continuous downward trend, even under Johnson, bless his heart. Can that trend continue? The closing of ~30 underperforming stores will help a bit, but the financial models may not fully build in the reductions in SG&A from the completion of store remodels initiated by Johnson.

The same bear models may also exclude at least one other important, intangible catalyst, which is the hiring of new key executives such as CFO Ed Record, most recently the COO at Stage Stores Inc. (NYSE:SSI), and Mike Rogers, the former chief information and operations officer at Saks Fifth Avenue. Record's capital discipline and Rogers' operational excellence together will most assuredly reduce SG&A even further. To say it another way, I can't imagine these two hires were made to maintain the status quo on SG&A and CAPEX.
While the above bear scenario calls for full-year SG&A staying at current levels of around $1B per quarter, a reduction to $950M per quarter would be a meaningful adjustment of $200M for the full year.
Finally, let's look at sales comps. We can start to see a familiar pattern in the below chart.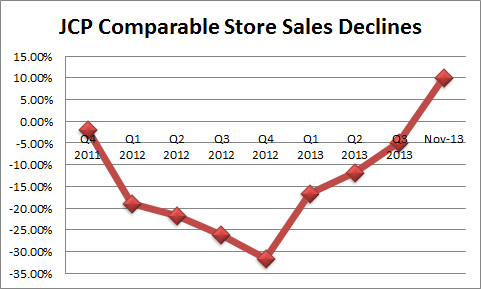 Many bears write off November 2013's 10% same store sales (SSS) growth as an anomaly and an easy comp vs. poor performance in 2012. The problem with this logic is that based on this phenomenon, bears should expect continued positive comps for the next couple of quarters as well. They can't have their cake and eat it too. Bears also focus on the quarter's overall 2% sss growth. Only problem is that the brutally bad weather over the holidays accounted for an overall hit to many other retailers as well.
Given this inconsistent data, what should we expect for sss moving forward? I'll leave the detailed crunching to other, more expert longs, but my kind of smart guy, half a brain helps me arrive at some basic conclusions:
1. The return of recently freed-up square footage from completed renovations started under Johnson will definitely increase sss. Just part of this space includes over 11 million square feet of very high margin home goods. If this space does just $50 per square foot (less than half of last year's store average of $116), that's a $550M bump right there. Even if we assume that half of that space has already been in the mix over the last couple of quarters, that's still $250M the models might be missing.
2. The impact of the return of much higher-margin, private label brands has not been fully felt yet, and this will continue to contribute to a positive sss trend.
3. The success of Sephora micro stores will continue to add to increased sss, as higher-earning shoppers' awareness increases. When I told my wife about Sephora in J.C. Penney stores, she said, "Really? At JCP? That's good to know because two of my local malls don't have a Sephora, but they have Penneys...and I LOVE Sephora!" Ah, those wonderful intangibles again.
Bottom Line on The Numbers
With revenues of $12.85B, SG&A of $3.75B, sss increase of 6-7%, and gross margins of 36%, the path to $800M in EBITDA is straightforward and doable.
By the way, I have visited six JCPs in my area and the other intangibles I have identified are:
1. The stores are absolutely gorgeous, and not a shred of clothing out of place (forget the photos in the recent Huffington Post article; if the photos ARE legit, I'd love my JCP to look like that during or right after Black Friday!).
2. Credit due to Johnson, the store-within-a-store concept is brilliant, in my opinion. Each brand has its own distinct mood and character, and gives the whole store a very inviting, vibrant feel.
2. The staff - while spread a bit thin - are positive, helpful, and fully aware of what's at stake. They are bought in and WANT to win this. Keep it up!
3. Let's not forget the customers. A lot of the bears and shorts say the return of the coupons will kill margins. Well, we can see from the above data that this isn't exactly the trend. Moreover, the majority of the customers I saw were using coupons. To me, this is actually very bullish. A lot of these folks are likely pre-Johnson JCP customers who've been trained to love (and use) the coupons, and they're giving the chain a second chance.
Are there a lot of "coulds" and "likeleys" here? Sure. But again, a holistic view MUST include the potential, intangible catalysts, as well as the hard numbers (which I have tried to rely on).
So What About JCP Stock?
First, let's look at the consensus view on the stock. This gives some context to the cries of the shorts shouting for a $2-$3 stock price.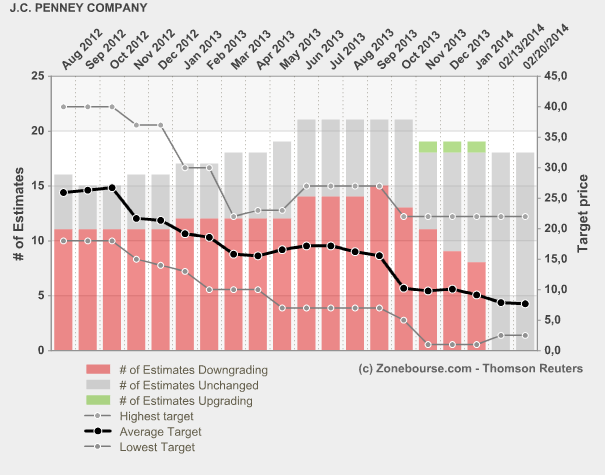 The $6-7 analyst consensus is actually above the current stock price as of this writing.
Impervious to Negative News
I'm of the belief that progress of ANY type announced in JCP's full earnings release on February 26th (for the fiscal quarter ending January 2014) will drive the stock up significantly, exacerbated by a short squeeze that may or may not be already underway. Why do I believe this? I have three main reasons:
FIRST, the stock has been acting this way recently; investors, both long and short, have been more sensitive to positive and not negative news. The recent announcement of lower-than-expected 2% sss last quarter (vs. 4% consensus) should have brought the stock DOWN. It dropped initially, but then shot up from $5 to $6 over the next couple of trading sessions. Even more telling was the stock's imperviousness to the news that long-time bull George Soros completely liquidated his fund's JCP holdings last year.
SECOND, there are some recent precedents for an over-weighted reaction to ANYTHING positive in a turnaround play. An instructive case in point is BlackBerry (BBRY), another stock that I - and quite a few other JCP investors - are long, and for this very reason. BlackBerry's last earnings release was beyond abysmal, far worse than anything JCP could boast in the worst of times. Their stock should have been buried six feet down - in the view of the financial modeling bears - but it rallied significantly, based on what many shorts would classify as a case of JCP'esque smoke and mirrors.
BlackBerry's "plan" - laid out by new CEO John Chen - didn't materially address how the numbers would improve before the liquidity ran out, but it nonetheless contained enough hope, based on outsourcing the handset business and focusing on enterprise software, services, and BlackBerry Messenger (BBM). Forget that there was no substantive discussion of how BBM would get monetized (we know it's worth a lot more now after Facebook (NASDAQ:FB) bought WhatsApp for $19B), or how the company would increase adoption of the flagship BlackBerry Enterprise Server 10. Oh and by the way? the ~$9.50 stock price is no result of a squeeze, short interest has been bleeding away for weeks
RadioShack (NYSE:RSH) is another example of this phenomenon. Its stock rallied after terrible numbers but a hopeful plan, and then again after its terrific Super Bowl ad. I'm not saying that JCP stock will blast off because of what happened with RSH and BBRY, but it's definitely a thing that makes you go "hmmmmm..."
FINALLY - and most critically - the JCP bulls believe there are enough positive catalysts for change, as discussed in the first section above. What if a new CEO is announced - a-la BlackBerry - who communicates a hopeful plan, even in the face of margins in the low 30s? What happens if guidance is better than expected, for example high sss comps? What happens if the company gets into detail on how Sephora is bringing in higher-earning customers? What happens when the go-forward impact of freed up floor space from the completed remodels is made clear? What happens if SG&A was cut (and is expected to be cut) more than the bears' backward looking, seasonally adjusted estimates account for? And most importantly, what happens if the company announces a way to "trickle feed" liquidity into their operations without a massive, one-time dilutive event?
On the point of liquidity, I would like to quote a recent, excellent SA article by JMY Research, titled "J.C. Penney - Ability to Manage Dilution Will Drive Value":
Obviously, JCP doesn't need to raise $1.7 billion day one. As they continue to make progress and move closer to profitability, the stock price should appreciate in proportion to their success in meeting analyst expectations, which would minimize dilution substantially.
The authors continue by asserting that JCP has a 3-year price range of $5.30 to $24.55. What is instructive here is that a dilutive event doesn't have to be a "heart attack" for JCP or shareholders.
Bottom Line
It is unclear whether the above discussion changes the ultimate outcome of a J.C. Penney bankruptcy, but it will, in my view, increase the share price over the near and intermediate term, and give shoppers, J.C. Penney employees, and longs a lot of confidence and higher morale. After all, hope is what builds (and rebuilds) companies, not forensic financial models, right? Isn't that the American Way? Maybe that's the difference between habitual shorts and blindly-loyal longs in general. Hope. Hope is certainly not a strategy for JCP right now, but unfortunately for the shorts, all those hopeful longs are in control when brokers are begging for their shares.
Here's a last thought and my ask of the JCP shorts. GO INTO A STORE. See what you are betting against. Talk with the staff and the customers. You might end up closing your short position, and walk out with some belts, socks, or cosmetics to boot.
Disclosure: I am long JCP, BBRY, RSH. I wrote this article myself, and it expresses my own opinions. I am not receiving compensation for it (other than from Seeking Alpha). I have no business relationship with any company whose stock is mentioned in this article.
Disclaimer: Please do your own due diligence before you invest in any stock mentioned in this article.