Regular readers of Dividends & Income Daily know that I love companies that are increasing their dividend payouts. But there's one problem we face when investing in stocks that have higher dividend growth …
We usually have to sacrifice current yield. So how do we boost the income that our portfolios generate without chasing higher-yielding stocks? Closed-end funds are the answer.
Open Your Eyes to Closed-End Funds
Closed-end funds (CEFs) are different from open-end funds (commonly known as mutual funds) in some significant ways.
For example, CEFs trade on an exchange intraday, just like exchange-traded funds (ETFs).
However, mutual funds and ETFs issue and redeem shares at their net asset value (NAV), so the number of shares fluctuates due to demand.
Conversely, CEFs have a fixed number of shares. The price of a CEF is determined by supply and demand in the secondary market, so the shares can trade at a persistent premium or discount to the underlying NAV.
Steeper-than-average discounts to NAV often indicate that closed-end funds are out of favor. But as investors, we should consider this a buying opportunity. The funds are on sale!
Here are my three favorite CEFs at the moment:
Screaming "Buy" #1: Flaherty & Crumrine Dynamic Preferred & Income Fund (NYSE:DFP) - Indicative yield: 9.0%
This CEF was launched in May 2013 and invests at least 80% of its assets in preferred and other income-producing securities issued by U.S. and non-U.S. companies.
DFP's yield handily bests that of the popular iShares U.S. Preferred Stock ETF (NYSEARCA:PFF), which has a 12-month yield of 6.4%.
This fund is "dynamic" in that the fund managers have the discretion to hedge against significant increases in long-term interest rates as they see fit.
DFP currently trades at a 7.8% discount to NAV: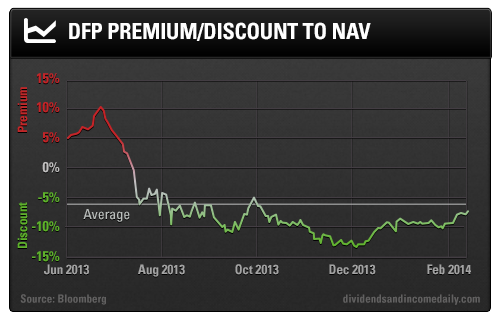 Screaming "Buy" #2: DoubleLine Income Solutions Fund (NYSE:DSL) - Indicative yield: 8.5%
DSL has a broad mandate to invest in debt securities and other income-producing securities around the world, including emerging markets. This is currently where the fund managers see the most opportunities, with 45% of assets invested in developing nations.
I like the composition of DSL much better than that of the PIMCO Dynamic Credit Income Fund (NYSE:PCI), currently holding 33% of its portfolio in high-yield corporates and 29% in bank loans.
Jeffrey Gundlach and his team at DoubleLine are stellar fixed-income managers with a keen awareness of the macro factors that affect their positions.
DSL currently trades at a 7% discount to NAV: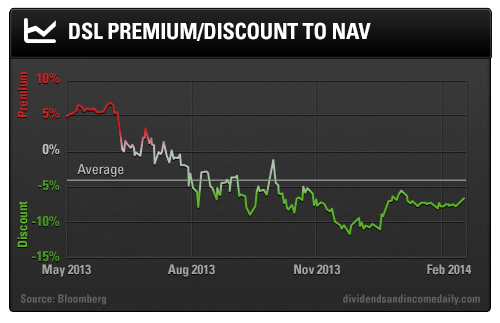 Both DFP and DSL employ moderate amounts of leverage to increase returns.
The total expense ratios for DFP and DSL are 1.47% and 1.74%, respectively, and these figures include interest expense from borrowed funds.
These annual fees are higher than we'd be willing to pay for a passive, income ETF, and that's why we require higher yields.
And the third fund on my list is the highest-yielding of the three …
Screaming "Buy" #3: Nuveen Diversified Currency Opportunities Fund (JGT) - 12-month yield: 9.4%
This fund invests in high-yielding currencies and the short-term debt of both developing and emerging market countries.
One thing to keep an eye on with high-yielding CEFs is whether their distributions are managed and include a return of capital (principal). That's because if the income generated by the fund's investments doesn't produce the desired yield, then a portion of the payout may include a return of capital.
Indeed, JGT's payout has included a high return of capital, which is usually a red flag. But it's important to keep in mind that this fund's strategy has faced significant headwinds.
Basically, the timing hasn't been right for an investment in JGT.
However, with emerging market currencies being avoided like the plague and JGT trading at a 15.8% discount to NAV, this fund's time has now come.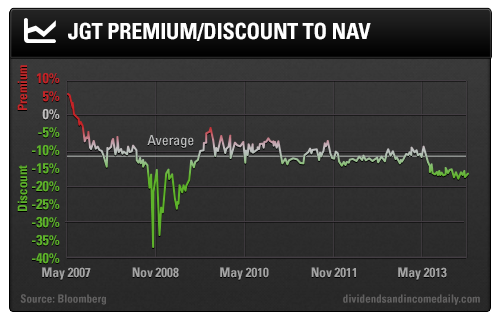 All three of these CEFs are trading below their average historical discount to NAV.
That means we're not chasing popular investments in search of yield.
And it's also one of the reasons I currently favor these closed-end funds over the iShares iBoxx $ Investment Grade Corporate Bond ETF (NYSEARCA:LQD). This is a popular, income ETF that has a 12-month yield of only 3.8%.
Remember, our core portfolios should be filled with dividend growers, as these stocks will give us superior total returns over time.
But since these stocks aren't necessarily the highest yielding, we can complement the dividend growers in our portfolios with DFP, DSL and JGT.
This way, we can have the best of both worlds - high dividend growth and yield.
Bottom line: These three CEFs are excellent choices for investors looking to boost current income within their diversified portfolios.
Disclosure: I have no positions in any stocks mentioned, and no plans to initiate any positions within the next 72 hours. I wrote this article myself, and it expresses my own opinions. I am not receiving compensation for it. I have no business relationship with any company whose stock is mentioned in this article. Dividends & Income Daily is a team of financial researchers. This article was written by our Editor-in-Chief, Alan Gula, CFA. We did not receive compensation for this article, and we have no business relationship with any company whose stock is mentioned in this article.