Beware Buyers: 12 Reasons Why The Current Sky High Natural Gas Price Isn't Here To Stay
Introduction
Due to cold weather, intense speculation, momentum and lame assessments from some opinion makers with appearances on the media, the natural gas price has almost doubled in just 3 months. The nat gas price was $3.5 in October 2013 and hovers higher than $6.1/MMBtu at the time of writing.
Let's check out the charts of the following three ETFs that are bullish on nat gas. Here is the chart for NYSEARCA:UNG that seeks to replicate the performance of natural gas: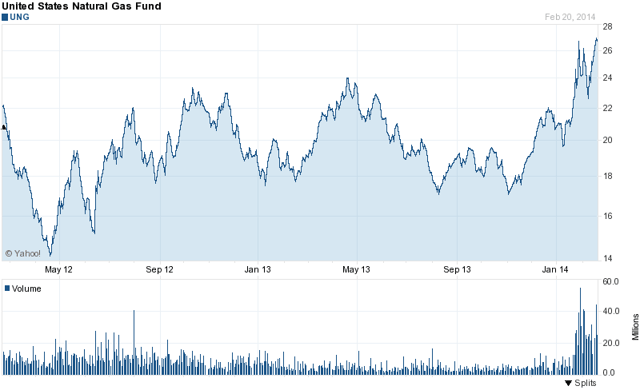 Here is BOIL that seeks daily results that match two times the daily performance of the Dow Jones-UBS Natural Gas Sub-index for a single day: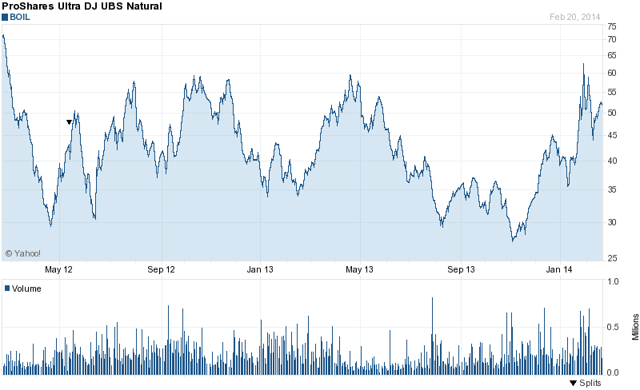 Here is UGAZ that seeks to replicate, net of expenses, three times the performance of the S&P GSCI Natural Gas Index ER: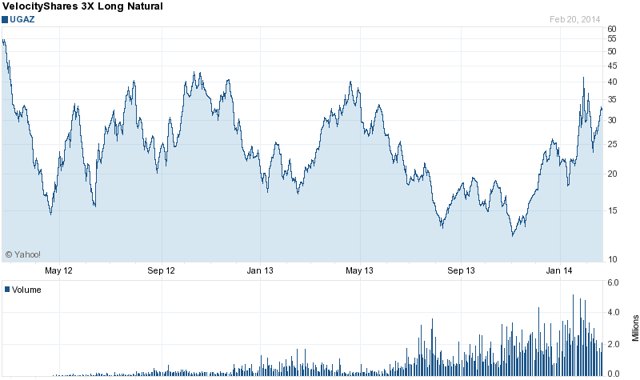 Back in late 2012, a fellow newsletter provider, Dennis Gartman, was bearish on oil and saw prices selling off. I was bullish on oil back then, and I still recall his bearish words at CNBC: "Fracking here, fracking there, fracking everywhere." Things proved him wrong as oil price has been hovering well above $85/bbl since then.
Back in 2012, Gartman was also bearish on gold, but things proved him wrong again as gold hit almost $2,000/oz. Gartman declared at a later time that he was wrong about his bearish call on gold.
Gartman said a few days ago that the nat gas price could rise to $7/MMbtu, which is reasonable. I will disagree with Gartman once again. And please do not get me wrong. I do not focus on Gartman's calls because of his newsletter. Actually, Gartman's newsletter is not comparable to mine because we focus on completely different target groups. However, Dennis Gartman has been publishing his newsletter since 1987, and his publicly available calls are influential. As such, his calls could support, even temporarily, the momentum to the one direction or the other, trapping many investors on the wrong side of the trade.
The Facts
Given that nothing has changed structurally in the gas market, here are some important facts that any natural gas potential bull needs to know before he ends up being a bag holder:
1) The Ample Reserves In The US Are Here To Stay: According to the latest research, the U.S. has a total available future supply of 2,688 trillion cubic feet. That's enough to supply the U.S., at current consumption levels, for about 105 years. And we talk for 105 years, based on the current consumption levels.
This research does not obviously take into account any further improvement of the drilling techniques, which is a highly unlikely scenario. A minor improvement of the technology will push higher the recovery rates that range from 15% to 20% currently.
2) Canada's Vast And Underexplored Natural Gas Weighted Basins Are There To Stay: The latest news from Canada will also disappoint the natural gas bulls. In November 2013, a joint federal-provincial government report released its estimates and noted that there are huge, greater-than-expected natural gas resources in the Montney gas basin that straddles British Columbia and Alberta.
According to this study, the Montney contains 449 trillion cubic feet of natural gas that can be extracted economically, which is enough to meet Canada's needs for 145 years. Yes, you read that right. This is 145 years.
According to David Pryce, vice-president of operations for the Canadian Association of Petroleum Producers: "We are looking to establish our place within the global market, and to have an authoritative voice representing this as 145 years of supply is, I think, a compelling argument that Canada can play on the global stage."
And once again, this research does not take into account any further improvement of the existing drilling techniques and the associated higher recovery rates.
3) The Utica Shale Has Significant Growth Potential: A map of the Utica shale is illustrated below: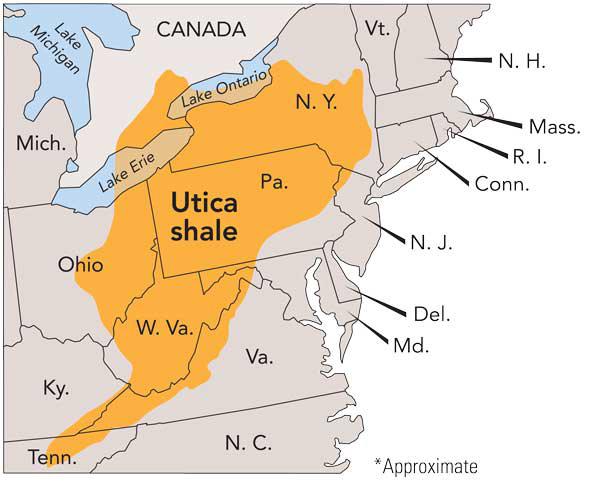 And this is the chart that I have seen in more than one nat gas-related article lately: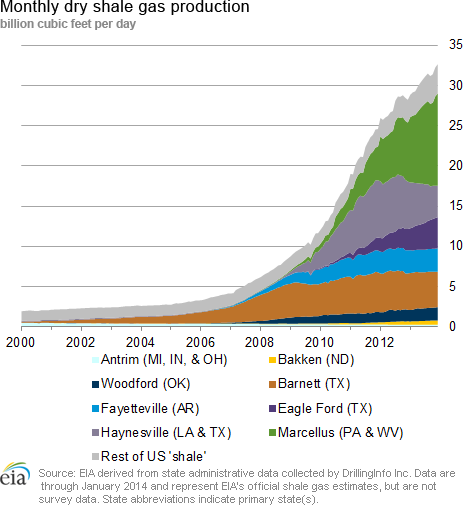 However, the second chart does not help the reader realize that the production from the Utica shale has been on an exponential rise during the last quarters.
Thanks to the Utica shale, oil and gas production in Ohio has more than doubled as of the third quarter of 2013. The Utica Shale pumped out 1.3 million barrels of oil and 33.6 billion cubic feet of natural gas. In 2012, Ohio produced 635,876 barrels of oil and 12.8 billion cubic feet of natural gas.
Furthermore, the Utica Shale could see another burst of production in 2014. Antero Resources (AR) is already the third most active driller in the Utica Shale, and it sees a long runway of growth with more than 720 future wells. Overall, Antero believes it has the potential to produce more than 5.3 Tcf, with only 19% of that production being oil or natural gas liquids.
Chesapeake (CHK) saw output in the Utica Shale jump by 91% in 2013 over 2012. And its production could have been much higher. As of the end of September 2013, Chesapeake Energy had drilled 377 wells, but 208 were either waiting on pipelines or were in various stages of completion.
In addition to heavyweights like Consol (CNX), Hess (HES), Chevron (CVX), Anterro Resources and Chesapeake Energy, emerging players including Magnum Hunter (MHR), Gulfport (GPOR), and PDC Energy (PDCE) will grow production from this resource-rich shale in 2014.
Magnum Hunter Resources is completing its first few wells in the play. A lot of the company's acreage is adjacent to Antero Resources, suggesting that Magnum is situated in a prime spot in the play. Gulfport Energy estimates that it will produce approximately 50,000 boepd in 2014 from approximately 28,000 boepd in late 2013.
It is apparent that the Utica Shale will see another burst of production in 2014 that will refill the inventories and satisfy the restocking demand from the East and Northeast region quickly. As a result, the replenishment cycle will be much shorter compared to 2012 and 2013.
4) The Marcellus Shale Offers Ample Supply At A Low Cost: The Marcellus shale has been one of the main contributors to the natural gas shale boom in the US. Cabot Oil and Gas (COG) is one of the biggest players in that formation, and the company has been cutting its drilling costs for several quarters in a row. According to company's CEO: "This is the reason we can break even, or even deliver a return on a well, if gas prices push down to $1.20."
Yes, you read that right. Marcellus shale can be profitable even at $1.2/MMbtu.
According to the latest news from the U.S. Energy Information Administration's latest Drilling Productivity Report, production of natural gas in the Marcellus region exceeded 13 Bcfd in December 2013. The Marcellus region, which produced less than 2 Bcfd as recently as 2010, provided 18% of total U.S. natural gas production in December 2013. And the production growth from this shale is not going to stop in 2014, as shown below: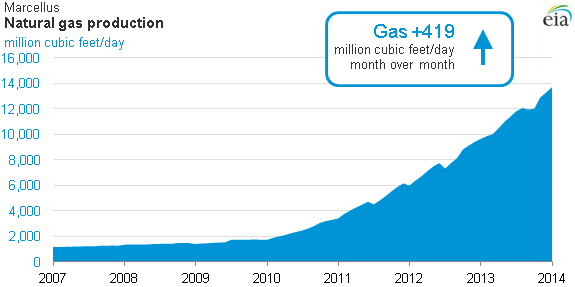 5) Numerous Shut-In Or Temporarily Abandoned Natural Gas Wells Come Online: As shown above, natural gas is not a depleting product in North America, and its reserves last from 105 to 145 years, based on the existing drilling technology and the current low recovery rates.
Another fact is that many producers have been reactivating their natural gas wells during the last months to take advantage of higher natural gas prices. I am talking for numerous shut-in or temporarily abandoned wells that require $4/MMbtu to be economic, and are spread from Haynesville and Barnett to Marcellus and the Piceance Basin.
Actually, this is not rocket science. The same thing occurred when the oil price dropped below $70/bbl a few years ago. Drilling activity plunged because the companies did not have the reason to spend money and produce oil. And the oil boom took place once the oil price surpassed again the threshold of ~$80/bbl.
6) New Infrastructure Is Coming Online: Many nat gas bulls assess the current situation by using outdated methods. What they miss is the fact that new takeaway capacity began service in late 2013, and additional capacity begins service in H1 2014. As a result, the U.S. replenishing capability is much stronger today than it was 1 or 2 years ago.
This new capacity will add more supply than estimated and will ease any congestion much quicker than projected primarily in the Northeast where the low temperatures have increased the seasonal demand.
To find more information about all these projects that transform the infrastructure map of North America, you can check out my articles here, here and here.
7) Oil Production Growth Is Associated With Natural Gas Production Growth: Another undeniable tailwind for the natural gas price is that associated gas production has been marching higher on the back of stronger oil production in the US and Canada on a year over year basis. And this amazing reversal of the oil production in the US and Canada is not going to stop over the foreseeable future as shown below: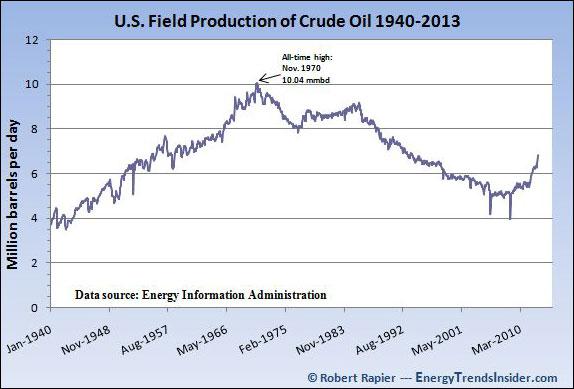 and below: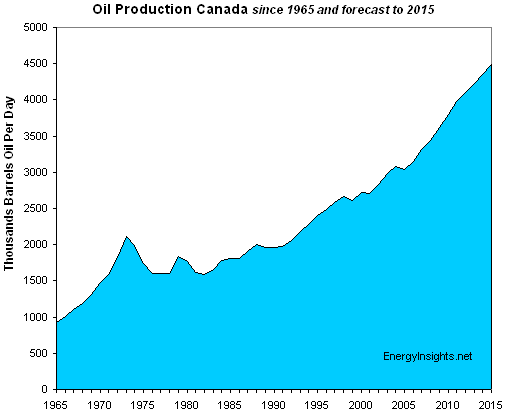 8) Fuel Switching: While most residential and commercial customers rely solely on natural gas to meet many of their energy requirements, many industrial and electric generation consumers have the capacity to switch between fuels. In fact, these users consume more than 50% of the total U.S. natural gas consumption.
As soon as gas prices spike, many electric generators switch from using natural gas to using cheaper coal, thus decreasing significantly the demand for natural gas. Even if it dips at $4/MMbtu, many power plant operators prefer to buy the cheap coal instead. These operators switched to natural gas last year just because the natural gas price was hovering well below $3.5/MMbtu. Anything above that threshold boosts their operating costs.
9) High Nat Gas Price In North America And LNG Glut Make The LNG Projects In The US And Canada Unprofitable: Canada has issued export licenses to three Canadian LNG projects. These projects are LNG Canada, Kitimat LNG and the Douglas Channel Energy Partnership, which is going to start the exports in 2015. The trio of approved Canadian projects will have the capacity to ship 4.66 Bcf/d.
In the US, regulators have permitted six liquefied natural gas export facilities thus far, and more are seeking approval. Cheniere Energy (LNG) has already invested billions of dollars in its LNG facilities, and will start the deliveries from the first two trains in late 2015.
The key point is that all these LNG projects have been budgeted based on a Henry Hub at or well below $4/MMbtu. Taking into account the high end of this projection ($4/MMbtu for Henry Hub), LNG cost will be approximately $4.6/MMbtu since the LNG cost is 115% of Henry Hub price.
The liquefaction fee and the transportation costs currently range from approximately $5/MMbtu to $7/MMbtu, assuming that the shipping companies will not increase their current low day rates. However, this assumption is highly unlikely. Angola's first LNG exports impacted positively the rates in late 2013, which rose for the first time in almost five months, according to Fearnley LNG, a shipbroker in Oslo. Nevertheless, let's assume that a widened Panama Canal (contingent on the resolution of current cost disputes) will offset the increases at the freight costs set by the shipping companies.
Based on a Henry Hub price of $4/MMbtu, the total delivered cost ranges from approximately $9/MMbtu (Europe) to $12/MMbtu (Asia), as shown at the corporate presentation of Cheniere Energy. As of today, the nat gas price is $10-$12/MMbtu in Europe and $14-$15/MMbtu in Asia, where China, Japan, South Korea and India are the main LNG importers.
The $4/MMbtu scenario results in a net difference of ~$2/MMbtu for Europe and ~$3/MMbtu for Asia. It is apparent that all these projects will be unprofitable, based on the current Henry Hub price of $6/MMbtu, even if the nat gas price in Europe and Asia does not correct at all over the coming years.
However, a knowledgeable investor realizes that this correction of the natural gas price in the international markets will occur sooner than expected, pushing further into the red zone the US and Canadian exports. The natural gas price in Europe and Asia cannot remain at the current sky high levels for long. Why?
According to the American Council for Capital Formation (ACCF), there are currently at least 63 LNG export projects planned or under construction around the globe that can export 50.5 Bcfd.
It is apparent that the clock is ticking, and global LNG exports threaten to saturate the Asian and European markets. A "too much too fast" situation is going to unfold over the next couple of years as the group of the LNG exporters grows every year, with Angola to be the most recent entrant in this group. The first gas from Angola's LNG plant was shipped and sold to state-owned Sonangol last summer. Chevron, the majority owner of Angola's LNG Plant, resumed output in late 2013, and Angola has been selling its gas in the region and internationally since then.
Let's have a quick look on the nations that are rushing to supply Asia and Europe with LNG. In fact, the following nations will flood both markets with LNG effective 2014:
A) Qatar: According to the latest news from Bloomberg, Qatar will boost contracted liquefied natural gas exports to Europe by the most in five years. Qatari shipments to Europe will rise 22% in 2014, the biggest jump since 2009. Qatar will supply an extra 6.64 million metric tons to Europe in 2014 in addition to the 19.65 million contracted into the region this year. And the thing is that Qatar's ability to supply the international markets does not end with these exports to Europe. According to QatarGas, the company retains the ability to respond to demand signals from other regions, such as Asia.
B) Australia: LNG is driving an unprecedented level of investment in Australia. Australia is forecast to overtake Qatar as the largest LNG producer by 2020. By 2016, Australia is expected to be exporting around 85 billion cubic meters of LNG each year to Asia, closing in on top-ranked Qatar's output of 100 billion cubic meters per year. Australia's gas exports will rise to 81% of its total production by 2018, from 53% in 2012.
C) Papua New Guinea: Many folks might not know where PNG is located. However, this country will be another LNG exporter to Asia effective 2014. The country's first LNG plant, which is owned by Exxon Mobil is going to start the first deliveries over the coming months.
D) Nigeria: In 2014, Nigeria is a country that will increase the global supply of LNG to the international markets. The Nigeria LNG Limited targets to export 325 cargoes of LNG to European and Asian customers in 2014. The Nigeria LNG exported 280 cargoes to the international markets in 2013, supplying 7% of total world LNG demand.
E) Russia: Russia is the world's second-largest producer of oil from conventional reservoirs. According to EIA, Russia has also huge shale oil and natural gas resources hidden deep within the underground bedrock in Siberia. Russia's only existing LNG plant is the 10 mtpa Sakhalin-II project on Sakhalin island, which has Royal Dutch Shell (RDS.A) and Japanese customers Mitsui and Mitsubishi as co-investors with Gazprom. And things seem to accelerate on the LNG front quicker than expected.
In June 2013, Russia moved a step closer to becoming a rival LNG supplier to Qatar and Australia's key gas markets in North Asia. China's biggest oil company, China National Petroleum Corporation (CNPC), bought a 20% stake in the huge Yamal LNG project in northwest Siberia.
The Yamal LNG project involves the construction of a 16.5 mtpa processing plant, which will draw gas from the South Tambey field and then export it as LNG from a new port at Sabetta, northeast of the Yamal Peninsula, through Arctic waters to customers in Europe and Asia. The exports will start in 2016.
Gazprom has its own LNG ambitions for Asia, in a project known as "Power of Siberia." In late 2012, Gazprom decided to spend as much as $38 billion on developing gasfields in eastern Siberia, with an associated 3,200 km pipeline to a proposed 10 mtpa LNG plant at Vladivostok on the east coast. Gazprom has already contacted the potential gas buyers in South Korea and China, and the exports will start in 2018.
In late 2013, Russian President Vladimir Putin signed into law amendments that will allow rivals of state-owned Gazprom to export LNG. This LNG export liberalization law will enable Russia's No.2 and No. 4 gas producers Novatek and Rosneft to launch their own LNG projects, helping also Russia boost its share of the global LNG market. Russia wants to double its share in the global LNG market from 4.5% now to 9% over the next 5 years.
F) Turkmenistan: Turkmenistan's natural gas reserves are the fourth largest in the world and the country is considered the region's gas giant, behind Russia, Iran and Qatar.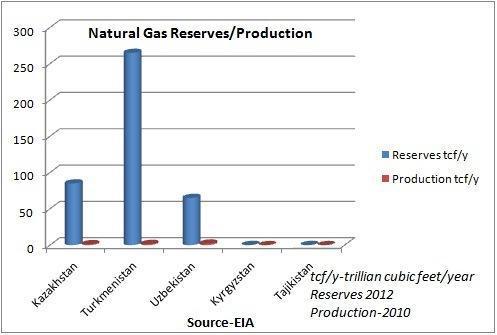 In late 2013, Turkmenistan opened a giant natural gas field (Galkynysh) and increased its supplies to China via a pipeline that crosses Uzbekistan and Kazakhstan. Galkynysh is the world's second largest natural gas deposit with reserves of up to 26.2 trillion cubic meters, according to international petroleum consultants Gaffney, Cline & Associates. Turkmenistan has already become China's largest supplier of natural gas, responsible for 51% of Beijing's gas imports, according to BP's Statistical Review of World Energy 2013.
Turkmenistan's exports will expand to Europe soon. In late 2013, negotiators of the European Union were finalizing a deal to construct a pipeline (Trans-Caspian Gas Pipeline) from Turkmenistan to Azerbaijan across the Caspian Sea, bypassing Russia.
G) East Africa: East Africa's emerging liquefied natural gas industry is also growing by leaps and bounds, and is geographically well placed to meet the LNG demand in Asian markets.
Thanks to a string of huge gas discoveries in Mozambique and Tanzania, the initial estimates of reserves show that there is sufficient gas in place to support several large-scale LNG projects.
Anadarko Petroleum (APC) and Eni (E) have found more than 100 trillion cubic feet of gas off Mozambique, enough fuel to build the world's second largest liquefied natural gas plant.
Tanzania alone estimates it has 41.7 trillion cubic feet of recoverable natural gas reserves. Tanzania expects its gas resources to increase fivefold within the next two years and rise to 200 trillion cubic feet, according to the energy and minerals ministry.
H) Israel: Israel is the next major LNG exporter as it is blessed with vast reserves of natural gas in more than one field (Tamar, Leviathan, Dalit, Tanin). In June, Israel's government approved the export of 40% of the country's natural gas reserves, which could bring in $60 billion in government revenue over the next 20 years.
After all, the cheap natural gas in North America plays a crucial role for the survivability of the LNG exports and their already-thin margins. The LNG exports have the potential to spur positive increases in nationwide employment, and it is estimated that 73,100 to 452,300 new jobs can be created between 2016 and 2035.
It is also estimated that the US gross domestic product can grow from $15.6 billion to $73.6 billion annually between 2016 and 2035, according to a recent study by ICF International. Benefits at the state and local level in areas that will house export facilities and produce natural gas, will also be significant.
Is there any government that will shoot its own feet and severely hurt its own economy by rendering these LNG projects commercially unviable?
As such, there is also a significant political reason that supports the cheap natural price scenario. And I believe that both Canada and the US will take measures (i.e. subsidies or other tariffs), if needed, to bring the price of natural gas below $4/MMbtu in order to render the LNG operations profitable.
10) "Made in America" And Unemployment Decline Will Be Under Threat: This is another reason why the cheap gas will definitely find political support from the US government. The cheap gas has revived the economy in the US, and the glut of shale gas thanks to fracturing and horizontal drilling, has changed to the better the outlook for "Made in America."
Fifty new major industrial projects have been announced in several energy intensive industries, including petrochemical, steel, and fertilizer manufacturing. All these industries require cheap energy in the form of heat to transform a raw material, such as iron ore, into a finished product, such as steel. For others, such as fertilizer, chemical, and oil refining manufacturers, the energy products supply both raw materials and heat to create their products.
If natural gas remains at the current levels of $5-$6/MMbtu, it will wipe out a competitive advantage U.S. producers have over foreign companies, according to Dow Chemical (DOW). Spencer Abraham, a former U.S. energy secretary who has worked with gas exporters since leaving office, said in an interview: "Nobody would be advocating this if we only had 10 more years of natural gas supplies. The fact is that we have at least a century or more."
11) Unhappy Voters: There are going to be many unhappy consumers when they open their fuel bills this month. Assuming the price remains at the current sky-high levels of $6/MMbtu over the coming months, the number of unhappy customers will increase dramatically, putting significant political pressure on the US and Canadian governments.
12) Mexico's Energy Reforms: Mexico's recent energy reforms are another headwind for Henry Hub. Mexico is currently a leading oil exporter to the United States, but US natural gas exports to Mexico hit a record last year. US gas exports to Mexico rose 19% to 620 billion cubic feet last year, meeting about 20% of the country's demand. Domestic production has been in decline because of under investment by Pemex.
However, Mexico has the world's fourth largest shale gas reserves, with 681 trillion cubic feet of recoverable reserves plus a further 13 billion barrels of recoverable shale oil reserves, according to the U.S. Energy Information Administration. EIA estimates that proven reserves of shale gas in Mexico is 32 times what is in the Texas portion of the Eagle Ford shale. Mexico is sitting on an estimated resources base, which is comparable to Kuwait. At only 90% of this estimate, Mexico's proven natural gas reserves would be worth $2.4 trillion.
The Eagle Ford geological formation in south Texas extends into northeastern Mexico, and the first results on that front are very encouraging. In April 2013, Pemex announced its first ever production of shale gas from a test well in the Burgos basin that lies across the border from Texas. The Chucla-1 well produced 1.9 billion cubic feet per day of natural gas, as well as 24 barrels per day of crude oil and other condensates.
In December 2013, President Nieto signed a law that opens Mexico's oil industry to foreign investment for the first time in 75 years. The "game changer" bill modifies three articles of Mexico's constitution, aiming at attracting foreign investment with profit and production-sharing contracts. Under the previous status quo, Pemex's private partners hadn't any incentive to take risks because Pemex was paying them not "in kind" (i.e. a percentage of extracted oil and gas) but in cash.
President Nieto calls these energy reforms "the grand transformation" that aims at shoring up the Mexican economy, reducing violent crime, upending the public school system, and increasing tax collection, as Pemex's revenue funds a third of government operations.
After all, and since the technology is there, Mexico will develop its own ample shale gas reserves pretty quickly over the next years, eliminating the gas imports from the US.
Conclusion
The natural gas reality has been heavily distorted by a misconception lately, inflating a natural gas bubble. As shown above, there are many reasons why this rally has no fundamental legs and a dramatic price decline is in the cards over the next weeks. After all, I am buying today the ETFs KOLD and DGAZ at $39.5 and $2.93 respectively, and as Carrie Underwood says in one of her lovely songs: "I told you so."
Disclosure: I am long KOLD, DGAZ. I wrote this article myself, and it expresses my own opinions. I am not receiving compensation for it (other than from Seeking Alpha). I have no business relationship with any company whose stock is mentioned in this article.
This article was written by
One-Stop Shop with long ideas (value & dividend stocks) and short ideas
Value Digger is a former fund manager with more than 30 years of investing experience and a full-time deep value investor with a track record of market outperformance.
Additionally, he is a Seeking Alpha Author with one of the highest Followers per Article (F/A) rates. His F/A rate in Seeking Alpha far exceeds 30 followers per article. Also, he has created a big community of deep value investors and launched "Value Investor's Stock Club" (VISC) on Seeking Alpha in 2016. VISC is a value research service with select long and short ideas from different sectors.
His quarterly performance reviews illustrate his high returns and are available to his subscribers. For reference, when Value Digger was managing money in the early 2000s, his Portfolio's annual ROI consistently exceeded 50%. His research is based on a comprehensive review of company-specific and sector-related factors, macro conditions and competitors.
After 30+ years of investing experience, Value Digger has formulated a deep understanding of valuation analysis and his investment philosophy is firmly grounded in Ben Graham-style value-oriented opportunities that often have an asymmetric risk/reward profile. On that front, he has created a proprietary database with thousands of publicly-traded companies, which helps him discover big disconnects, spot the bargains (long ideas) and the bubbles (short ideas) before many investors find them.