Welcome to the second issue of our weekly update of what happened for the week in the universe of master limited partnership companies and funds. From the comments on last week's roundup, it seems that this data provides a useful overview for MLP investors. As a baseline for comparison, the JPMorgan Alerian MLP Index ETN (NYSEARCA:AMJ) was down 1.56% for the week and sports a current yield of 4.86%.
Unit Value Winners and Losers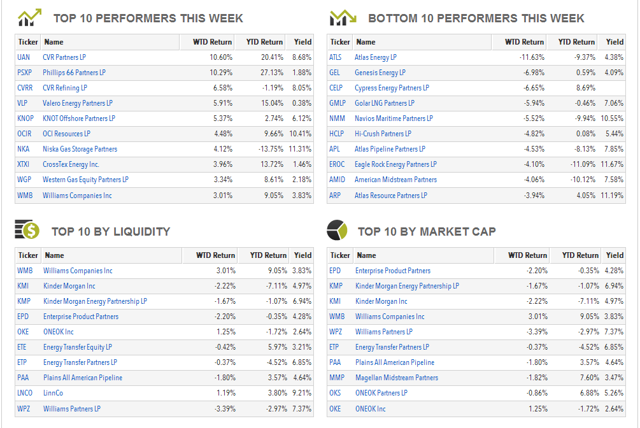 Distribution Rate Changes
Announced dividend increases for the week were limited to the two CVR MLPs: CVR Partners LP (NYSE:UAN) and CVR Refining LP (NYSE:CVRR). Both companies have variable distribution policies with payouts that change from quarter to quarter based on the fluctuating profitability of their business operations.

Although the bulk of Q4 earnings announcements have fallen into February, many MLPs announced their Q4 distributions in January. Go to this data page to check on specific distribution increases or decreases.
Insider Trading
Insider transactions jumped up to 15 this week, compared to the 10 reported last week for the first two weeks of February. Active MLPs for insider buying were led by Martin Midstream Partners LP (MMLP) with four buyers. Richard Kinder again put $3 million into one of the Kinder Morgan companies, buy 100K shares of Kinder Morgan Inc. (KMI).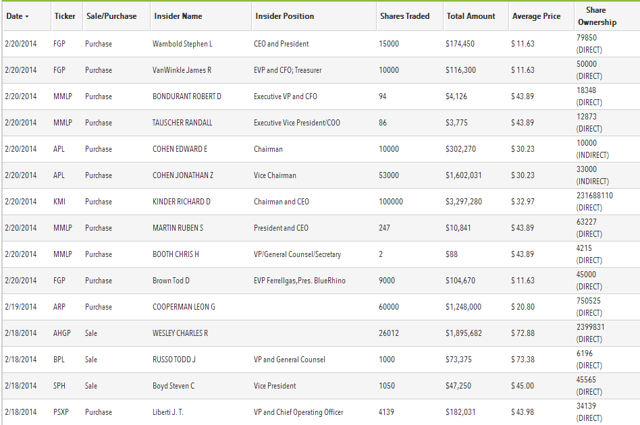 Share Issuance News
Kinder Morgan Energy Partners LP (NYSE:KMP) raised capital this week with a secondary offering of 6.9 million common units. These unit shares are not related to KMP's ATM share issuance program.
ETF, CEF and Mutual Fund Money Flows
MLP focused funds took in $223 million this week, above the four week average of $198 million. ETFs reversed last week's $85 million of outflow with an intake of $136 million. Mutual funds took in $87 million.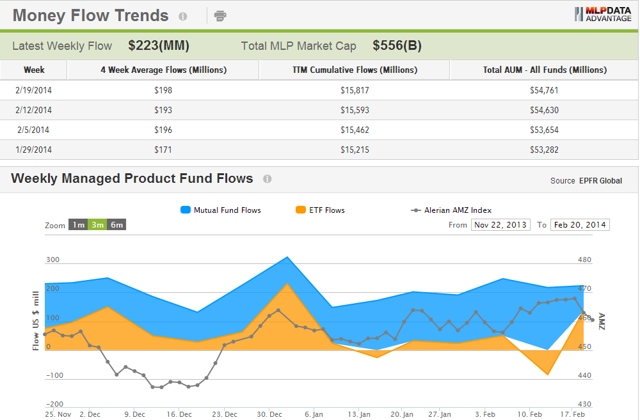 Next Week's Earnings Calendar
Earnings season continues in full force next week with the earnings schedule listing 28 releases coming out.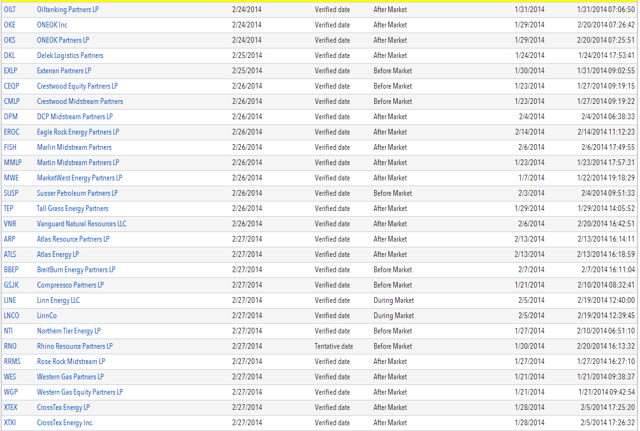 To make sure you get this round-up each week, make sure you are following MLPData here on Seeking Alpha.
Disclosure: I have no positions in any stocks mentioned, and no plans to initiate any positions within the next 72 hours. I wrote this article myself, and it expresses my own opinions. I am not receiving compensation for it (other than from Seeking Alpha). I have no business relationship with any company whose stock is mentioned in this article.