Arena Pharmaceuticals (NASDAQ:ARNA) continues to see sales of its anti-obesity drug, Belviq, rise in 2014, albeit more modestly than some would have hoped. The company is a week away from announcing Q4 results, and thus far the sales pace in Q1 is about 13% higher than Q4. This is decent news, but the fact of the matter is that sales should outpace a Q4 in which holidays carried a major impact. Yes, some will talk about weather so far in Q1, and it is an issue, but at the end of the day, performance is expected, and excuses only go so far.
Arena will offer up quarterly results on Thursday, February 27th at 5:00 pm Eastern. I have had a flurry of communications that the call was moved up by a week, but this is not really the case. I suspect that many investors were looking at websites that try to project when earnings will be released. Arena had not previously scheduled a day for its call, and the date of the call is well within what would be expected. As an investor I would not read too much into the company offering its quarterly results a week ahead of what a website assumed might be the date. Now to this week's sales.
As I have stated for quite some time now, a reasonable pace for sales in the current quarter is between $25 million and $30 million. What would be required to get to that level was 10% week over week gains early in the quarter, 7% week over week gains in the mid quarter, and 5% week over week gains in the tail end of the quarter. These numbers would represent getting to a reasonable sales figure for the current quarter. They do not project to what some would call "impressive growth", but they are indeed enough to demonstrate that "impressive growth" can happen at some point in the future. I say this not to be bullish or bearish, but rather as an assessment of what types of numbers will be drivers of the equity.
This week sales saw a very modest increase from last week according to industry tracker IMS Health. Overall sales of Belviq were up 1% week over week, while new prescriptions were down. Industry tracker Symphony has not yet posted numbers, but they will most likely also reflect a very modest week over week gain. From the perspective of the competitive environment, Belviq is doing better than its rival Qsymia. Qsymia sales were down about 4%. From the perspective of posting quarterly numbers that get the respect of the Street, this week's performance was lacking. It is becoming more clear that we need a compelling catalyst, such as an ad campaign, to spur sales.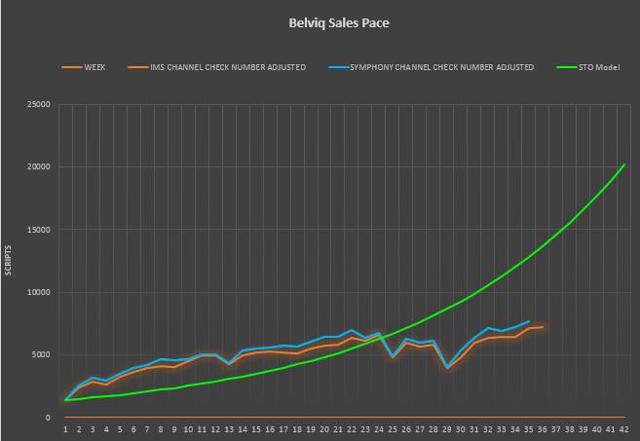 Chart Source - Spencer Osborne
On a cumulative basis, I have estimated consumer sales of almost $36 million since launch. The track that I have outlined as reasonable calls for cumulative sales to be between $50 and $60 million by March 31st. As you can see in the charts, sales tracked above the line for quite some time and have since begun a trend of tracking below the line. Overall my track calls for cumulative sales top be at about 196,000. My estimates for IMS stand at about 180,000 and my estimates for Symphony should come in at about 192,000. This is the first time that the cumulative number in my model is above both the adjusted Symphony and adjusted IMS figures. With estimated sales currently at about $36 million, we would need to see a minimum of $14 million in sales, and preferably $24 million, between now and March 31. If that can happen, the equity should remain pretty stable and can even carry a bullish bias on potential.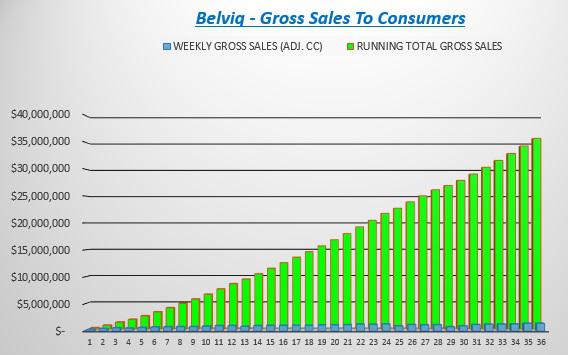 Chart Source - Spencer Osborne
In comparing sales this quarter to last quarter, we can see that Belviq sales are tracking ahead. In fact, sales so far this quarter are about 13% ahead of last quarter. This is definitely progress, but again, nothing that would generate too much excitement yet based on the comments Eisai made at its conference call a little over a week ago. Eisai projects that sales this quarter will beat last quarter significantly. A significant delta, in my opinion, needs to be greater than 13%. Thankfully, beginning in about 2 weeks, the numbers should appear much better. For the last 5 to 6 weeks of 2013, sales were hampered by the holidays. That should enable the delta between this quarter and last to get wider, thus the chances of a significant difference between the two quarters can still exist.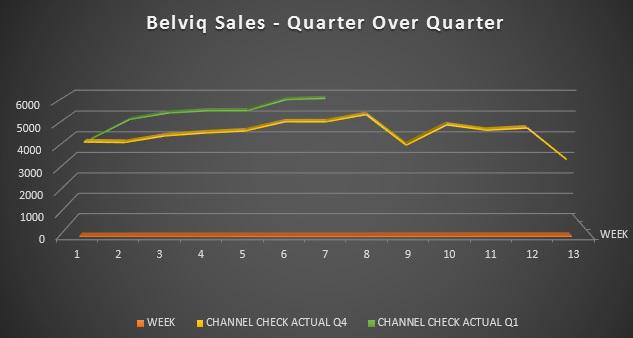 Chart Source - Spencer Osborne
Summary
Yes, sales are increasing. Yes, weather can be a hurdle. No, the market does not really care about excuses. The market simply wants performance. As an investor you need to understand what the market expects to see versus what is being delivered. At the moment, Belviq sales are tracking to simply meet expectations that were adjusted downward substantially from what was expected 8 months ago. Meeting the lowered expectations will be a small victory, but not something that sends the equity rocketing upward. With television ads not expected until April or later, we may see this equity carry a bit of a ceiling on the sales potential of Belviq for a few more months. You may not like to hear that, but it is what it is. Stay tuned!
Disclosure: I am long ARNA. I wrote this article myself, and it expresses my own opinions. I am not receiving compensation for it (other than from Seeking Alpha). I have no business relationship with any company whose stock is mentioned in this article.