Coca-Cola Co (NYSE:KO) has been given some not so positive news thanks to declining operational results and comments by investment experts such as Buffett over the near-term viability of the company. The stock price has remained volatile over the last year rising to $43 last May and dropping as low as $37 in October. However, things are not as bad as they appear to be and investors should not lose hope concerning the stock's value. I am aware of some events that I believe will help the company to improve and the deflated price offers a good entry point adding to the appeal of the stock.
Before we begin the analysis, let's go through the company's recent performance determine why investors sold the shares in a frenzy.
The Last Period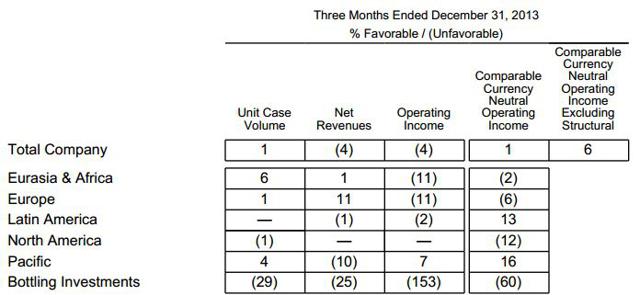 Source: Earnings Release
Coke's fourth-quarter sales fell 3.6% to $11 billion missing average analysts' estimates. However if we exclude the impact of structural changes and currency headwinds, the company's net revenue actually grew 4% last quarter on a yearly basis. This was due to the achieved volumetric growth mainly in international markets that included Russia, Belarus, and Nigeria.
The company's results were hidden inside bad currency translation that portrayed the financial statements in a not so optimistic image. Operating expenses continued to improve year on year. During the fourth quarter the improvement in operating expenses as a percentage of revenue more than offset the contraction in gross profit margin leading to an improvement in the operating profit margin.
The benefits from revenue growth initiatives and increased volume combined with the improvement in operating expenses more than compensated for the unfavorable currency movements and higher input costs benefit the comparable operating profit that reached EUR 68 million last quarter reflecting an increase of EUR 12 million and increasing the margin by 20 bps to 6.6%.
With regards to earnings, the comparable EPS also increased 4% to EUR 0.81. We don't need to go into the nitty gritty of the operational performance because simply put a majority of the negative returns were the result of bad currency translation. Considering the impact on share price I believe Coca-Cola has learned a lesson and provided it hedges its currency risk more appropriately in the future we shouldn't see a recap of what happened earlier this quarter.
The Future
It is evident that beverage companies are being bombarded with new competitors fighting for market share at the moment. This includes a crowd of energy drink brands, pressed juice makers, and do-it-yourself appliances from companies like SodaStream International (NASDAQ:SODA). Mitigating the impact, Coca-Cola has taken steps toward diversifying itself. This month it agreed to buy a 10% stake in Green Mountain Coffee Roasters (NASDAQ:GMCR) for $1.25 billion and work with the maker of Keurig coffee brewers to introduce a system for producing single-serve cold drinks.
Green Mountain's first Keurig cold beverage system will be available in 2015 so Coca-Cola will get an exclusive chance to release K-cups and given its share in the company it will have more control over which rival comes under the Green Mountain brand in the future.
Given how Green Mountain has transformed the coffee industry with its home-brewer machines there's potentially every reason to believe that a Coca-Cola/Green Mountain collaborative effort will produce good results. By penetrating into other markets Coca-Cola will be prepared to take any blows it might take in the previously penetrated market.
Top-line Growth may be near but Bottom-line Growth has already begun
If you recall the chart given above that showed how the operating income, excluding structural changes, grew 6% last quarter you will see that cost reduction initiatives are already working in Coca-Cola's favor. These efficiencies have been so strong that the company went into a negative working capital over the last quarter. Extending these efforts, Coca-Cola just launched another cost saving plan that would save costs totaling about $1 billion by 2016.
In the plan, the company will reduce the money it spends on supply and data management and reinvest in marketing to increase demand. Redirecting resources will help Coca-Cola lose less of its market share if not sustain it to the present level. Moreover, introducing product variants that are more health friendly like it recently did in Argentina will help keep the company out of the red.
Bottom Line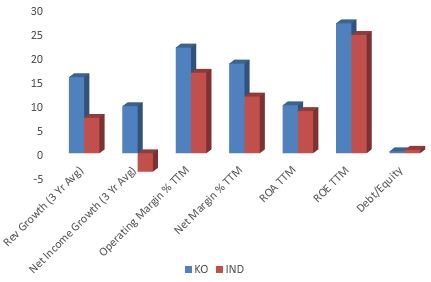 Source: Morningstar
Coca-Cola is not and has never been an unsuccessful company. This is why you will notice that Buffett has held it in his portfolio for decades. Beating the industry average in virtually every fundamental, the company has outperformed its rivals by a significant margin (see graph above). The short-term drops are part of every successful firm, but forgetting the long-term potential may not harm the company as much as it would do to investors.
The company's investment in Green Mountain and plan to divert its resources towards marketing and lowering costs allows me to have faith that despite price volatility, the company will stabilize and recover. I therefore recommend investors strongly consider keeping Coca-Cola in their portfolio.
Disclosure: I have no positions in any stocks mentioned, and no plans to initiate any positions within the next 72 hours. I wrote this article myself, and it expresses my own opinions. I am not receiving compensation for it (other than from Seeking Alpha). I have no business relationship with any company whose stock is mentioned in this article.