SA Author MLEW2000 posted an interesting Instablog on the subject of Apple's (NASDAQ:AAPL) recent iPhone sales reports and concluded that a portion of the much lauded launch success of some 9 million iPhones in the September quarter may have included a pile of iPhones shipped into channels rather than sold to end users. You can make any launch a massive success if all you need to do is ship product to your distributors and call it a win, but it is sales to end users that count.
The Instablog post triggered some thoughts that have been troubling me about Apple's reporting. Apple entered Q1 2014 with 14.3 million iPhones in inventory according to its CFO Peter Oppenheimer in his review of Q4 2013 results.

That implies that 3.0 million of the 33.8 million iPhones Apple booked to revenue in Q4 2013 were shipped to the channels rather than sold to end users.
During the quarter, based on public reports of its production rates, I estimated that it could produce 50.7 million iPhone 5S and 5C during the quarter. Apple ended the quarter having booked sales of 51 million iPhones and, during the conference call, indicated that its channel inventory increased during the quarter in part explaining why its guidance for Q2 was somewhat below street expectations. Apple also produces some iPhone 4S units at its supplier Pegatron, so don't conclude that the numbers can't balance. They can and I am sure they do.
Oppenheimer made the following comment in the Q1 earnings conference.

Later, he went on to say:

It seems 1.0 million of the 51 million units sold in Q1 were another round of "channel stuffing" rather than sales to end users. The real increase was not 7% but in fact was 2 million phones or 4%. In the two quarters ended December 31, 2013, unit sales to channels booked to income but not sold to end users totaled 4.3 million units, just adding the two figures from Oppenheimer's Q4 and Q1 comments above.
There is no accounting issue with recording sales to the channel as revenues if management is confident the product will be sold through to end users and not returned. Apple's revenue recognition policy is quite standard:

What is interesting is how much iPhone channel inventory has built up in Apple's channels as the company has grown and now totals over 15 million units. At an average selling price of $600 already taken into revenues, Apple's channel inventory amounts to $9 billion or so.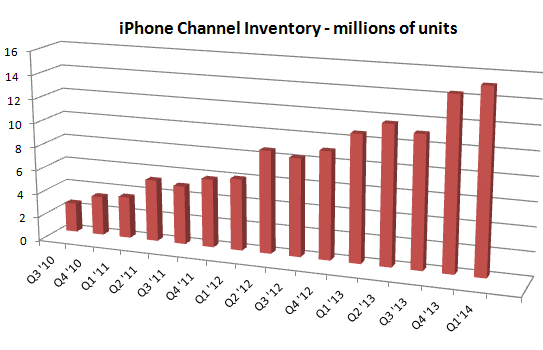 Source: Apple earnings conference calls (chart by Michael Blair)
The mix of that inventory is even more interesting. If the iPhone 5S was a sell out or near sell out, as most observers believe, the iPhone inventory in the channels must comprise primarily iPhone 5C and older versions. Other than iPhone 5C, that inventory has to be pretty stale.
At some point, the growth in smartphone markets may end. Even earlier, as Apple cedes market share to competition to preserve its outsized margins and profits, Apple unit sales may begin to stutter or even fall. At that point, the channel inventory could become an issue.
There are signs that China is already maturing. IDC reported that smartphone sales in the December quarter actually fell and commented as follows:

Apple left calendar 2013 producing the iPhone 5S at a reported rate of 500,000 units a day. Apple may have stopped producing the iPhone 5C at least temporarily but recent reports suggest it may have Foxconn producing the iPhone 4S for sale in India, Indonesia and Brazil at a price point equivalent to about $366 U.S. Those are fast growing markets and Apple may enjoy brisk demand for a lower priced iPhone although the shifting preferences for "phablets" in those markets may mute the success of the iPhone 4S somewhat and some customers may consider it "old" technology compared to the more current Samsung and Windows OS phone offerings.
I think most observers would be thrilled if iPhone sales to end users hit 40 million in the second quarter, which would be an increase of 3.6 million over the 36.4 million sold to end users in Q2 2013 (37.4 million were shipped but 1 million of those were added to channel inventory). If 40 million iPhones are in fact sold and iPhone 5S production continues at the 500,000 a day rate and Apple produces no other products, the channel inventory will increase another 5 million units or more than $3 billion in terms of revenue. Production of any iPhone 4S or iPhone 5C that did not increase the sales beyond 40 million units would add to channel inventory.
My question is what happens if demand softens and will it cause the rubber to hit the road?
If Apple reduces its production rate from 500,000 iPhone units a day, it necessarily will produce less than 183 million iPhone units in fiscal 2014 and, having recognized 15 million units in revenues in prior periods, will be able to recognize iPhone sales revenues from no more than 168 million units without adding to channel inventory even further. If Apple continues to produce at 500,000 units a day or more (including iPhone 4S production), the company will continue to build inventory over the next two quarters increasing the units on hand in the channels to somewhere around 25 to 30 million units before Q1 2015 begins depending on sales rates in the seasonally soft quarters before the fall selling season. That would put channel inventory in the $15 to $18 billion range.
A likely scenario is that Apple will reduce production rates somewhat for the next two quarters while gearing up for a production rate in excess of 500,000 a day in the fall to try to match inventory to demand without sacrificing sales.
In my view, this is where Apple is the most vulnerable to competitive actions and to any slowing in the market growth. That slowing growth is starting to show up in key markets as it has in China. Pundits will come up with a lot of reasons for the fall - users waiting for the iPhone to hit China Mobile; the shift to "phablets" resulting in lower carrier subsidies for smaller screen sizes; shortages of 4G capable smartphones as Chinese carriers roll out their high speed services; and, so on. All of these explanations have some substance to them but none, nor all of them collectively, can really explain a 5% decline in a market which up until now was expected to show dramatic growth and which Tim Cook described as "a key market for Apple".
Apple seems to see India and Brazil as dumping grounds for its unsold inventory of iPhone 4S and is rumored to be considering restarting production of the antique device for sales at lower prices in India and Brazil. That might help clear inventory but it may come at a price. Indian and Brazilian consumers are not fools. This January 20, 2014 comment from the Jatinder Singh writing for Light Reading - India makes the point.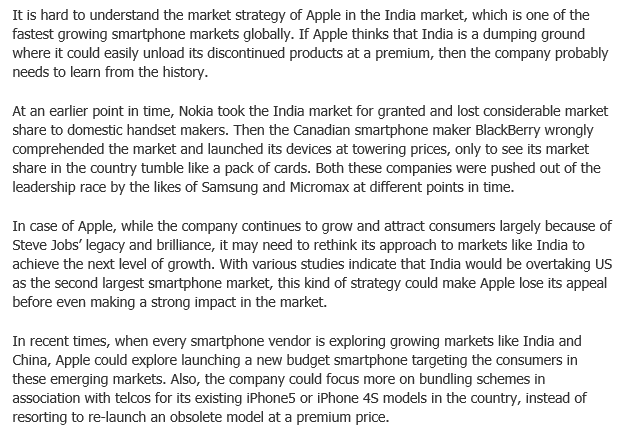 Apple can ship to its channels for a few weeks later this year as it is going into Q1 2015 but it will have very little ability to gauge just how well iPhones are selling until the Christmas period starts in earnest. By that time, it will be pretty long inventory and if sales do not materialize as hoped, it will have to make cuts in production as it did with the iPhone 5C in 2013 or risk a pile of unsold stock in carriers' hands. Either will put Apple in the difficult position of having to announce production cuts or risk inventory write offs. Neither event would be seen as positive by the stock market.
Tim Cook is an expert in logistics and I am sure he has this issue on his dashboard daily. At the scale Apple now enjoys the wagers on inventory are meaningful. Given the size of the current inventory and the likelihood it will continue to grow through the fall, any surprises are likely to be negative ones.
A careful review of inventory at each quarterly conference call this year can give investors a "heads up" as to how the year is unfolding. Any change in the practice of giving investors full details of the inventory in the channel would be a bad omen.
Failure of the Chinese market to grow or failure of Apple to capture a significant share of market in China will be what I see as a devastating blow to Apple investors' hopes. At this point it is too early to say that either is likely, but at the same time there is no doubt that either or both is possible.
I am on the bearish side of this gamble and am short Apple stock and calls while short Apple puts as a hedge.
Disclosure: I am short AAPL. I wrote this article myself, and it expresses my own opinions. I am not receiving compensation for it (other than from Seeking Alpha). I have no business relationship with any company whose stock is mentioned in this article.