The big news this week was Facebook's (NASDAQ:FB) acquisition of mobile messaging application WhatsApp, and it shined a $19 billion light on why messaging is such an important piece of the overall strategy for the big tech names going forward. The deal puts FB squarely in the lead: according to OnDevice, between WhatsApp and FB Messenger, the company now owns the largest market share of messaging apps in North and South America, Africa, and Europe. Tech titans Microsoft (NASDAQ:MSFT), Apple (NASDAQ:AAPL), and Google (NASDAQ:GOOG) need to play catch-up.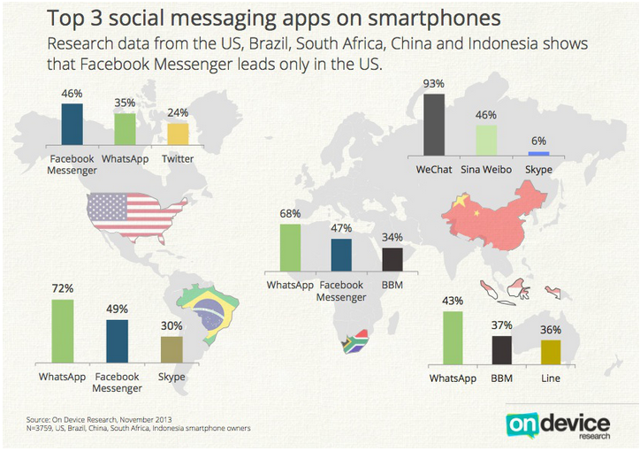 Source: Ovum Consulting
Why Mobile Messaging Apps are Important
As is the case with all developing technologies, mobile messaging applications are streamlining the communication process through: ease of use, less reliance on expensive SMS plans, group communication features, and international integration. The applications rely on the transmission of data through a broadband connection, either through a data plan or over WiFi. Free WiFi hotspots are increasingly more prevalent, so communication becomes significantly less expensive for users. Because messages are sent as data bundles instead of over the traditional telecommunications infrastructure, communicating with somebody in the next room becomes just as easy (and cost-effective) as communicating with somebody 14,000 miles away.
At the time of the acquisition, WhatsApp boasted an impressive 450 million user base and were adding 1 million new users per day. Impressive as that might sound, the market is still in its early stages. Much of the 450 million base has come in the past year. Competitors like WeChat (primarily used in China), have seen similar expansion during the past year.
Given the tremendous growth of the mobile messaging applications during the past year, it's imperative to look at how such rapid adoption is affecting the current message communication systems, largely the SMS plans at conglomerate mobile providers. According to London consulting firm Ovum, mobile SMS plans accounted for $120 billion in revenue during FY 2013, down from $145 billion in FY 2012. That decrease of $25 billion, or 17%, is largely attributed to the move away from SMS toward data-driven communication applications. Smartphone adoption continues to rise significantly, though the rate is beginning to decelerate. Still, users around the world are continuing to move away from traditional mobile phones and into the smartphone category; this bodes well for future continued growth in the mobile messaging app space. As consumers continue, also, to move away from traditional SMS plans, the ability to monetize these mobile apps will continue to increase as an alternative product category to the expensive, limited SMS plans.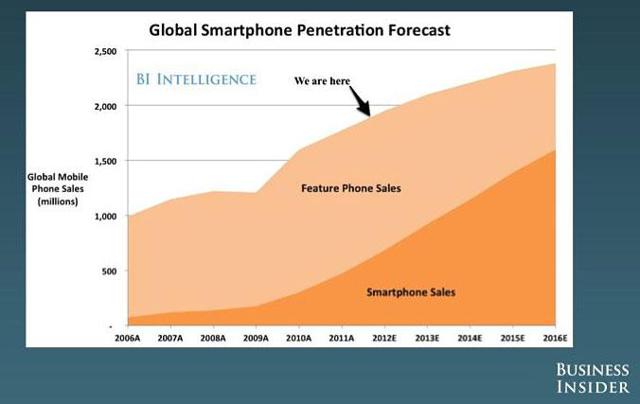 Source: Business Insider
Who Needs to Bolster their Messaging Portfolio?
FB has continued to develop their portfolio, and in doing so highlights their focus on innovation through acquisition. When the company acquired Instagram in 2012 for $1 billion, pundits argued that an application generating no revenue was not worth any type of investment. Today, FB has incorporated featured, sponsored advertisements into the app and is on the way toward generating a positive ROI in year 3 of the investment. Now, with this significant purchase of WhatsApp (whose price cost FB a 10.5% share in their market cap), it's up to other industry titans to step to the messaging plate and compete.
The first major messaging acquisition came when MSFT bought the then-industry-leader Skype for $8.5 billion in 2011, and in doing so, began the phase out of its long-time in-house messaging system, Microsoft Live Messenger. At the time of acquisition, Skype's key product features were the ability to make voice-over-IP, or phone calls, for free between Skype accounts, premium features including Skype-to-landline calls for charges based on country, and an instant messaging client. MSFT has the infrastructure in place to develop Skype to be a premier messaging service, but it seems they've focused efforts instead on becoming the premier channel for international calls. According to telecom data firm TeleGeography, in 2012 Skype accounted for 34% of total international calls, up from 13% in 2010. With the move on WhatsApp, MSFT should look to leverage their readily-engaged existing user base with Skype and focus on mobile messaging in the coming year.
AAPL is well-entrenched in the mobile messaging application ecosystem with their iMessage, which they launched with iOS5 in 2011. According to an NBC News article in late 2012, the introduction of iMessage has been a significant solitary factor in the decrease in SMS plans. Despite their successes since 2011, AAPL still only makes iMessage available to users with iOS devices. With FB's recent acquisition, AAPL might be forced to strike back in order to hold share in the mobile messaging space, and they could do so by opening up the iMessage service to any smartphone users.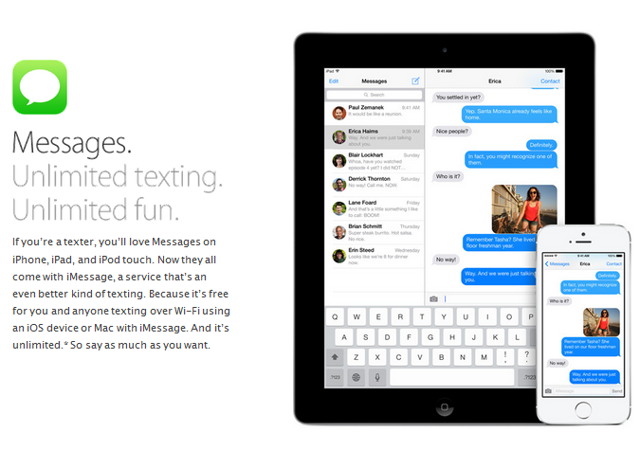 Source: Apple.com
GOOG, like FB, has driven innovation both internally and through acquisitions over recent years. Notably, their acquisition of YouTube in 2006 has revolutionized the video marketplace and in early 2013 accounted for nearly 8% of the value of GOOG's overall business. Despite the innovative culture, GOOG is not the industry leader in mobile messaging. Their presence is felt through a variety of applications - notably bundling on Android devices, Google Now, Hangouts, and Google+ - but they seemingly haven't been able to do enough to reach critical levels of success. It should be noted that GOOG made several attempts at acquiring WhatsApp but was unsuccessful. The desire for a push into the space is there, and the FB deal only makes things more urgent.
Key Players for Acquisition
With the acquisition of WhatsApp, FB owns the mobile messaging space. It seems that user connectivity is at the forefront for many of the top tech giants today, and monetization has been successful once scale is reached on the platforms. Who, then, becomes the new target for acquisition after this WhatsApp deal? BBM and Snapchat are the top targets.
BBM is BlackBerry's (BBRY) messaging service that was once the industry-leader and has been the only shining light for the struggling company during the past two years. According to CNET, BBM boasted 80 million monthly active users as of October 2013. Shares of BBRY traded higher on the WhatsApp acquisition news, because a similar user count analysis would value BBM at $3.4 billion. Still, some analysts fear that BBM won't fetch such a price, which is good for potential suitors. BBM offers a more secure experience for users - governments trust BBM for communication transmissions because of their encrypted firewall protection. This is a significant selling point to a potential buyer who has a focus on business customers. MSFT might be able to leverage their business customer base most effectively, and BBM could be a suitable business alternative to Skype for consumers. The relationships that MSFT has forged with enterprise software sales (a direction the company has specifically said they're going to continue focusing on) goes hand in hand with the benefits of the BBM service over other messaging apps.
Snapchat made news recently when they declined a $3 billion offer from FB. While Snapchat's current model lets users send picture and video messages that disappear within a few seconds, the attractive piece of the company is the continually growing and engaged user base. Actually, the company refuses to release statistics on its active user base, so it's difficult to gauge what type of value the company has, but the company also declined a $4 billion offer from GOOG in late November 2013, indicating they're confident user engagement will continue to grow. In the case of an acquisition, the first step would most likely be a transition from strictly picture and video messages to include text and voice as well. GOOG might be the best suitor here - the company's lack of real foothold in the mobile messaging space could be addressed quickly and scaled through cross-platform promotion. Additionally, any significant move in the mobile messaging space for GOOG, if it were tied in to Google+, could result in some much-needed user adoption of the struggling social network. An acquisition of Snapchat - if the user numbers and valuation is right - could be the perfect way to make their stand.
Kik is another Canadian-based company that last year boasted 50 million users on its cross-platform mobile messaging application. The app features seamless media integration into messages and an advanced group messaging model. Several messaging apps focused in Asia are also generating revenues on in-app game sales and sticker sales; companies like KaKaoTalk of Korea and Line of Japan are potentially takeover targets and would increase exposure in the Asian markets and could be a chance to take aim at Chinese giant WeChat.
Conclusion
It might not be immediate, but consolidation in the mobile messaging ecosystem is coming. There have been large-ticket purchases dating back to the Skype acquisition, but the field is heating up and the tech titans are seeing real value in the ability to connect users. GOOG is most in need of making a bold move while MSFT and AAPL could stand to increase their exposure to mobile messaging as well. They'll need to keep up with FB who, with FB Messenger and WhatsApp, is now the major market leader. M&A is coming as these other titans look to keep pace.
Disclosure: I have no positions in any stocks mentioned, and no plans to initiate any positions within the next 72 hours. I wrote this article myself, and it expresses my own opinions. I am not receiving compensation for it (other than from Seeking Alpha). I have no business relationship with any company whose stock is mentioned in this article.