My first trade of the coming week could very well be shorting natural gas in the face of rising futures and more headlines about cold weather coming.
As sure as I am that the sun is going to rise tomorrow is as sure as I am that this winter - although the worst in a long time for people on the east coast and Midwest - will eventually come to a close. I tried to spend as much time at my Arizona headquarters this winter, but there was absolutely no escaping the headlines which took national media by storm.
We all know the drill of what happened this winter - the entire nation came to a halt when bone chilling temperatures made their way across the nation. Almost every industry suffered and those that didn't probably used the weather as an excuse for poor performance anyway. The winter weather has been the scapegoat of the century for the markets this year. Home sales sluggish? Weather. Ford (NYSE:F) not selling enough vehicles? Weather. Starbucks (NASDAQ:SBUX) same store comps down? Weather. Michael Kors (NYSE:KORS) was basically the only earnings report I saw that didn't mention a negative effect from the weather this past earnings season.
As such, natural gas prices have gone through the roof as supply is starting to be pushed for the first time in years. Natural gas pushed multi-year highs at the end of last week.
(source - Nasdaq.com)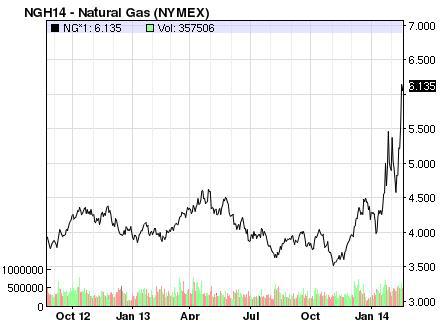 And, no sooner are prices on the rise that now there's news of yet another storm about to hit the Midwest - Seneca. Let the headlines begin - if the beginning of this winter was any indication, it's going to be on every cable news network, website, and newspaper across the U.S. Nothing like inciting some good ole' fashion panic over some winter weather!

With that widespread blast of headlines, natural gas futures have continued to climb. Outlets like Bloomberg piled on and reported to end the week:
Natural gas futures climbed in New York, capping a second weekly gain, on forecasts for an arctic blast that would deplete inventories of the heating fuel, already at the lowest in a decade.

Gas rose 1.2 percent after reaching a five-year high of $6.40 per million British thermal units in intraday trading yesterday. MDA Weather Services said temperatures may be lower than normal in the eastern two-thirds of the U.S. from Feb. 26 through March 7. U.S. stockpiles tumbled 250 billion cubic feet to 1.443 trillion in the week ended Feb. 14, the least for that period since 2004, government data show.

"The same weather and inventory factors that propelled the market to five-year highs are holding," said Gene McGillian, an analyst and broker at Tradition Energy in Stamford, Connecticut. "The market has been looking really strong."

natural gas storage and usage is cyclical - just like when you have a window unit air conditioner and you open up the electric bill. The summer months generally tend to "stand out".
As sure as I am sitting here with the windows open and the 50+ degree wind blowing in is as sure as I am that I'm not really worried about this storm. The winter, even if it does have one last blast, is on its way out. At the risk of somewhat repeating my previous article which also advocated shorting natural gas, it's important to remember that storage decreases after every winter, and pops back up after the summer months.
- source: US Energy Information Administration)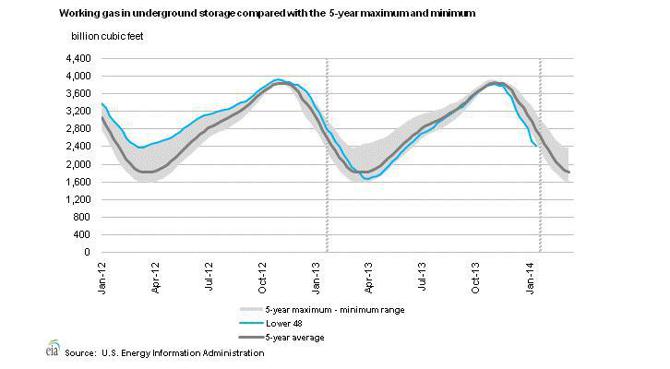 Natural gas also moves not just by current demand, but by what is forecasted. If this winter storm turns out to be less of a hassle than anticipated, we could see a fall in prices much sooner. When dealing with any of the commodity markets - whether it's natural gas or frozen concentrated OJ, prices will always retract to some form of normalcy after price runs or major declines.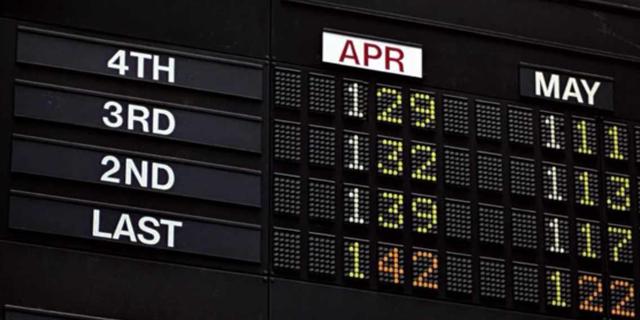 Yes, there is a chance that natural gas could have another couple of weeks of a run left, but I'm making this trade with the intention of holding through the early spring months, as supply will eventually pile up again and warmer climates will make their way across the states.
It's time to go short natural gas. Best of luck to all investors.
Ways to short natural gas:
Disclosure: I am long F. I wrote this article myself, and it expresses my own opinions. I am not receiving compensation for it (other than from Seeking Alpha). I have no business relationship with any company whose stock is mentioned in this article.