some images
Figure 1: 24 stocks listed below vs. SPY YTD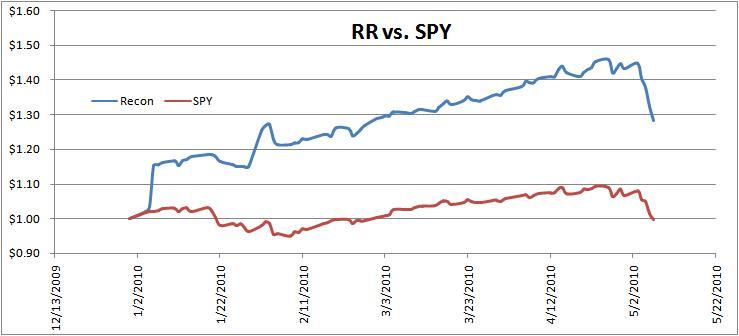 I recently wrote about microcap energy stocks that could be candidates for the Russell Rebalance, but those seem to be quite risky given the current environment. This article is looking at the aggregate stocks that could be good candidates for the rebalance.
The previous article has the criteria for rebalancing and it can easily be found from the Russell website as well. Using their criteria, I have listed the stocks I feel that have a good chance of making the Russell Reconstitution 2010, in summary the criteria is:
U.S. based firm
Top 4,000 firms by market cap
Steady growth based on I/B/E/S estimates
Book/Price value adjustment
Minimum $1 stock price at the end of May
I've used Bloomberg and Factset databases to find out which firms are not in the Russell currently and I cross checked these with a list from the Russell website. The reason why I had to do this is because there were some stocks that passed the Bloomberg filter, but were already in the Russell Index. So I don't expect this list to be all inclusive, rather it should be a starting point in finding good candidate for the Russell Reconstitution and the May run-up that generally happens. With the current market turbulence it would be interesting to see how these stocks perform in May.
A final note: there were over 500 firms that passed the criteria, but I've filtered through the first 50 firms which was equal to a market cap of $500 million. I will go through the list by market cap, not by my estimates of making it into the Russell Index.
Figure 2: Bloomberg list of non Russell firms filtered with FactSet filter (Source: FactSet & Bloomberg)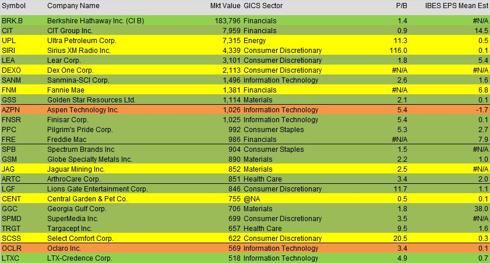 1. BRK.B
Figure 3: BRK-B YTD vs. SP500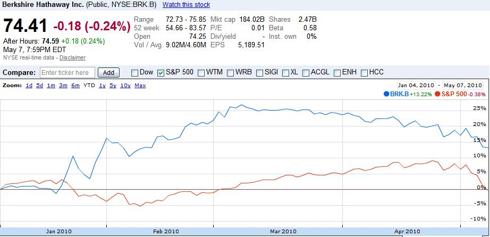 I believe that Russell has already stated that they would consider the class B shares for the rebalance, so I feel that it is highly likely that it will in the Index.
2. CIT
Figure 4: CIT YTD vs. SP500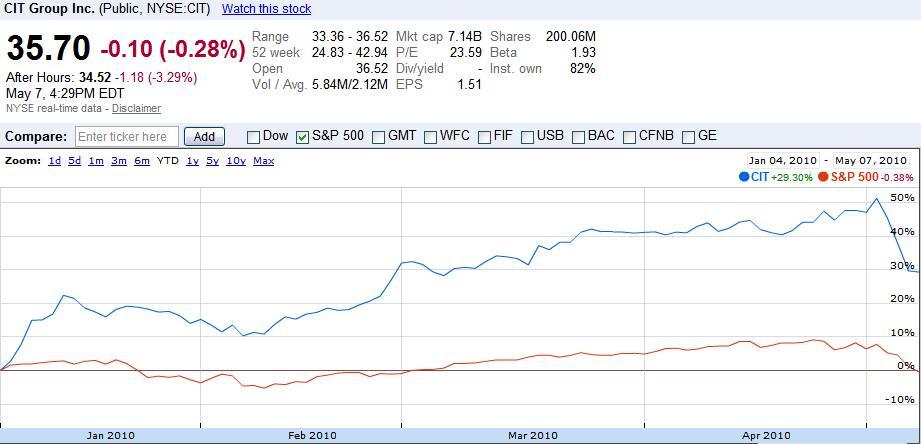 There are quite a few stocks that are on this list that are post bankruptcy stocks like CIT. There are plenty of articles on CIT here so I won't rehash those.
3. UPL
Figure 5: UPL YTD vs. SP500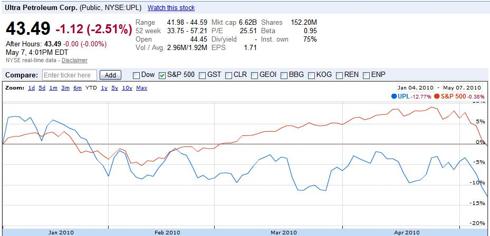 Ultra Petroleum Corp. has a fairly high P/B but for an E&P firm one should look at its proven reserves and the value of those reserves' compared to its price. According to estimates from sell-side analysts, these reserves come to roughly $35/share. If UPL drops to this price in the coming weeks, it could be very attractive. This price does not include probable reserves.
4. SIRI
Figure 6: SIRI YTD vs. Nasdaq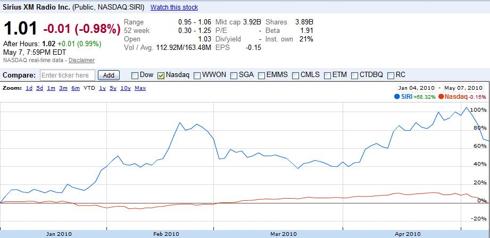 A favorite of the Seeking Alpha community, I considered buying some last year, but felt I missed the boat when SIRI hit $0.30/share…..was I wrong! I feel that SIRI's stock price being close to the $1 threshold makes it risky to enter the Russell; its P/B is pretty high as well. I have been wrong about SIRI in the past and could be wrong again, but I feel that unless its stock price is not well above $1 it could be passed over.
5. LEA
Figure 7: LEA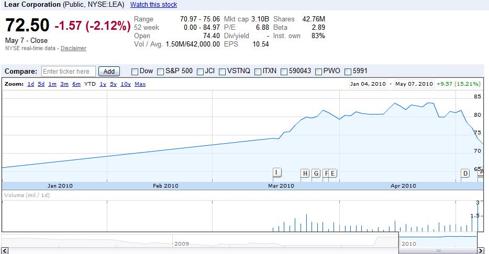 A post bankruptcy auto firm with $11B in sales expected for 2010 and $150 - $200 million in FCF for 2010 according to company estimates. Lear seems to have turned the corner and with $1.3B in cash it is well positioned for the foreseeable future. LEA looks like a decent candidate for the reconstitution.
Figure 8: LEA cash position from investor presentation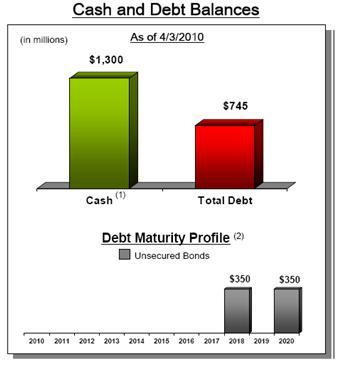 6. DEXO
Figure 9: DEXO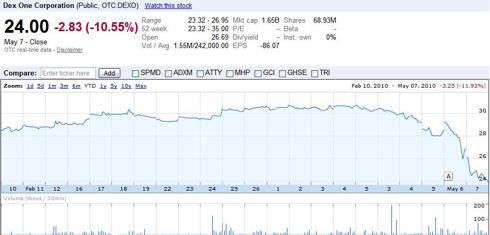 Another post bankruptcy firm, DEXO is a marketing firm. DEXO develops messaging and marketing programs including yellow pages and white pages. They have also moved into the smartphone space with business search. Essentially DEXO provides the marketing tool for 500,000 firms in the mid market segment. Top-line revenue growth has been down by double digits due to the recession and with a heavy debt burden they were forced into bankruptcy. Since it's recently out of bankruptcy FactSet did not have any IBES estimates for future EPS.
7. SANM
Figure 10: SANM vs. peers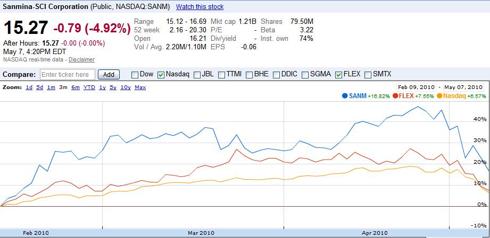 Sanmina Corp is an electronics manufacturing services firm and is pretty well diversified among four electronic segments.
Figure 11: SANM Segment growth
They are in the same segment as Jabil (NYSE:JBL) and Flextronics (NASDAQ:FLEX) Looks like it has had a decent run-up this year and was recently upgraded by Collins- Stewart and Needham.
SANM would be a decent stock to look at in my opinion, not just as a reconstitution play, but as a bottom-up investment. I will be looking more into SANM.
8-9. FNM and FRE
Figure 12: FNM, FRE YTD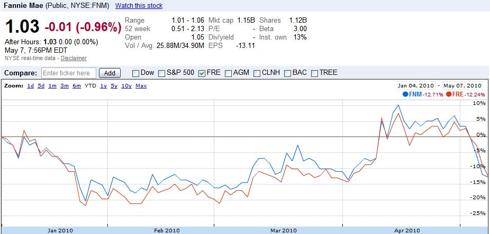 Both of these firms meet the criteria but like SIRI they will need to be above $1/share at the end of May. Based on the criteria, FRE ($1.29) may make it into the Russell Index.
10. GSS
Figure 13: GSS vs. GLD YTD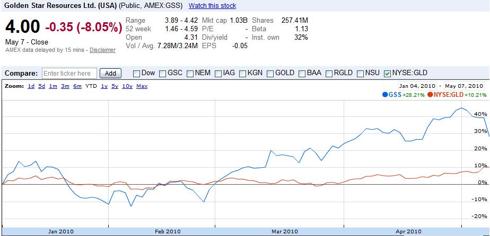 Golden Star Resources operates in West Africa but is based out of Colorado. With the current turmoil Gold would look like a decent alternative and CIBC has a $5.50 price target on it. It is leveraged to gold and according to the CIBC report, for every 10% increase in gold, CF increases by 34%. If volatility persists as it has in the first week of May and one wants to play the reconstitution, GSS could be a good option.
11. AZPN
Figure 14: AZPN vs. Nasdaq YTD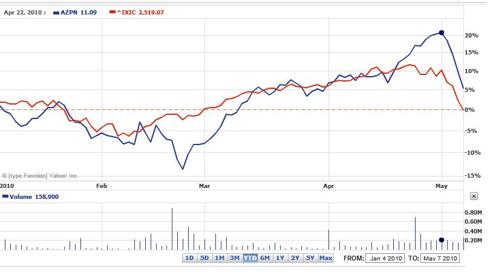 Aspen Technology, Inc., together with its subsidiaries, develops and supplies integrated software and services that enable the process industries to design, operate, manage, and optimize their business processes. Its software applications utilize proprietary empirical models of chemical manufacturing processes to enhance plant and process design, economic evaluation, production, production planning and scheduling, supply chain optimization, and operational performance.
Looks like Market Folly's report on Third Point shows that they own AZPN (along with CIT) and 68% of AZPN's shares are held by institutional investors. Looks like this one would be a decent play for the reconstitution but with other IT stocks it has taken a beating recently.
12. FNSR
Figure 15: FNSR vs. Nasdaq YTD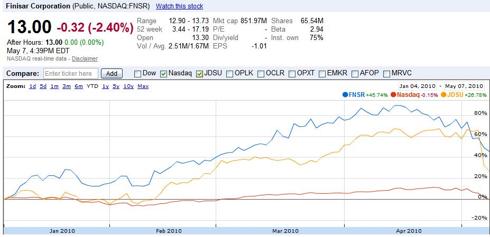 Finisar Corporation designs, develops, manufactures, and markets optical subsystems, components, and network performance test systems for high-speed data communications. The company also offers products for switching network traffic from one optical wavelength to another across multiple wavelengths, known as reconfigurable optical add/drop multiplexers. Its line of optical components principally comprises packaged lasers and photo-detectors used in transceivers for LAN and SAN applications; and passive optical components used in building MANs. The company was founded in 1987 and is headquartered in Sunnyvale, California.
Figure 16: FNSR segments

Figure 17: Revenue growth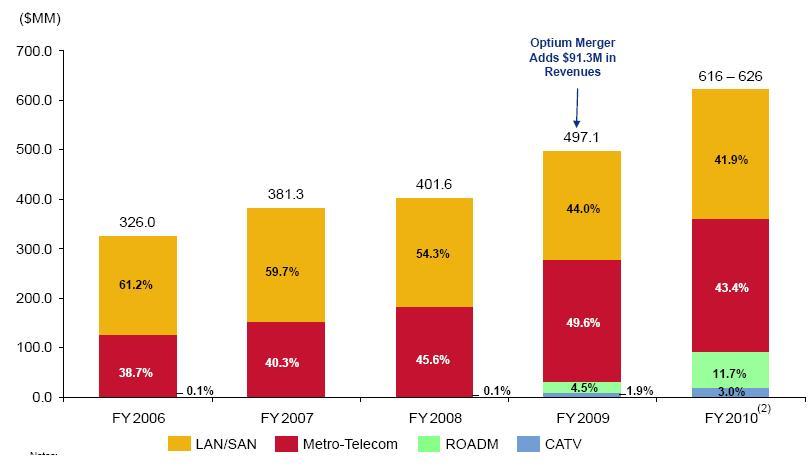 FNSR meets all the criteria and as can be seen, it is forecasting steady growth going forward.
One interesting point is that FSNR issued a secondary offering @ $14/share on March 23,2010. Could this be a signal that they are adding more shares for an addition to the Index? Yes, it's pure speculation on my part right now, this one would be worth researching a bit more.
13. PPC
Figure 18: PPC vs. TSN YTD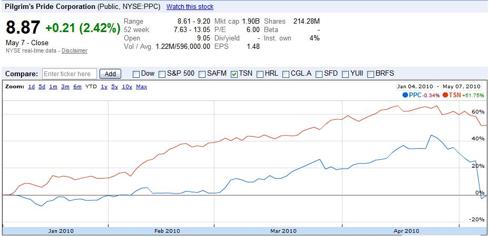 PPC is another post bankruptcy stock. Pilgrim's Pride recently missed earnings and the stock has taken a tumble. If you consider Smithfield Foods and Tyson Foods as comparable on P/B, PPC still looks a bit pricey, nevertheless it has been lagging against TSN this year and could receive a pop if it is accepted into the Russell Index.
14. SPB
Figure 19: SPB vs. SPY YTD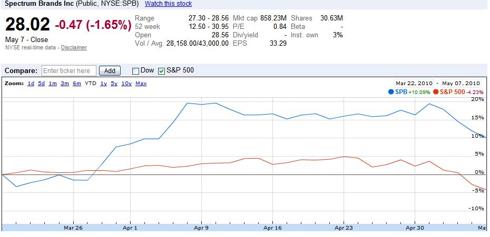 This is another post bankruptcy play, this one makes consumer product goods like batteries, hearing aids, and pet supplies. As noted in the Market Folly report on SPB, a couple of hedge funds own quite a bit of SPB, yet according to Bloomberg SPB meets the 5% float requirement to meet the Russell rules. With hedge funds buying SPB above $30 and its current trading price of $28 it may be a candidate for other possibilities other than the Russell Reconstitution.
15. GSM
Figure 20: GSM vs. peers YTD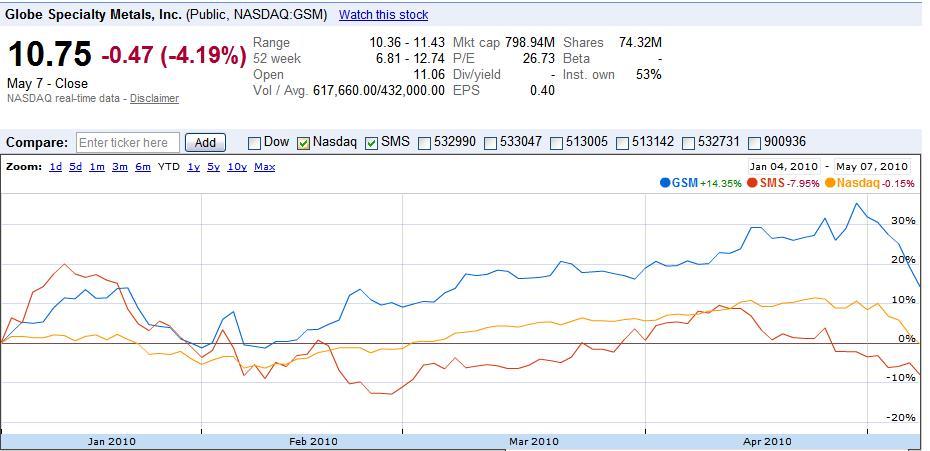 GSM is a producer of silicon metals and silicon based alloys. It has a 60% market share in North America and has a diversified customer base. With a free float of 84%, steady growth and a market cap in the $900m range, GSM meets the criteria to enter the Russell Index. From the research I've done it looks like a solid company regardless of its entry into the Russell, definitely worth a deeper study.
16. JAG
Figure 21: JAG vs. SPY YTD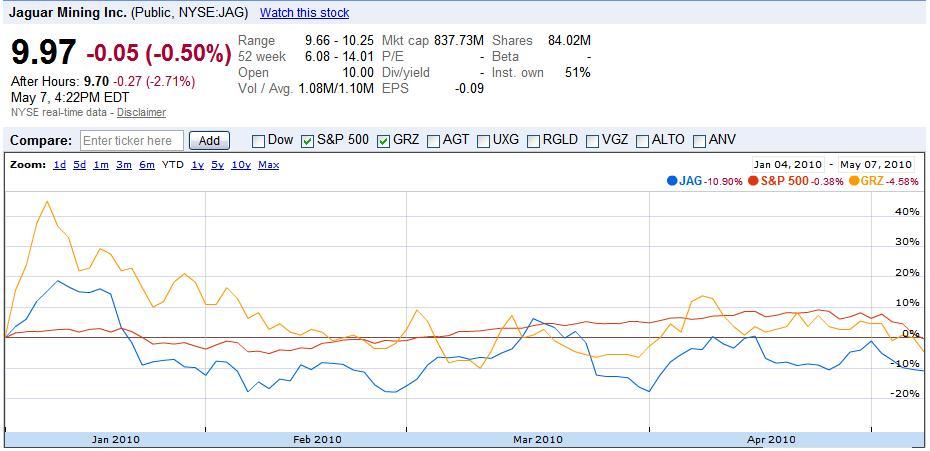 JAG is a gold mining firm that meets the criteria to be considered in rebalancing. It has been underperforming even the S&P 500 by quite a bit. As we get lower in the market cap of the list, these stocks become a bit more risky but could get a nice pop from a rebalance. I would put this on a lower likelihood that it would pass the reconstitution test.
17. ARTC
Figure 22: ARTC vs. Peers YTD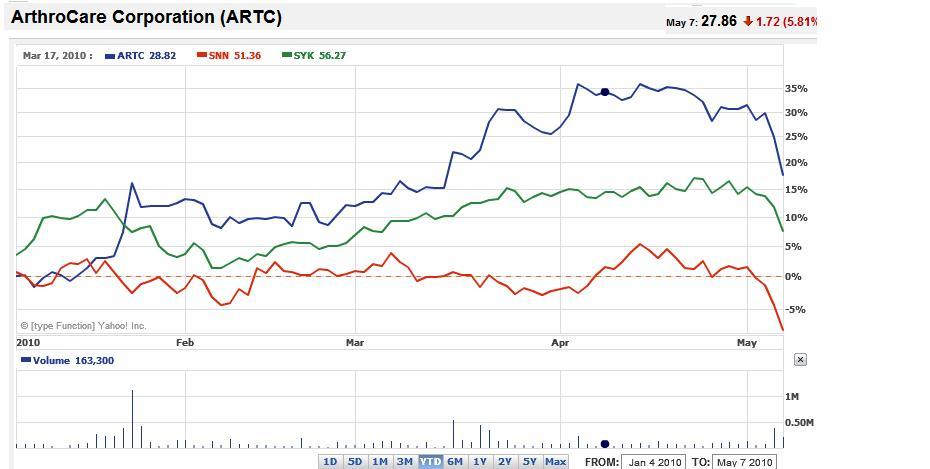 ARTC is a medical company developing technology based solutions to solving medical problems. It has had recent problems with accounting irregularities that seem to be taken care of with the departure of the previous CEO. From a reconstitution point-of-view, it meets the criteria to be added and if one believes it has put its past irregularities behind it, then it would be a decent candidate for addition.
18. LGF
Figure 23: LGF vs. SPY YTD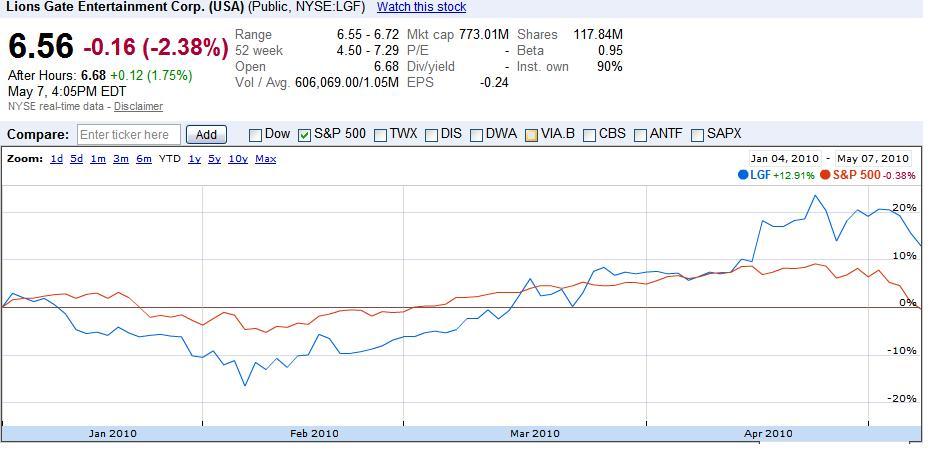 Lions Gate meets the criteria as well of having a free float higher than 5%, a stock price above $1, and has a market cap of $770M. With its current $7 acquisition price from Ichan (deadline for accepting it is May 10,2010), it will be a volatile stock for the short term. There is too much going on with this stock to be a good play for the reconstitution at this point. Wait after May 10,2010 to see where this firm is going.
19. GGC
Figure 24: GCC vs. SPY YTD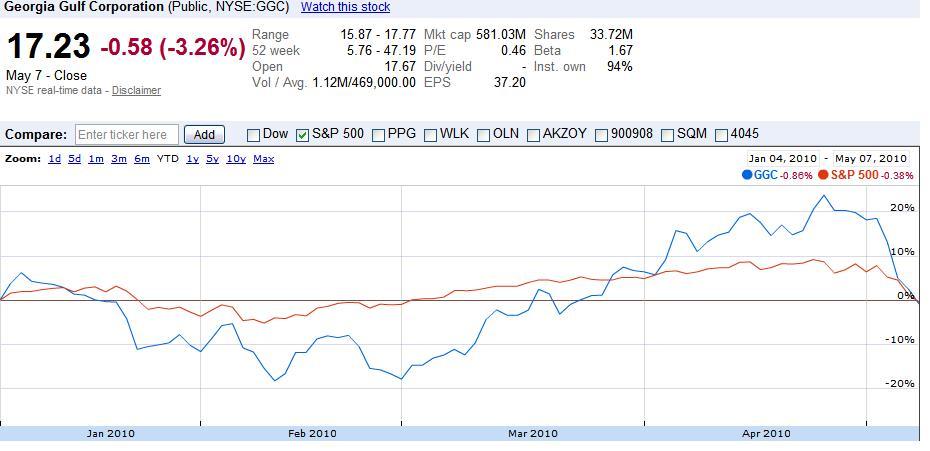 GCC is a chemicals company with a few analysts following the firm, making it a good candidate for a pop if it does make it on the Russell Index. GGC has taken quite a tumble in this recent turmoil, dropping about 20% in about a month, but looks like a solid firm on its metrics.
Georgia Gulf Corporation engages in the manufacture and marketing of chlorovinyl and aromatics chemicals, as well as vinyl-based building and home improvement products. It operates through four segments: Chlorovinyls; Window and Door Profiles and Mouldings Products; Outdoor Building Products; and Aromatics.
20. SPMD
Figure 25: SPMD vs. DEXO YTD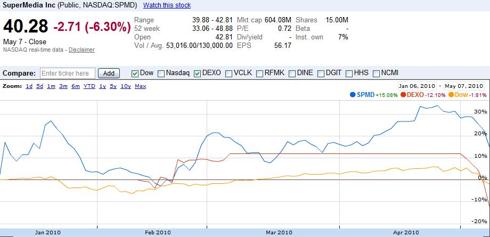 Another post bankruptcy play, SPMD is another yellow pages media advertising firm like DEXO. Nothing too spectacular about this firm, just keep it on the radar.
21. TRGT
Figure 26: TRGT vs. GSK YTD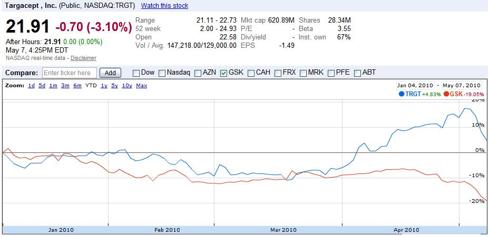 TRGT is a biopharma company which has performed reasonably well this year. It has a few drugs in Phase I and Phase II trials and those would be stronger catalysts by far vis-à-vis the Russell reconstitution possibility. It also has a fairly high P/B but for a biopharma/tech stock that is not too surprising.
22. SCSS
Figure 27: SCSS vs ZZ & DOW YTD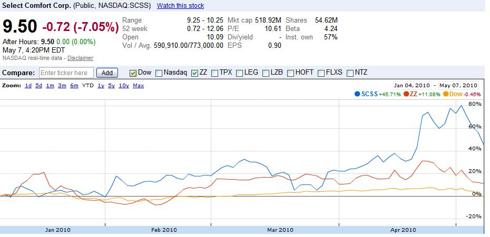 Select Comfort is another post bankruptcy stock, which is a likely candidate, but it has had a huge run up YTD. With 8% shares short (Yahoo Finance) and only 57% of institutional ownership, this one could get a decent pop if it is added to the Index.
23. OCLR(D)
Figure 28: OCRL YTD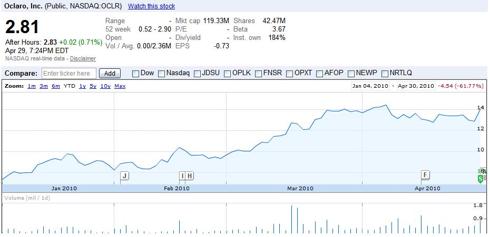 In the past two months, OCRL(D) has had a reverse stock split (1:5) and has issued 6,00,000 new shares. Due to its reverse 1-for-5 split, the common stock will trade as OCLRD until May 28,2010.
These actions bring up more questions for me, such as why would they do a reverse split when the stock was trading around $2/share? Was the reverse split a way to do a secondary offering? Should I read more into this with respect to getting ready for a rebalance? I've pasted a press release below, there are interesting events happening with it.
SAN JOSE, Calif., April 29, 2010 /PRNewswire via COMTEX News Network/ -- Oclaro, Inc. (Nasdaq: OCLR), announced today that it has commenced a public offering of 6,000,000 shares of its common stock. All shares will be offered by the Company. The offering is subject to market conditions, and there can be no assurance as to whether or when the offering may be completed, or as to the actual size or terms of the offering. The net proceeds from this offering will be used for general corporate purposes, including working capital. A portion of the net proceeds may be used to acquire or invest in complementary businesses, products or technologies. Morgan Stanley & Co. Incorporated and Citigroup Global Markets, Inc. will be joint book-running managers, and Foros Securities LLC and Thomas Weisel Partners LLC will be co-managers of the offering.

As previously announced, the Company will effect a 1-for-5 reverse split of its common stock, effective as of 6:00 pm (NYSE:ET) today. As a result, our common stock will temporarily trade under the symbol "OCLRD" until on or about May 28, 2010. The number of shares presented in this release is on a post-split basis.

The common stock will be offered pursuant to a shelf registration statement that was previously filed with and declared effective by the Securities and Exchange Commission. A preliminary prospectus supplement related to the offering has also been filed with the Securities and Exchange Commission and is available on the SEC's website at SEC.gov. Copies of the prospectus supplement relating to the common stock offering may be obtained from Morgan Stanley & Co. Incorporated, Attention: Prospectus Department, 180 Varick Street, 2nd Floor, New York, New York 10014, telephone (866) 718-1649, or by e-mailing prospectus@morganstanley.com, or Citibank Global Markets Inc., Brooklyn Army Terminal, 140 58th Street, 8th Floor, Brooklyn, New York 11220, telephone (800) 831-9146.

This press release shall not constitute an offer to sell nor the solicitation of an offer to buy, nor shall there be any sale of any securities in any jurisdiction in which such offer, solicitation or sale would be unlawful prior to registration or qualification under the securities laws of any such jurisdiction. Any offering may be made only by means of prospectus and a related prospectus supplement.
Lastly, looking at their latest transcript on Seeking Alpha, you can see that they have made a small acquisition recently, so would this secondary offering be for more acquisitions or to increase its outstanding shares for an upcoming surge of purchases due to its addition into the Russell Index?
24. LTXC
Figure 29: LTXC vs. TER, VRGY YTD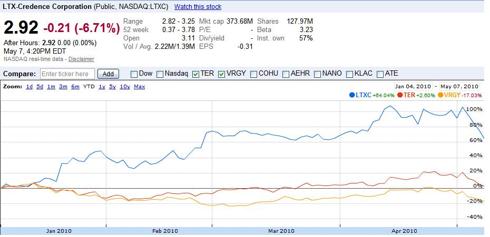 LTXC designs and manufactures hardware to test wireless, auto, and digital equipment. In their investor presentation they state that
Every RF device in the technologically acclaimed iPhone is tested on LTXC systems.
Also it was recently upgraded by Barclays to a strong buy, I have not seen the report but LTXC looks like a solid investment that merits a deeper dive.
25. GGP
General Growth is still a pink sheet stock and would not be considered, but most likely GGP will be coming off pink sheets soon and could be a candidate. With all the acquisition news flying around, it is on my list at 25 just as something to have on the radar.
Conclusion
Of these 25 stocks, I don't own any, but with the recent correction there could be some good candidates to pick up on a discount. There are numerous academic papers that have shown that stocks that enter the Russell generate a decent alpha in the month of May and if one had bought these 24 (GGP excluded) stocks on a price-weighted basis in April they would be 0.6 basis point underperforming the SPY. There are a few tech stocks I do like from these that I will do a bit more research on in the coming days.
Figure 30: April-May Top 24 Russell Reconstitution vs. SPY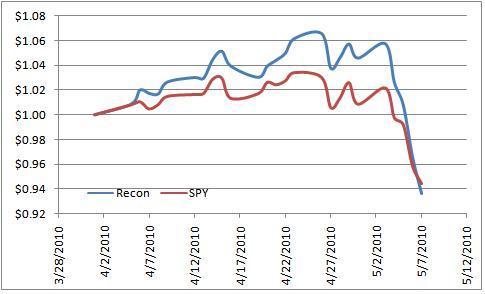 Disclosure: No positions yet