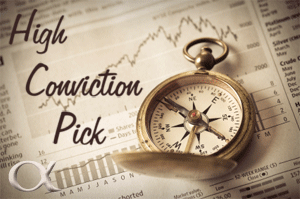 Robert Martorana of Right Blend Investing in New Jersey has worked on the buy side for 25 years and has managed portfolios for institutions and for high-net-worth clients, in a range of account sizes, across every major asset class.
Seeking Alpha recently got the chance to ask him about his single highest-conviction holding.
What is your highest conviction stock position, long or short?
I own Schlumberger (NYSE:SLB) as a play on peak oil, a hedge against a collapse in the U.S. dollar, and a bet on emerging market growth. Aside from these macro themes, SLB's market leadership commands the highest profit margins and returns on equity in oil services.
I define "peak oil" as an irreversible decline in global oil production, and believe it will occur at about 90 million barrels per day. I think it is likely to start in 2012, though oil futures now assume prices of $83-$85 in 2011 and $90 in 2012. I believe average annual prices will be about $10 higher.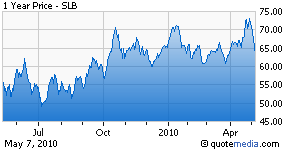 Meanwhile, the U.S. dollar is headed for a fall, and possibly a collapse (a double-digit annual decline in purchasing power for three straight years). I believe that soaring deficits will trigger inflation and ratings downgrades of U.S. government debt, leading to currency erosion or even devaluation. The sneak preview is called "Greece," and the 2010 version features Angela Merkel as an austere German Chancellor (not to be confused with Olivia Newton-John). The days of the euro are numbered, due to Europe's web of debt.
What sort of price target do you see for Schlumberger?
I expect SLB to trade at $80 to $85 within 12 to 18 months. Consensus EPS for 2011 is about $4.00, and my target assumes a P/E of 20-21 times forward earnings. This target price range represents a gain of 22% to 30% from Thursday's close of $65.35. (Plus a 1.2% dividend yield--don't spend it all in one place). I see upside potential beyond this, as the multiple expands and as earnings estimates are revised upwards. So the stock's recent decline is a buying opportunity, since the bottom-up fundamentals and the top-down outlook are both attractive.
Although this is a long-term investment, I would reevaluate if the stock has a weekly close below $60. This hasn't happened since October, and there's support at $60.50. So a break of $60 suggests that my core thesis is wrong, or someone knows something I don't. (It's been known to happen.) At that point I'd have to liquidate the position.
Tell us a bit about the company behind the stock.
Schlumberger is the global leader in oil services with revenues of $22 billion and operations in more than 80 countries. It is the market leader in most product lines, and it operates in every major oil-producing region of the world.
SLB invented wireline logging, which collects data about rocks and fluids while drilling oil and gas wells. SLB also supplies directional drilling and other tools that allow measurement while drilling; Testing Services to measure pressure and flow; Well Services to provide cementing, pressure pumping, etc. to optimize production through the life of a well; and Completions and Artificial Lift to provide pumps, safety valves, etc. SLB owns WesternGeco, the premier seismic library, and leader in the acquisition and processing of data.
Peak oil and the maturation of global oil reserves has pushed oil service technology to the limit. SLB believes that the key to success is a combination of R&D, scale, and integrated solutions. The firm expects the next big improvement in drilling performance/well productivity to come from the design of complete bottom-hole assemblies. This includes the drill bit and drilling fluid, in order to optimize their interaction with the environment. (This is one reason why SLB acquired Smith International, which I'll discuss.)
Can you talk a bit about the sector? How much is this an "industry pick" as opposed to a pure bottom-up pick?
Although SLB is a great firm, this is very much an "industry pick." Oil services are an excellent portfolio hedge against rising oil prices and a falling U.S. dollar. (How the hedge is used depends on the client's goals, time horizon, and risk tolerance.) Why am I bullish on oil services?
Reflation/Inflation: Energy demand is driven by global GDP, which has rebounded due to monetary and fiscal stimuli. Caffeinated economic growth will continue to boost global energy demand, especially in non-OECD countries (a k a "financially solvent" countries). As an essential, fungible commodity, oil is the most logical beneficiary of global reflation (especially as it morphs into global inflation).

Emerging Markets: 90% of the growth in global oil demand is driven by non-OECD countries. This includes a 5% gain this year in demand from China and India, and a 3.6% gain this year in demand from all non-OECD countries. These countries now account for 47% of global oil consumption, which should be 86-87 million barrels per day in 2010. Oil services, therefore, is a great proxy for emerging markets (without the political risks of specific countries). Since demand for oil services migrates to wherever oil can be produced most cheaply, it also has built-in geographic diversification.

Leverage to Oil Prices/Peak Oil: The oil services industry is closely linked to the fundamentals of upstream oil production, driven mainly by oil prices. (Exploration and production has even more leverage, but more risk, such as dry holes, oil spills, terrorism, rebellions, etc.). I believe in peak oil for the same reasons cited by CEO Andrew Gould on Feb. 22:
•The global production base is aging rapidly. Large discoveries are scarce, and invariably occur in regions that are politically unstable or geologically undesirable.

•The demand for oil will require increased drilling intensity and complexity. This has shifted production to deepwater oil internationally, and to horizontal shale gas domestically.
Dollar Hedge: Oil is denominated in U.S. dollars, so currency weakness will make oil prices "rise" in U.S. dollars. In this sense, oil acts as a hedge against dollar weakness. Gold is also a reasonable dollar hedge, and an inflation hedge. But unlike gold, oil is consumed daily, and has tremendous functional value in the global economy (energy, plastics, chemicals, fertilizers, etc.).
Can you describe Schlumberger's competitive environment? How is it positioned against competitors?
Schlumberger has the No. 1 or No. 2 position in every major geographic region and nearly every major product line. SLB is also leveraged to a recovery in international markets, which are heavily tilted toward oil.
SLB is a pioneer, and developed the "GeoMarket" business structure over a decade ago. This offers a single local contact who customizes solutions for clients' drilling and field services. The GeoMarket approach requires a product line that covers the entire life cycle of a reservoir, and has since been copied by competitors.
Statistically, the firm compares very favorably to peers:
SLB's net profit margin in 2009 was 13.8%, which was almost 600 basis points above that of its closest competitors: TETRA Technologies (NYSE:TTI) and Halliburton Co. (NYSE:HAL)

Returns on equity and returns on average assets last year were 17.5% and 9.7% respectively. Both measures were the highest in the industry, though the acquisition of Smith International (SII) will dampen returns: Smith posted an ROE and an ROAA of less than 3% last year.

Total debt to equity is about 30%, and only two of its major peers are lower. SLB also has total cash of $4.6 billion, or $3.85 per share.
Can you talk about valuation? How does Schlumberger's valuation compare to its competitors?
Schlumberger has historically sold at a premium to its oil-service peers, due to its technological and market-share leadership, international scope, integration of services, strong finances, and high returns.
SLB now trades at about 17 times consensus EPS for 2011, vs. 15 times for its large-cap oil-service peers. The price/book is 4.1, vs. 2.7 for the peer group. Finally, the stock trades at an enterprise value/EBITDA of just under 9 times 2011 estimates, while its peers are a little over 7 times. (Click here for current valuation statistics.) In any case, I think the stock's premium is quite modest, both in historic terms and in terms of SLB's current results vs. peers.
What is the current sentiment on SLB? How does your view differ from the consensus?
The recent price drop reflects the dip in oil, and negative sector sentiment after the Gulf of Mexico spill. I'm a long-term bull, so these are bumps in the road. As I noted above, I expect oil prices to be about $10 per barrel higher than the futures strip (which I use as a proxy for consensus).
Does the company's management play a role in your position? If so, how?
l like Andrew Gould, who has been CEO since 2003, and who was formerly Schlumberger's treasurer and COO. In an interview last month, Gould describes how SLB was an international firm from the start. It is based in the Netherlands Antilles, and does not have a "national identity." (Political neutrality is a big advantage in oil services.) In addition, SLB has emphasized the hiring of women and minorities for over 40 years, so it is a leader in diversity.
I also find Gould to be well spoken. For example, here is his response on a conference call in February when sell-side analyst Bill Herbert of Simmons & Co. asked about the premium paid for Smith International:
So look, I can't look at a transaction like this in the function of one or two years. There is I don't think any doubt that long-term shale gas is going to be one of the big new energy sources both in the U.S. and overseas. However, as I tried to point out in my little homily at the beginning, I don't think that the actual optimum technology set for producing shale gas has yet been defined. At the moment, we are doing it by brute force and ignorance.

In other words, we drill horizontal wells, and then we frac them geometrically. And therefore, there is going to be a lot of progress. Now I would not be at all surprised to see that some of that progress means perhaps more drilling and less fracing.

And so Smith's capacity to serve that market in North America is of great interest to me. It may not be the best financial return in the oilfield at this point in time but long-term, what we can learn in that market is extremely interesting.
That's a pretty sharp off-the-cuff response. Gould knows the business, and he knows the bet he's making on Smith.
What catalysts do you see that could move Schlumberger stock?
The biggest single catalyst will be oil prices, driven by economic growth, especially in emerging markets. Oil prices might also rise due to an act of war/terrorism that disrupts a major source of production.
A more likely catalyst is a series of strong earnings reports that steadily boost the stock. SLB offers conservative guidance, and has posted four positive earnings surprises in a row (though revisions during the quarter make these less "surprising"). Earnings estimates have been on the rise, and we could see an expansion in earnings and an expansion in the P/E. My target of 20 times earnings is not unusual in oil services, especially at the start of an upcycle.
Finally, as I mentioned earlier, I think that dollar weakness is bullish for SLB. Sure, the U.S. dollar is now benefiting from a flight to safety. But just like Europe and Japan, America's budget deficits and demographic trends are a slow-motion train wreck. (I guess OECD now means "old economy covered in debt.")
What could go wrong with this pick?
Recession

Integration of Smith International

Environmental or safety lapse
I don't expect a double-dip recession. U.S. policy is to inflate our way out of the mortgage mess regardless of the deficit. As long as the Chinese are buying, we're selling.
Integration of Smith International: No matter how you slice it, SLB paid a lot for Smith when it coughed up a 37% premium over the prior closing price. (In February SLB announced that it would buy Smith for $11.2 billion in stock plus the assumption of $1.2 billion in debt.)
The deal makes sense if you are bullish on oil services, and if you believe that product synergies are the key to unlocking the potential from unconventional reserves, hostile environments, etc. SLB wanted to acquire Smith's drill bits, completion fluids, its Pathfinder directional drilling business, etc. Schlumberger was already a 40% owner in M-I SWACO, a joint venture with Smith that makes completion fluids. (These stabilize subsurface rock while drilling, which minimizes formation damage.)
So the rationale for the deal is that all of these complementary products will improve drilling performance, boost reservoir production, and cut overall well costs. SLB expects to close the deal in the second half of this year, and claims that it will realize $160 billion in synergies in 2011, followed by another $320 million in 2012. Most of the synergies are cost savings, and additional details are in an investor presentation from the Howard Weil Conference in March.
Ecological/Safety Concerns: After the catastrophic oil spill in the Gulf of Mexico, some energy investors are jumping ship. The spill has torpedoed shares of BP (NYSE:BP), which is down about 15% since the accident on April 20. This led Seeking Alpha contributor Robert Freedland to trade Schlumberger (SLB) for Ecolab (NYSE:ECL). Mr. Freedland believes that the environmental disaster will hurt oil and gas exploration, and help firms like Ecolab that clean up industrial messes.
I see a different outcome. Given the inexorable growth in global energy demand, I believe that oil service companies will spend more, not less. They'll just have to spend more on safety, and not just drilling. After the Exxon (NYSE:XOM) Valdez disaster in 1989, lawmakers passed regulations that required double-hulled tankers. I believe the blowout in the Gulf of Mexico will spur new regulations and higher spending on safety. This will add to drilling costs in the U.S., and may shift oil and gas production to other locales. Nevertheless, as an international firm, SLB is positioned to provide oil services wherever the drilling occurs.
I will concede, however, that there is always company-specific risk due to product failure. This has snared subcontractors such as Halliburton, which was working on the rig that blew up. HAL has dropped 15% since April 23, even though subcontractors typically get a legal release from the main operator. As it now stands, SLB may gain market share from competitors that were involved in the explosion.
Thanks, Robert, for sharing your thesis with us.
Sources: Company reports, 10-K filing, Yahoo Finance, Google Finance, J.P. Morgan, Credit Suisse
Disclosure: Long SLB
Read more High Conviction Picks »
If you are a fund manager and interested in doing an interview with us on your highest conviction stock holding, please email Rebecca Barnett.