Valuing intangibles has been consistently a problem for most industries, even moreso for an industry like 3D printing. Patents could become a potential key for dominating the market once a technical victor arises out of the arena.
We'll dive into what's happening with intangibles in the 3D printing industry and how to proceed from here.
Patents
The two behemoths in the industry, Stratasys (NASDAQ:SSYS) and 3D Systems (NYSE:DDD) both have sizeable patent portfolios. Partially as a result of software patent wars, many believe that this industry will devolve into the same pissing contest. Their comparisons usually focus on recent patent infringements between Samsung (OTC:SSNLF), Apple (NASDAQ:AAPL), and Google (NASDAQ:GOOG), but this perspective ranges from wrong to absurd.
To understand technology hardware patents, we'll need to explore a bit of history first.
Toshiba held the largest and original patent portfolio for NAND memory (the memory used in solid state drives).
In a partnership with SanDisk, MLC technology was developed, which the patent rights ended up with SanDisk.
Both these companies were forced to enter cross-licensing agreements with each other to effectively build NAND chips.
Later on, these technologies were also licensed out to various other companies including Samsung, Toshiba, Sharp, Renesas and Matsushita.
These patents can be used as leverage for other technologies and to enact licensing fees but cannot bar other entrants from industry as anti-trust issues arise. It's also been historically the case that hardware margins erode and software becomes the (edge) sole revenue stream for companies.
Should any technical patent cover the superior technical implementation in the immediate future with the current patent environment in the United States staying as it is (very likely), you'll probably see some forced cross-licensing so the industry doesn't become monopolized. Then any investment today in any firm big or small has a few of the following ramifications:
The technology of the firm (if it has a single technology) has a very low chance of being the victor technology
Even the industry leaders have dead technology - yes. It is certain that most of their technologies will become obsolete, expect write-offs.
The growth of the firm (if successful), due to a result of the growth of the market (if the market adopts the technology), must be greater than the risk of picking a tail winner, or incurring the write-offs of the big players
While we're on the topic of patents, we'll look at the first ever patent infringement case. This is the first ever patent lawsuit in the 3D printing space that will have significant ramifications. DDD and SSYS both hold huge patent portfolios and have lofty valuations.
Stratasys has sued Afinia
This will set the bar for the rest of the industry, what patent infringements and lawsuits will go through and how the courts will handle it. The notable aspect is that the lawsuit does not specifically target Afinia - it is surprisingly broad and could encompass a variety of other manufactures. We could think that Stratasys is probably upset Afinia received 'best overall experience' from a reputable magazine instead of MakerBot.
Patent lawsuits as the smartphone industry has shown, are absurdly expensive, perhaps DDD will acquire Afinia…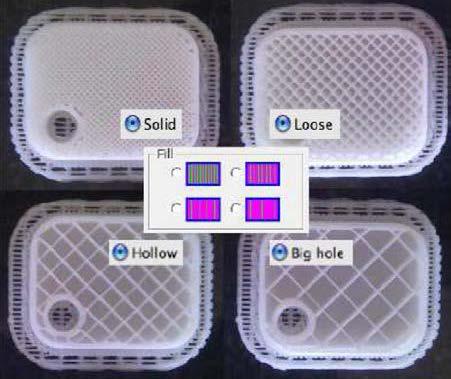 Infillining: Stratasys says anyone who does infill is at fault.
They have no qualms with how Afinia is doing the infill process, but merely that they are.
Heated platforms are for Stratasys only.
This roughly describes… 99% of all 3D printers on the market
Patent on the extrusion head for Afinia's printer.
Well, I suppose there are a multitude of differences between a nozzle and funnel as well...
The plastic is printed in such a way as to hide the seams when the plastic is printed.
The general consensus among some of the community is that most of these patents would apply to every desktop printer out on the market right now. It's also quite odd since Stratasys has had these patents for approximately 30 years and haven't done anything with them until now. It's also probably that this move coincided with their acquisitions of MakerBot.
Some other background information about the situation:
Afinia's technology is licensed from Delta Micro, so it's fair to extend this patent infringement upwards and laterally (but this hasn't happened yet).
In mid 2013, Afinia announced several deals with major distributors in North America - CDW, Best Buy, Radio Shack, Staples, Tiger Direct, and B&H for large online distribution through these retail channels.
Afinia has the biggest retail footprint right now by far, and it shows. It's well known that MakerBot simply didn't have the capabilities to scale upwards and outwards.
It'd be interesting if Stratasys could force Afinia to stop shipping units for any amount of time to create a void where the retail stores need something to fulfill (expected) demand and have MakerBot be the natural alternative.
Patent Conclusion
There's been some spectacular failures with companies that attempt to corner the market with patents. A good example to bring up is Sony vs. VHS, the alternative was developed to combat Sony and was shared freely amongst everyone and today... no one remembers what Sony made.
The current situation is that with 3D printing, the platform that has the easiest-to-use designs with a balance of cost should win any platform war outright. Even if Stratasys enforces patents across the desktop printer market, there will be an alternative that circumvents it and you can expect the hobbyists and other startups to join and support the movement with full-force.
This is the first time there's been major litigation in the 3D printing industry, this will set the precedent for future cases and validate the value of patent portfolios. It'd be interesting to see all of the patents being shot down - though unlikely. It would be safe to assume that 1 or 2 of the patents won't hold in court but we'll see how it evolves.
The Technology Itself
A large part of the growth of DDD can be attributed to absorbing smaller companies and consolidating the various patents and expertise in 3D printing. Even though the company has been around since 1986, the demand for 3D printers is quite soft and still in its infancy. The only way for such a company to grow faster than the market growth is to acquire other smaller competitors and at the same time acquire talent, customers, and expertise.
Normally, looking at the acquisitions of 3D systems, they are seen as an avenue for (albeit inorganic) growth. Sounds great, but here's the problem:
When you look at any technical industry in its infancy; it's very unlikely that there will be many successful technical implementations of the technology that survives for more than a few years.
Interestingly, there still isn't a dominate technical implementation in 3D printing.
Example: The predominate technologies used in 2D ink printing is laser for industrial use and inkjet (though you can easily Google several types of printing technologies like bubble jet).
Let's take a closer look at the hard drive industry and the NAND patents we mentioned earlier.
SSD / NAND and Toshiba
The main technologies in hard drives were
conventional particulate oxide disks
ferrite heads
thin-film heads and disks
magneto-resistive heads
Back when hard drive technologies were still new, successive iterations and new technologies would replace older ones, more storage for less cost.
So imagine 4 different companies starting the hard-drive race with 4 different technologies. Which of the 4 will win? We know from history the magneto-resistive heads won, the efficiency scale draws out better and the other two technologies can't compete with it.
So for the sake of simplicity (and to be generous), we'll argue that there will be 2 winning technologies. There are a few major technologies out there that I'll list for comparison.
Looks surprisingly similar to how the hard drive race started in our little example. Some purists will say that the technologies in the hard drives developed chronologically and can't be compared to today... but what we have now are all 4 technologies lying before us and we need to make an educated bet as investors.
Then...
What will SSYS and DDD look like if 60/70% of their R&D is worthless?
How much time will management waste in denial while the company with the winning technology is taking the lead
It's Already Started
Has the amortization write-offs already began? What's the value of the company once these write-offs start happening?
Actually, they have.
SSYS has been previously amortizing RP technology at 11 years.
Pictures are taken from SSYS Annuals
Since FY 2011, SSYS has effectively halved the expected amortization time for RP technologies. We feel this is a turning point as realize that the technologies they have are slowly going to have to be amortized away but we feel this is still very conservative (remember, 80% of the technologies on the market today will be worthless in less than a decades time).
Unsurprisingly, the company has been consistently underestimating amortization expense for 5 years out
2010:
2011:
2012:
It's laughable that they are only estimating the expense at ~50 million for the next 5 years. Notice the increasing cost of amortization that they consistently underestimate and project to decrease the years out?
Here is an analysis that we did for the amortization expense - it's important to note that we aren't really focused on the dollar amounts here (the difference of 100k isn't going to majorly affect the bottom line of a company like , however, it's the only indirect proxy we have for measuring technology).
Conclusion
If you sit back and look at the technology/patents DDD and SSYS has through a historical lens, you'll notice a lot of inconsistencies and what is simply a gross valuation.
You can clearly see that 70-80% of the technology that exists today will be obsolete (for our purposes), so take care when looking at the balance sheets and ultimately the valuation of these companies.
Disclosure: I have no positions in any stocks mentioned, and no plans to initiate any positions within the next 72 hours. I wrote this article myself, and it expresses my own opinions. I am not receiving compensation for it (other than from Seeking Alpha). I have no business relationship with any company whose stock is mentioned in this article.