"Liars figure…And figures lie…"
The recent controversy surrounding Galena Biopharma (GALE) has sent the stock plummeting in the face of the upcoming annual report. One of the key points investors are anxious to see is how well Abstral has been marketed and sold. The success or failure of the drug will have significant impacts for the short term success of the stock, and depending on the numbers, I expect there will be a significant amount of money flow into the stock. The company will likely announce the sales report for Abstral during the year-end earnings report, estimated to happen the week of March 10th-14th. In light of this, here's some analysis and figuring on where they were last quarter, and where they could be this quarter.
Abstral is a sublingual tablet that delivers fentanyl for the treatment of breakthrough cancer pain (BTcP) in patients with persistent pain. GALE acquired the rights to market and sell Abstral in the United States in March 2013, and within the past year has been able to develop the marketing team and launch sales.
Launch of Abstral
During the 3rd Quarter 2013 earnings report, the company reported the following for Abstral sales:
Net revenue was $1.2 million for the three months ended September 30, 2013, the first quarter of Abstral® (fentanyl) sublingual tablet sales, ahead of our official launch and commencement of promotional efforts in the fourth quarter. Cost of revenue and gross profit for the three months ended September 30, 2013 were $0.3 and $0.9 million, respectively.
The company decided, as part of the launch of Abstral, it would offer one month free, and then offer a discount after that. The following is a screen shot from the website announcing the discount: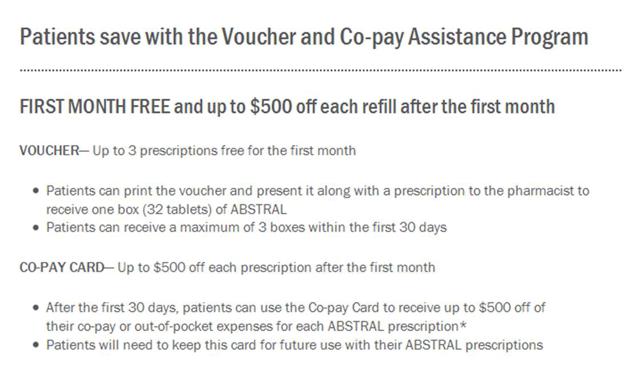 Included further down the page is the following:
The voucher offer is valid for up to 3 boxes maximum (96 tablets) within the first 30 days. The co-pay portion of the offer covers up to $500 off a co-pay for ABSTRAL. Redeem this coupon ONLY when accompanied by a valid prescription for ABSTRAL. Offer valid for patients 18 years and older. The co-pay portion of the offer is not valid for prescriptions reimbursed under Medicaid, a Medicare drug benefit plan or other federal or state programs (such as medical assistance programs). If you are eligible for drug benefits under any such program, you cannot use the co-pay portions of the coupon. Offer expires 5/31/2014. Product dispensed pursuant to the program rules and federal and state laws. Void where taxed, restricted, or prohibited by law.
I believe this will help gain market traction for Abstral. The drug has been proven in Europe, and helping doctors in the US become aware of it, and prescribe it to their patients at a discounted rate, will help increase the initial volume. Based on feedback from patients, doctors will then either continue to prescribe the drug or move to an alternative pain killer.
There has been criticism from analysts over this strategy. The most significant one came from Bronte Capital who called this a new low for the industry by creating addicts. I disagree with this statement. The target audience is those suffering from intense pain from cancer side effects and treatments. Unfortunately, some of the target population will not survive, some will be cured, and some will likely have a long battle. I'm sure there will be a portion who will abuse the product, this is inevitable, however, not an excuse for not getting the product to those who need it.
Sales Estimates
Based on a cost comparison at goodrx.com, I've come up with the average retail cost breakdown of the following for Abstral: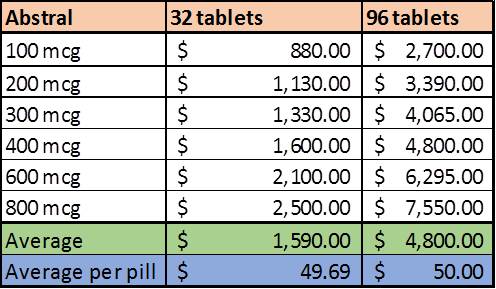 I have been unable to find a wholesale breakdown of Abstral, and instead have looked at various discounted prices. I also looked at how many pills the company would have sold to make the $1,200,000 in revenue it brought in last quarter:

If the company had a markup of 50%, then the company sold roughly 48,000 pills during the last quarter. Current estimates for all of 2013 are $1.5-3 million, and estimates for 2014 are $8-12 million. GALE has been vague about the size of the sales force, however, I've seen the number of 50 being quoted, so I'll use that as a start point. The pills are sold in 32 tablet blister packs.
Keep in mind that cancer patients will typically experience more than one episode per day:
Abstral is an important new treatment option for inadequately controlled breakthrough cancer pain (BTcP) in patients who are already receiving, and who are tolerant to, opioid therapy for their persistent baseline cancer pain. BTcP has been shown to affect as many as 40-80 percent of cancer patients, with reported episodes of 4 per day and a median duration of 30 minutes.
So the number of 32 tablet prescriptions does not translate into the number of patients, as one patient would typically have multiple prescription refills over the course of their treatment. I don't have a good estimate for how many refills a patient would use, this would depend on the severity and intensity of the treatment and the patients' pain threshold. However, if we were to use four refills to give us an idea, then the low estimate would be just over 450 patients and the high would be just over 900.
When looking at projections, I don't like to see what the sales forecast is alone, but also how much of a product that translates into. The numbers that I could find would lead me to believe the company has a low estimate for how sales will go. I would hope the company is able to find more than 450-900 patients this year who can benefit from the drug.
The American Cancer Society estimates that nearly 1 million people are diagnosed with cancer in the US each year. The estimates for those that will experience BTcP are pretty wide, from a low of 19% to as high as 80%. GALE puts the estimate in the 40%-80% range. Using the low estimate, it would put the number at 400,000 cancer patients who suffer from BTcP. The following is a list of medications available according to WebMD: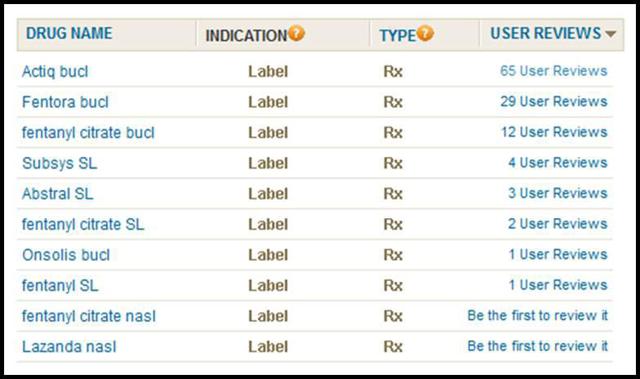 While there are already several popular treatments for BTcP in the US, Abstral is already well known in Europe, so the launch is more of an expansion into a new market. I would expect the low estimate to be closer to the 10% mark, or about 40,000 patients. To be even more conservative, I would cut that down to 10,000 patients for the initial figure and higher when it approaches peak sales. However, with that number of patients, and a target of $8-12 million for 2014, their wholesale price would be significantly lower.
As far as what this means to the bottom line of the stock price, I'm going to point investors to a previous article written by Brian Nichols: Galena Biopharma: Best And Worst Case Scenario. In it he outlined how both Neuvax and Abstral will affect the bottom line. Even if Neuvax fails to gain approval, Abstral should still be a homerun for GALE.
Conclusion
"Liars figure…and figures lie…"
For investors, when the earnings are released, look for not only sales figures but also units shipped. This break down will help to understand just how much traction the company has been able to gain since Abstral was launched. Because of the discount the company is offering, the sales numbers will be lower. Units shipped will tell more about how well the launch is going.
I'm sure there will be many individuals who find flaw with these estimates, and I encourage them to respond with their own estimates.
Disclosure: I am long GALE. I wrote this article myself, and it expresses my own opinions. I am not receiving compensation for it (other than from Seeking Alpha). I have no business relationship with any company whose stock is mentioned in this article.