Executive summary:
The rate at which Nike has grown its dividend in recent years makes it very interesting.
Balance sheet perfection: Over $5 billion in cash and short term investments.
Slightly overvalued; p/e and p/s ratios above industry average and historical valuations.
_________________________________
Nike Inc. (NYSE:NKE) has been making headlines for the past couple of days after a shoe designer said Nike would release 'Back to the future'-style self tying sneakers in 2015. While this is very impressive, there's one thing about Nike I find a lot more interesting: the way it has grown over the past 5 years. Take a look at Nike's 5 year share price chart: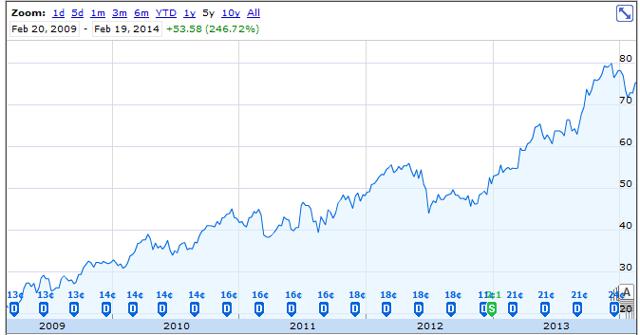 (From Google Finance)
Nike has increased its earnings per share in each of the past 5 years, reaching $2.71 in the most recent fiscal year, which ended in May of 2013. For the current fiscal year, analysts expect EPS to reach $2.99, while the average estimate for 2015 stands at $3.49. At the current price per share of $75.28, Nike is trading at a forward p/e ratio of 25.0. This is quite high compared to both its 5-year average p/e, which stands at 22.4, and the industry average of 21.7.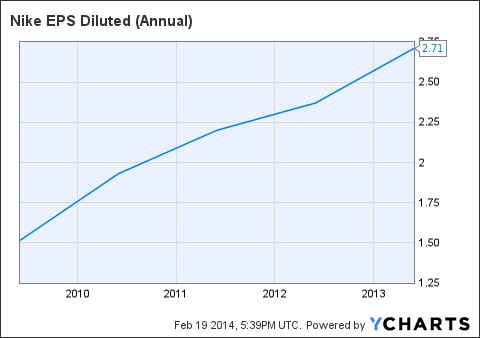 NKE EPS Diluted (Annual) data by YCharts
Nike's revenue for 2014 is expected to be $27.75 billion, which at the current market cap of $66.91 billion puts the forward price to sales ratio at 2.4. Like the p/e ratio, the p/s ratio is also a bit higher than usual: Nike's 5 year average p/s ratio stands at 2.1, slightly above the industry average of 2.0.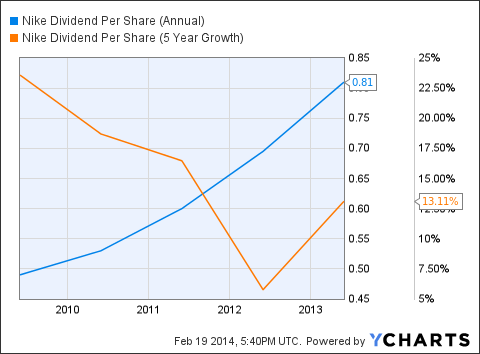 NKE Dividend Per Share (Annual) data by YCharts
Nike's dividend yield currently stands at only 1.27%, which means it isn't very attractive if you need income right now. For those with a longer investment horizon however, Nike's high dividend growth rate could make it an interesting long-term investment.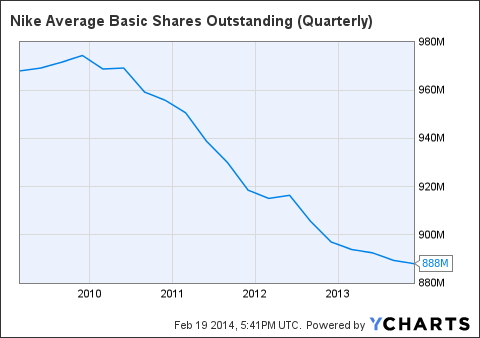 NKE Average Basic Shares Outstanding (Quarterly) data by YCharts
Since 2010, Nike has bought back almost 100 million shares, leaving the total number of share currently outstanding at only 888 million. Share buybacks are a good way of returning capital to shareholders as it increases earnings per share.
Nike's balance sheet is nothing short of amazing. Current assets stand at $13.6 billion, with only $3.9 billion in current liabilities, giving the company a current ratio of 3.5. The quick ratio (current ratio minus inventory) is 2.6. The company has $5.187 billion in cash and short-term investments ($5.84 per share), with only $1.2 billion in long term debt.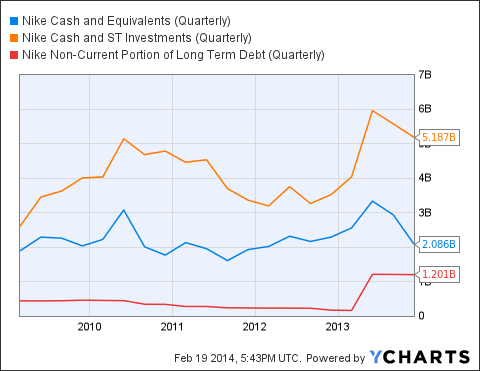 NKE Cash and Equivalents (Quarterly) data by YCharts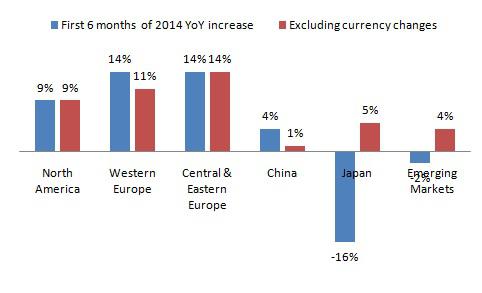 North America and western Europe are by far the biggest markets for Nike and as we can see from the graph above, revenue is growing at quite a high rate. Sales in China, Japan and emerging markets were also up although Nike's revenue in Japan was significantly impacted by the Japanse Yen dropping in value compared to the dollar. I don't see this as too big a problem as Japan only accounts for about 3% of Nike's total revenue.
Conclusion:
Even though Nike's dividend yield isn't very high right now, I still think it's a great long term investment. Nike has continuously shown its ability to increase dividends and earnings per share, and share repurchases will continue to push the earnings per share even higher. The large amount of cash on its balance sheet adds extra safety to Nike's dividend. However, the company is currently trading well above its 5 year average p/e and p/s ratios, indicating it might be slightly overvalued. I'd consider buying Nike in the mid $60 range, which would put it closer to its 5 year average valuations.
Disclaimer: I am not a registered investment advisor and do not provide specific investment advice. The information contained herein is for informational purposes only. Nothing in this article should be taken as a solicitation to purchase or sell securities. Before buying or selling any stock you should do your own research and reach your own conclusion. It is up to investors to make the correct decision after necessary research. Investing includes risks, including loss of principal.
Disclosure: I have no positions in any stocks mentioned, and no plans to initiate any positions within the next 72 hours. I wrote this article myself, and it expresses my own opinions. I am not receiving compensation for it (other than from Seeking Alpha). I have no business relationship with any company whose stock is mentioned in this article.