There is a great deal of attention paid to small companies who are about to enter the Russell 2000 Index. Why? Russell 2000 Index funds need to do a lot of buying in these companies upon entry so that they can track the performance of the index. The companies are added to the index in June of each year. A preliminary list of changes to the index is published on June 14 and the list is finalized on June 28. Index funds do their buying at this time so they can track the index as closely as possible - they want to get an exact replication of index performance. Knowing this, many hedge funds and other institutional investors attempt to frontrun the index funds by buying in advance the stocks of companies which will enter the index (and selling those which will be dropped). There are currently a number of lists being circulated amongst these investors of companies which will most likely be added to the index in June. Since this information tends to be spread around, it can be tough to "out-frontrun" the big players to exploit this opportunity.
But the situation is different with First Business Financial (NASDAQ:FBIZ). Why? Few investors know that FBIZ might get added to the index. Additions to the Russell 2000 index are based on market capitalization (along with a few other criteria). The most recent circulated lists of companies projected to be added to the index were made in late January. At that time, the cutoff for additions in 2013 on the low end this year was projected at $170 million. So, all else equal, based on that projection, U.S. companies which would fall below $170 million market cap on June 28 would be dropped from the index and those rising above will be added. In early February, First Business Financial traded at about $39, producing a market cap of about $158 million at the time. Keefe, Bruyette and Woods (NYSE:KBW) is the leader in this type of analysis for banks and provided a synopsis of financial services company changes to the Russell (this is just a summary of the thorough research they do). Of the many companies analyzed, here is their financial information as of late January on First Business Financial:
Financial Stocks Close to the Estimated Russell 2000 Cut-Off But Currently Expected to Miss
Est. Russell Rank as of 1/23/14
3045
Ticker
FBIZ
1/23/14 Market Cap ($M)
158
Stock Price 1/23/14
40.06
10Day Avg Volume
8415
Change in Price Needed to Rise Above Cut-Off
11%
Est. # Shares to Buy In
364,000
Est. # Days to Buy
43
Source: KBW Research, Bloomberg, and FactSet.
KBW projected FBIZ to miss the Russell 2000 cutoff. But things have changed a lot over the last couple of weeks. On January 30, FBIZ reported blockbuster earnings - $3.8 million in Q4, a huge increase. The stock is starting to attract attention. It currently trades around $42, producing a market cap of $169 million. Further, due to market changes, the most recent projection for the Russell 2000 market cap cutoff is $159 million (Sandler O'Neil; February 18, 2014). So, all else equal, if the Russell 2000 rebalancing were executed tomorrow, FBIZ would join the index! But while a good many fund managers know about most of the other stocks that might get added to the index (and have already made purchases in them to frontrun the index funds), few managers know about the potential for FBIZ to make it into the index so not much buying has occurred...yet.
Furthermore, there is a method for FBIZ to further increase its market cap so that it would most assuredly be added to the index - by paying a stock dividend. A number of small financials have successfully used this method to increase their market cap. When large cap stocks pay a stock dividend, the stock price usually adjusts to reflect the additional shares so that the market cap remains the same, a logical outcome. But interestingly, when small cap financials pay a stock dividend, the price oftentimes does not adjust and the market cap increases dramatically. Here are a few examples of recent stock dividends and the price reaction:
American Business Bank (OTCPK:AMBZ) instituted a 10% stock dividend on 4/26/13 and the market never fully adjusted for the dividend see circle below: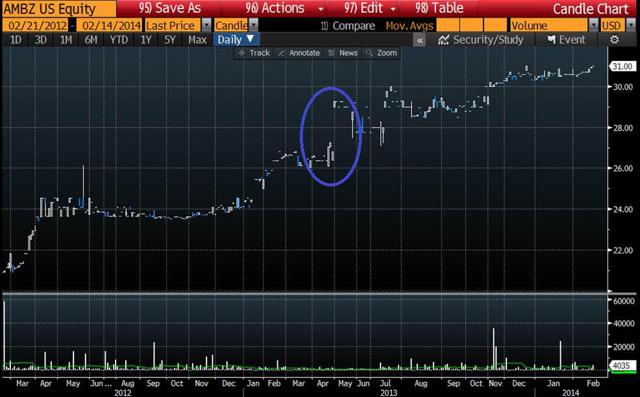 Source: SNL
Community Southern Bank (OTCPK:CMUY) instituted a 15% stock dividend on 09/26/13 and the market never fully adjusted for the dividend: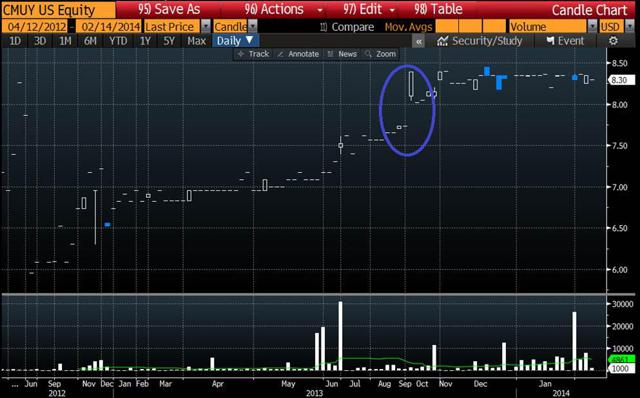 Source: SNL
Blueharbor Bank (OTCPK:BLHK) instituted a 20% stock dividend on 02/13/13 and the market never fully adjusted for the dividend: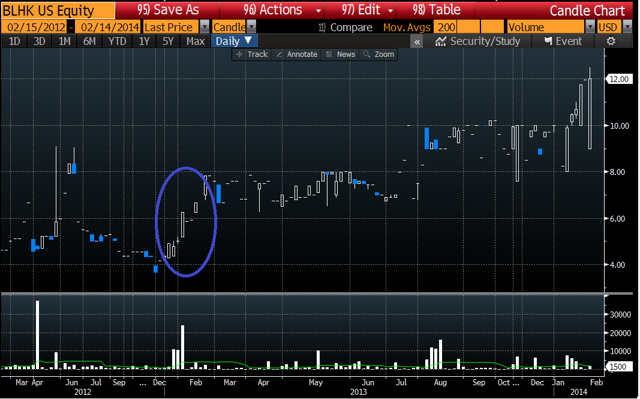 Source: SNL
FNB Bancorp (OTC:FNBG) instituted a 5% stock dividend on 11/27/13 and the market never fully adjusted for the dividend: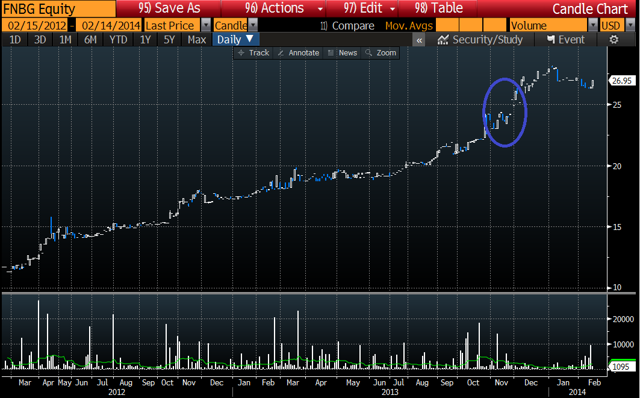 Source: SNL
If First Business Financial pursues a stock dividend strategy, I expect a similar pop in the market cap. As an alternative, they may institute a 2-for-1 stock split. This would bring their price down to the $21-$25 level, similar to other Midwest financials of their size. After my discussions with management, I believe that they will pursue either a stock dividend or stock split in the near term.
The next update to the KBW chart is going to show FBIZ making the Russell 2000 cutoff (or, at a minimum, being very close to it) and, in my opinion, the hedge funds are going to pounce! I met with management again at the Sterne Agee financial services conference in Ft. Lauderdale one week ago. They were gladly telling their story and the stock price has reacted with a 2 point move. They will also be presenting at the Davidson Financial conference in Denver next week and I expect further appreciation as word gets around.
Furthermore, once investors see that FBIZ is a potential Russell 2000 addition, I believe the stock could skyrocket because it's so thinly traded. Two other key listings in the KBW chart above are at the bottom - the "Estimated Number of Shares to Buy" and "Estimated Number of Days to Buy." For First Business Financial, index funds would have to accumulate about 364,000 shares if it is added to the Russell 2000. Based on the average number of shares traded daily, it would take 43 days of volume for the index funds to accumulate this many shares! This should produce a demand squeeze for the shares. Remember, the hedge funds are looking at these same statistics and will notice this as well.
Now, I haven't even touched on all of the great fundamental reasons to own this stock. They have a great management team, niche market, excellent growth plan and rock solid balance sheet.
Asset quality has been dramatically improving. In the 4th quarter of 2013, the loan loss provision came in at negative, that's right a negative ($1.2 million) - well below any reasonable expectation. Collateral liquidation costs and the loss on foreclosed properties actually posted small gains. Net interest margin measured a record 3.60% for the quarter, 29 basis points higher than the 3.31% recorded for the 4th quarter of 2012. Annualized return on average assets was 1.18% for the quarter, representing an increase of 34 basis points and 35 basis points compared to the 4th quarter of 2012. Annualized ROE was 13.88% for the quarter, representing an increase of 100 basis points compared to the 4th quarter of 2012. The company has produced seven consecutive quarters of loan growth while maintaining consistently high quality.
How has FBIZ achieved such dramatic growth with the proven ability to write new loans of such high quality? FBIZ has done a fantastic job of lifting out other bankers from its competitors. As banks in the area have been closed by the FDIC and sold in receivership to larger institutions, FBIZ has been known to poach out productive bankers. These lift outs have enabled FBIZ to hire some very productive local loan officers at limited expense. FBIZ has picked up entire books of business with high spreads and local low rate core deposits. By selectively hiring unhappy bankers whose only alternative was to work for a large bank, FBIZ has built business relationships that have, and may continue to, double core earnings.
In 2013, Forbes named FBIZ as one of its "Top Dividend Stocks" due to insider buying and its 2+% yield. In 2012, the ABA Banking Journal ranked FBIZ 15th among all publicly traded banks (of about 250 in the U.S.) with $1-10 billion in total assets. FBIZ recently increased its quarterly dividend rate to $0.21 from $0.14 previously, and from $.07 one year ago.
This stock is a bargain at 1.4 x BV and a current P/E of 10. The P/E represents a tremendous bargain as it is less than the growth rate of the company. I expect analysts to increase future earnings estimates in the near term which will further boost the stock price. More importantly, First Business Financial is a primary target for an acquisition by a larger bank. I believe First Business Financial may be bought at a substantial premium to tangible book value. Likely acquirers may be Old National Bancorp (NYSE:ONB), Associated Bank (ASBC), which is looking to add assets and deposits in Madison where university and government jobs are based, Wintrust (NASDAQ:WTFC) and PrivateBank (NASDAQ:PVTB).
I see very little downside at current prices, even if for some reason FBIZ isn't added to the Russell 2000. But in my opinion, once the big players realize this is an expected Russell addition, the ratchet up in stock price will be explosive.
Disclosure: I am long FBIZ. I wrote this article myself, and it expresses my own opinions. I am not receiving compensation for it. I have no business relationship with any company whose stock is mentioned in this article.