Hecla Mining (NYSE:HL) had a torrid time last year, as its stock price declined almost 50%. However, the company ended 2013 on a positive note reporting a rise in its gold and silver reserves. Even with gold and silver posting a price decline of 28% and 36%, Hecla's gold and silver reserves increased by 190% and 13%, respectively, in 2013 compared to previous year. For gold, the total proven and probable reserves increased to 2.1 million ounces, and silver's proven and probable reserves increased to 170 million ounces. Notably, the company recorded a rise in reserves despite lowering the price assumptions used for calculating reserves.
| | | |
| --- | --- | --- |
| Price assumption | 2012 | 2013 |
| Gold ($ per ounce) | | |
| Silver ($ per ounce) | 26.5 | 20 |
Hecla Mining's growth in reserves has come at a time when many mining companies have reported declining reserves due to lower precious metal prices. This has forced miners to discontinue mining lower ore grades that are no longer considered profitable to mine. Recently, Barrick Gold (NYSE:ABX) slashed its gold reserves by 25% from 140.2 million ounces at the end of 2012 to 104.1 million ounces at the end of 2013 as the company changed its gold price assumption from $1,500 per ounce to $1,100 per ounce. Another miner, Goldcorp (NYSE:GG), also reduced its gold reserves by 15% after reducing its price assumption to $1,300 per ounce. As a result, both Barrick and Goldcorp recorded massive asset impairments, leading to huge financial losses.
On the other hand, Hecla's growth in reserves was primarily due to successful exploration activities conducted at its mines. The company's Lucky Friday mine reported a 39% increase in silver reserves from 55 million ounces at the end of 2012 to 77 million ounces at the end of 2013. Moreover, the mine reached full production levels in the fourth quarter of 2013 after undergoing a rehabilitation and enhancement project during 2012. As a result, the mine reported a consistent increase in production at lower costs throughout 2013.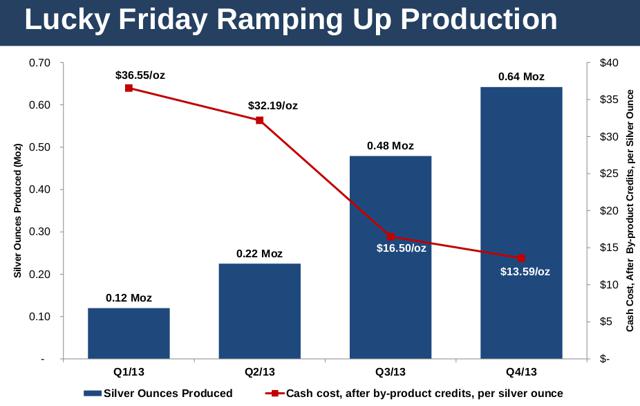 Source: Company presentation
Although Lucky Friday reported a continuous decline in cash costs, the mine's full year silver cash cost of $19.21 per ounce came in much higher than Hecla's overall cash cost of $6.84 per ounce. However, the mine's outlook seems to be promising, as the company expects the mine to produce 3 million ounces of silver at a cash cost of $9 per ounce. Development activities are currently being carried out at the mine's number four shaft. With 60% of the project already completed, the company expects the shaft construction to be finalized by 2016. Going forward, the number four shaft will help it access higher grade ore zones, potentially increasing Lucky Friday's annual production to 5 million ounces beginning in 2017. This will help reduce the mine's silver cash cost per ounce in the coming years.
Greens Creek: A top performer
Another high quality asset that will play an important role in the company's future success is the Greens Creek mine. The mine accounted for 83% of Hecla's total silver production in 2013. More importantly, Greens Creek is a low-cost mine that helps the company maintain a competitive cost structure. In 2013, the mine achieved its highest average throughput rate of 2,206 tons per day. As a result, the mine reported a silver cash cost of $4.42 per ounce for the year 2013, 35% lower than the company's overall cash cost.
Continuous exploration at the mine has helped the company replace reserves, extending the life of mine by 10 years, until 2029. Last year, the company converted almost 700,000 tons of resource material into reserves, replacing almost 100% of the ore it mined during the year. In 2014, Hecla will continue underground drilling and surface drilling at the mine, which might further increase its reserves in the near term.
However, silver production from Greens Creek is expected to be lower than 2013. The company expects the mine to produce 6.5 million ounces to 7 million ounces at a cash cost of $6 per ounce, but Hecla Mining will continue to derive a major part of its revenue from the mine. Also, the mine's lower production costs will allow the company to operate at a lower cost structure.
Conclusion
Unlike other miners, Hecla Mining reported a rise in its silver and gold reserves due to successful exploration at its mines. The company's Lucky Friday mine will contribute with full year production this year. I expect the mine's production capacity to increase with the completion of the number four shaft. I recommend a buy on the company's stock.
Disclosure: I have no positions in any stocks mentioned, and no plans to initiate any positions within the next 72 hours. I wrote this article myself, and it expresses my own opinions. I am not receiving compensation for it (other than from Seeking Alpha). I have no business relationship with any company whose stock is mentioned in this article.