A difficult 2013
American Eagle Outfitters (NYSE:AEO), the apparel retailer targeting young adults (age 15/25), has suffered a lot in 2013. In the first three quarters of the year sales were down 4%, comparable store sales were down 6% (-7% in women's apparel, -1% at its Aerie stores, which sell underwear and intimates to the young girl demographic). What's worse, a large share of those sales were done in a highly promotional environment (large discounts): gross profit was down a whopping 21%. Discounts were not large enough apparently, since inventory was 8% higher at the end of the period nonetheless. Last but not least, the company last month lowered 4Q EPS guidance to the lower end of previous forecasts (meaning around 0.26) and in a shocking move the recently appointed CEO Robert Hanson, who was working on turning around the business and was very much loved by the market, left the company with no explanation whatsoever. As of today, no further insights were given by the company on the reason of this unexpected move.
Out of fashion?
So why is AEO performing so badly and how are its competitors doing? Despite all the "weak consumer spending" talk (groundless in my view, since consumer spending is up 3.2% in the last quarter, the best performance in three years), the ugly truth is that some teen retailers are doing things right, and some are not. Forever21 (privately owned) is enjoying much success in the teen space right now, and so are Zara and H&M, both foreign brands which are now doing very well in the US as well. Abercrombie & Fitch (NYSE:ANF) had a tough 2013 but has recently raised its 4Q guidance after better than expected sales during the holiday period and Urban Outfitters (NASDAQ:URBN) saw its sales increasing 8% during the same holiday season. So what are those companies doing right that AEO is not? Young adults seem to prefer the "fast fashion" theme right now, meaning a mix of cheaper prices and broader offer with different styles of clothes that closely follow the trend that is in vogue at the moment. Cheap prices and more relevant and fast changing fashion do not belong to American Eagle Outfitters which instead offers better quality clothes at slightly higher prices and with a narrower offer of different styles.
So why buy AEO now?
My investment case is based on the fact that I firmly believe AEO is already turning around and the market has not fully appreciated this yet.
1) Online and faster time to market
American Eagle's online sales are up 17% in the first three quarters of 2013 and the company is completing the construction of a new distribution center that will help cut down costs for its direct channel between 10% and 20%. Online sales are booming at all retailers (25% of Urban Outfitters' sales are already done through its online channel) and AEO is moving fast in this direction, reaping already the first results. Furthermore, the company is implementing solutions that guarantee a faster time to market to bring more relevant fashionable items to its stores in a shorter time. The good thing is that it seems the company has understood its shortcomings and it is already adapting to the new environment.
2) International expansion
AEO has just 9 direct stores abroad (outside of US and Canada) plus 61 licensed store locations mostly in the Middle East, Japan, and Philippines. Stores in Mexico and Asia are performing very well and the company can grow exponentially both through licensed stores and direct stores, expanding its brand awareness and penetrating markets that are growing fast. This would result in a diversification of revenue sources and the possibility of building a true global brand.
3) Sound balance sheet
AEO has a strong and clean balance sheet. Debt is zero, 20% of its assets are in cash or cash equivalents (and short-term investments). Payout has always been around 30% and the company has a long standing tradition of returning important chunks of cash to shareholders: dividend yield has always been in the 3-4% area and as high as 6 and 10% in the two years in which it paid special dividends (resulting from better than expected business performance). Price to book value is a not so high 2.2. This balance sheet could also attract interest from a private equity investor that could leverage the company through an LBO.
Valuation
AEO is trading at a 2014E (meaning the year that ended on February 1, 2014 and on which the company is reporting on March 11) P/E of 21.8x versus a sector average of 18.2x and a 5 year company's average of 15.7x.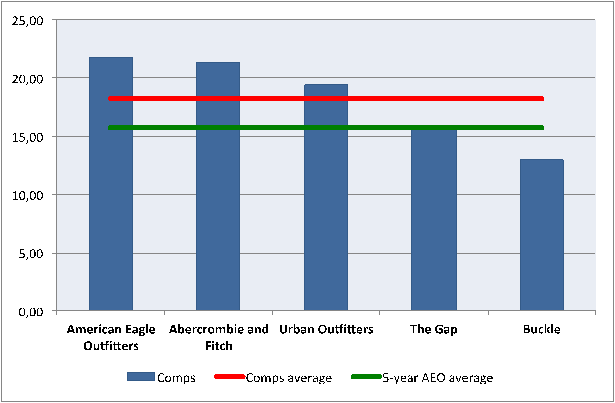 2014E P/E. Source for EPS estimates: 4-traders.com
2015E P/E is 15.8x versus a sector's average of 14.7x.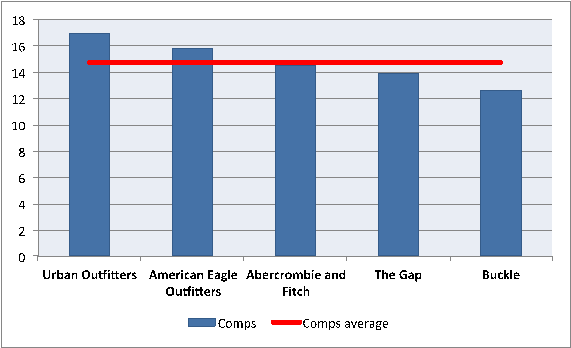 2015E P/E. Source for EPS estimates: 4-traders.com
2014E EV/EBITDA is 6.5x versus its peers' average of 6.8x (and a 5 year own average of 5.6x).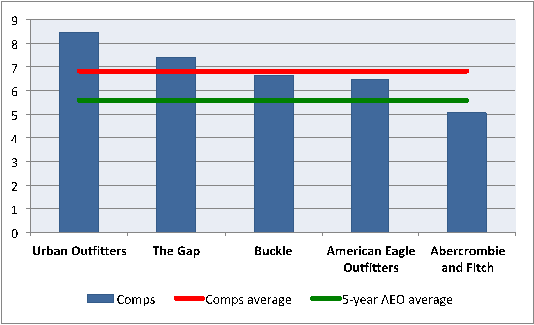 2014E EV/EBITDA. Source for EV and EBITDA: ycharts.com
As you can see from the numbers above, AEO is trading at a premium to its comparables on 2014 P/E numbers but it is more or less near the mean on 2015 P/E and 2014 EV/EBITDA. I believe the stock is fairly valued at this point (relative to its peers). My DCF model tells me that at a 8.7% WACC and a long-term growth of only 2%, the company's value is around 19$ a share.
Conclusion
I firmly believe the company has reached the bottom of its decline and it is already in the process of turning around. Much will depend on the appointment of the new CEO and on how well the company can continue to correct its shortcomings. However, I believe that the value of this stock is certainly higher (at least 19$ a share) and that the company is sound and strong and can also spark M&A activity (meaning a PE buyout). Last but not least, a few days ago its Chairman (and interim CEO at this time) Jay Schottenstein bought 6.4 million dollars' worth of shares at 12.84: a tangible act of faith in the future prospects of this retailer.
Disclosure: I am long AEO. I wrote this article myself, and it expresses my own opinions. I am not receiving compensation for it (other than from Seeking Alpha). I have no business relationship with any company whose stock is mentioned in this article.