On February 20th Crocs (NASDAQ:CROX) reported the results of its operations for the fourth quarter (Q4) and full year of 2013. This has also been the first quarter of Blackstone Group (NYSE:BX) involvement, with the company making a $200 million investment in the footwear retailer at the end of 2013. Although the investment firm has been on board for less than two months, it has already generated a lot of talk and instituted a number of changes to the board of directors and managerial echelons. At the least, the conference call was certainly vastly awaited by the investment community for the potentially revised direction and outlook.
That expectation could be considered to have been failed. The outlook turned out to be more of a glimpse into the future: not only was the conference call session limited to prepared remarks with no Q&A component, but there will also be no quarterly or annual earnings guidance for 2014 either. Management limited itself to stating that "2014 will be a significant transitionary period" and that the company will "focus on earnings growth with less emphasis on top line growth".
Financial Results:
While the former is a quite common message from struggling businesses, the latter piece offers some relief to investors.
To date, Crocs has been quite focused on growing revenues, aggressively expanding into new markets to offset slowdown in the US. Unfortunately, this strategy often failed to generate the expected results - expansion requires significant capital expenditures and may not payoff in the long run. In the case of Crocs this is easily witnessed in declining gross margins (Non-GAAP 46.5% in Q4 2013 versus 48.9% in Q4 2012), growing SG&A expense (Non-GAAP 55.4% of revenues in Q4 2013 versus 47.5% in Q4 2012). These metrics in the fourth quarter were lower overall when compared to annual results of 52.5% and 44.3% respectively, suggesting further deterioration. Compared to 2012, margin and expenses worsened year-over-year in 2013 as well.
Even on Non-GAAP basis earnings declined 42.3% on per share basis in 2013 to just $0.82 from $1.42 in 2012. Non-GAAP loss in Q4 was $17.7 million, driven by SG&A expense of $126.8 million which were roughly $20 million higher than the gross profit of just $106.3 million.
Can someone spell "trouble"?
The balance sheet presents further signs of deterioration. While current assets increased year-over-year ($640 mil vs $613 mil) - so did intangibles and goodwill ($128.5 mil vs $100 mil). Total liabilities increased to $250 mil from $212 mil year over year, driven largely by $29 increase in current liabilities. Net impact to equity was a positive increase of $7.3 million ($624.7 mil from $617.4 mil a year ago). But the company share count grew to 103 million (when accounted for Blackstone dilution), up from 89 million at the end of 2012. The result on per share basis is an actual equity decline of $0.87 per share - from $6.94 to just $6.07.
Overall, the company remains highly liquid with liabilities-to-equity of just 0.4 and almost no long term debt. But the question with Crocs is whether the company is still a grower, or if it's stuck in no man's land and whether investors should park their money in some other value trap (one that potentially pays a dividend to make it worthwhile).
Operational Performance:
To assess the above, it is worth looking at company's operational performance and some of the common retailer benchmark metrics. For the year, sales were roughly flat in the Americas, improved in Asia and Japan (when factoring in Japan's currency fluctuation), and witnessed significant growth in Europe as that region seems to be finally turning around and emerging from the recession. Overall revenue increased 8.8% in constant currency. Comparable store sales were 1.5% in constant currency greatly impacted by 13% decline in Japan.
Average selling prices declined, being driven by tougher competitive environment and emerging internet sales trends - that carry higher promotions - supported by reports from a number of retailers. Company store count has also increased by a net of 82 stores.
Final Thoughts:
The company beat analyst estimates on both top and bottom lines. A surprising result, especially in light of the tough retail environment in the US driven by miserable weather across the country. Investors did like what they saw, sending shares up 5% the same day.
But certainly, one quarter is not indicative of any specific change. After all, the bottom line beat still posted a loss of 20 cents per share driven by falling margins and increased expenses. Crocs story is far from over and the turnaround is likely to take significant amount of time, if it will take place at all. While Blackstone involvement is a certain positive, I would remain cautious of company's prospects. After all, it will take much more than a new CEO and a refreshed board of directors to make consumers purchase the once trendy resin footwear.
Although bearish on the stock, I'm taking a sideline position for the moment and would not risk entering on the short side. I have earlier expressed my hypothesis that the $14.50 preferred share conversion price will act as a significant level of support. Since then, the level has been tested and held a few times: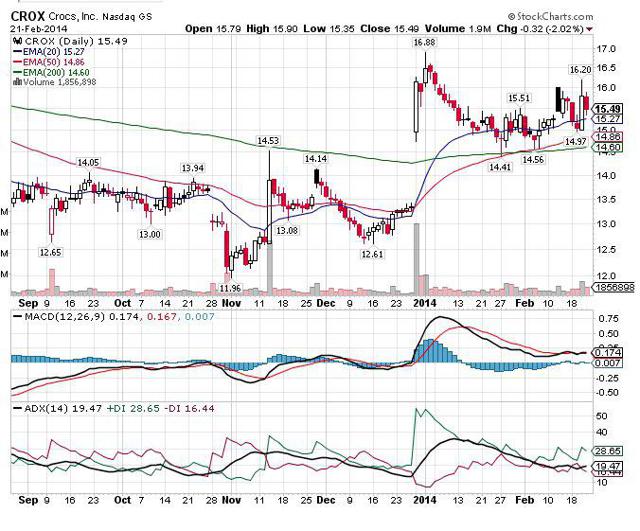 With the 200-day moving average right in that vicinity as well, I imagine it would take a hefty miss or significant negative event - something to the likes of a Corvex backstab of ADT shareholders - to make shares break below and target the all time lows of 2013. The upside on the other hand is unlimited - if Blackstone Group succeeds in turning the company around with new designs, improved OpEx and brand image or potentially - an LBO, I would tend to think shares could witness the earlier glory days in the $20+ per share range. I just doubt it will ever happen, and even less that it will happen anytime soon.
I have earlier initiated a small short position which I have later hedged in a ratio spread (short two OTM puts for each ITM put held). I have closed out the long $16 February puts at a minor profit the night before earnings report, keeping the short $14 February puts through today. These positions now expired out of the money and I have booked the major part of the profit setup from their sale. I'm out of any position in Crocs and as mentioned - will remain on the sidelines until further significant developments.
Disclosure: I have no positions in any stocks mentioned, and no plans to initiate any positions within the next 72 hours. I wrote this article myself, and it expresses my own opinions. I am not receiving compensation for it (other than from Seeking Alpha). I have no business relationship with any company whose stock is mentioned in this article.