Baxter International Inc (NYSE:BAX) declared a quarterly dividend of $0.49 per common share. The dividend is payable on April 1, 2014 to shareholders of record as of March 7, 2014. Baxter's solid pipeline allows it to generate consistent growth in both top and bottom line which further enhances its potential to continue to generate strong cash flow. Consequently, it continues to return significant value to shareholders both in the form of share repurchases and dividends. In the last fiscal year, the company returned more than $1 billion in dividend payments that represent a 27% increase over the 2012 and an 89% increase over the past five years. On top, Baxter is consistently reducing its share count and has returned $913 million to shareholders through buy backs of approximately 13 million shares.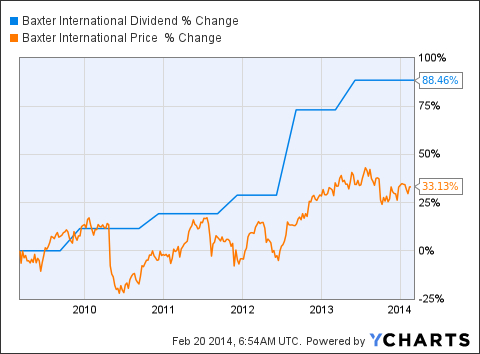 BAX Dividend data by YCharts
Both share reduction and a consistent dividend payment increases the confidence of the shareholders which is reflected in the share price appreciation. The company stock gained 33.13% over the last five years and I believe the price is still not too high as the company is making significant growth both in sales and EPS. At the moment, the stock is trading at around $69/share which is well below the estimated fair value of around $80/share. The stock is trading at only 17 times-to-earnings while the industry average is well above 30 times-to-earnings. Baxter looks significantly undervalued to me while having a strong upside potential. Thus, it looks like a good buy to me at current valuations. In this article, I try to gauge the company's ability to sustain those returns.
How Baxter is a Safe Investment
Baxter International and its subsidiaries develop and manufacture products that save and maintain the lives of people who suffer from hemophilia, infectious diseases, immune disorders, trauma, kidney disease, and other chronic and sensitive medical conditions. As an international diversified healthcare corporation, it exhibits a strategy of applying a unique combination of expertise in pharmaceuticals, medical devices and biotechnology to produce products that advance patient care globally. The company is building upon its proven expertise over number of therapeutic areas by capitalizing on its large global presence and differentiated brands, establishing a robust new product pipeline, pursuing innovation and improving access and standards of care all over the world.
To do this, Baxter has constantly increased research and developmental spending. Last quarter, it increased its research spending by 8% to $1.2 billion for both new collaborations and internal programs. This led the company to achieve a number of clinical and regulatory milestones, including the completion of regulatory submissions for immune globulin products and new hemophilia products; and as well as approval of immune globulin for biosurgery and nutrition products. The company has also established numerous collaborations that leverage its proven expertise and expand its pipeline in new therapeutic areas including oncology and immunology.
The strategy has been working so far, as Baxter's fourth quarter worldwide sales of $4.4 billion represent an increase of 16% from prior-year levels. Bioscience sales of $1.8 billion increased by 5% from the previous year, driven mainly by double-digit growth and solid demand for the company's hemophilia therapies, including ADVATE, Plasma/Albumin-Free Method] and FEIBA, as well as growth and demand for biosurgery products. Medical Products are also gaining momentum with a 25% increase in sales led by the company's recent acquisition of Gambro.
With a solid growth in its top line, the company's cash generating potential is also enhancing and, as a result the company's free cash flows of around $1.6 billion adequately cover its dividend payments of around $1 billion. The payout ratio based on income of around 47% also looks sustainable. On the negative side, the company is carrying a high debt-to-equity ratio of 1, which is above from the industry average of 0.6. Nevertheless, its quick and current ratios are high at 1.03 and 1.92, representing significant amounts of cash in hand to meet short term liabilities. Its ability to generate cash flows, issue debt, or enter into other financing arrangements could adversely affect if there were a substantial decline in the demand for its products. I cannot see such a risk when the company is looking to generate 8% to 9% growth in its top line for this year and consistently producing innovative products by spending more on research and development.
Where Other Players Stand
Baxter International's main industry peers are Covidien PLC (COV) and Becton Dickinson & Co (NYSE:BDX).
| | | | | | |
| --- | --- | --- | --- | --- | --- |
| | PS | PB | PE | 5 year Rev CAGR % | Dividend Yield % |
| BAX | 2.6 | 4.8 | 17.5 | 4.7 | 2.8 |
| COV | 3.2 | 3.4 | 21.4 | 0.6 | 1.6 |
| BDX | 2.7 | 4.3 | 23.9 | 2.6 | 1.8 |
Source: Morningstar.com
Covidien is engaged in the development and manufacture of healthcare products for use in home and clinical settings, while Becton Dickinson is a medical technology company, engaged in the manufacture of medical devices, instrument systems and reagents used by healthcare institutions, life science researchers, clinical laboratories and the general public. Clearly, both companies are trading at high valuations compared to Baxter International. Further, Baxter offers high-dividend yields with much greater growth potential.
In conclusion
Baxter International looks significantly undervalued to me with solid dividend growth potential. The company's dividends look safe with 8% revenue growth potential and with the ability to generate hefty cash flows. To support its revenue growth, it is consistently increasing spending on research which is generating good results for the company.
Disclosure: I have no positions in any stocks mentioned, and no plans to initiate any positions within the next 72 hours. I wrote this article myself, and it expresses my own opinions. I am not receiving compensation for it (other than from Seeking Alpha). I have no business relationship with any company whose stock is mentioned in this article.