Prices for both gold and silver rose for the third straight week, the first time this has happened in a year-and-a-half, as demand for precious metals continues to stabilize in the West while physical demand in the East remains strong. The latest data from the World Gold Council showed record gold demand from China last year as investors in the West sold, however, many analysts say Chinese demand is understated by a wide margin.
The technical picture for precious metals remains positive, and this was aided by weak economic data, particularly in the U.S., that has bolstered the case for the Federal Reserve to go slow in tapering its massive money printing effort. Some Western analysts now see higher metal prices ahead, however, while U.S. investors are clearly no longer bearish, recent metal ETF flows indicate they are not yet very bullish.
For the week, the gold price rose seven dollars, from $1,319.10 an ounce to $1,326.10, and silver rose 1.6 percent, from $21.51 an ounce to $21.85. The gold price is now up 10.0 percent for the year, still 31 percent below its all-time high of over $1,920 an ounce in late 2011, and silver is now up an impressive 12.4 percent for the year, still 56 percent below its record high near $50 an ounce almost three years ago.
After dipping at mid-week following the release of the January Fed meeting minutes that showed a central bank seemingly determined to end its bond buying program this year, precious metals ended the week on a strong note. Part of the late-week surge was due to renewed safe haven demand stemming from violence in the Ukraine, however, there is a growing consensus that recently weak economic data in the U.S. and elsewhere may not be due solely to bad winter weather, in which case, the Fed may have to rethink its tapering plans.
The central bank doesn't exactly have a sterling track record in predicting turns in the U.S. economy and, if the plunge in Citigroup's Economic Surprise Index (shown below via this item at Marketwatch) is any indication, they might already be behind the curve again.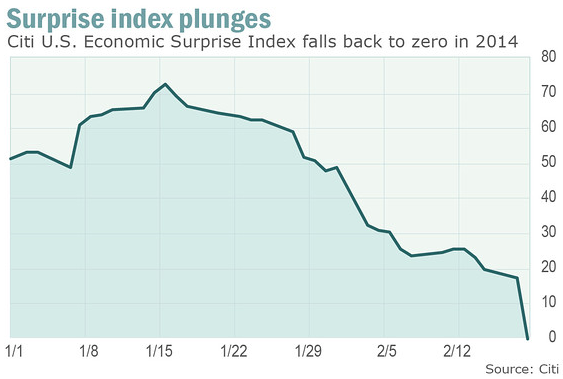 Granted, the weather has been bad, but there are simply too many "It's not just the weather" type of reports in the financial media lately to ignore this.
Short-term technical indicators remain positive for gold and silver as dips are short-lived and quickly bought, though some consolidation should be expected after the recent price run-up that could also temper demand in the East where buyers are much more cost-sensitive.
Hedge funds were reportedly net buyers of gold in the fourth quarter, and metal ETFs continue to show U.S. investors slowly returning to gold and silver.
The SPDR Gold Shares ETF (NYSEARCA:GLD) saw its first weekly gold outflow in a month as it shed a modest 2.9 tonnes last week. With just five days left to go in February, the trust is on pace to record its first month of net inflows since December 2012, just prior to when U.S. investors began to exit this market.
The holdings for GLD are now up a fraction of a tonne in 2014 while the iShares Silver Trust ETF (NYSEARCA:SLV) added an impressive 116 tonnes just last week, pushing its year-to-date increase to 188 tonnes. Recall that both of these ETFs are widely considered to be a solid gauge of U.S. sentiment toward precious metals, though the inventory flows have a strong history of lagging the price action. Many, including myself, have concluded that just the stabilization of these ETF holdings is bullish for metal prices, and it's hard to argue with that view when looking at recent charts.
As detailed in this item last week, record gold demand from China last year along with record outflows from gold ETFs in the U.S. were the key points made in the World Gold Council's Gold Demand Trends for 2013, however, there appears to be quite a bit of controversy over the first point. One has to look no further than this report by Koos Jansen to learn that both he and CPM Group's Jeffrey Christian think the WGC's figures are far too low.
The mainland officially net imported 1112 tons of gold from Hong Kong in 2013. Total net import according to Jeffrey Christian was 1411 tons (according to me it was 2000 tons), let's take his number for an example. How can China import 1411 tons and mine 428 tons (that's 1839 tons) but only demand 1066 tons? Did they import gold without asking for it? Did someone secretly pushed it across the border and now the Chinese are stuck with it? Or is there a lot of demand the WGC doesn't disclose?
What is notable about this is that the WGC admits they're just guessing at gold demand from China, since the Chinese don't disclose this information and the simple math behind the much higher estimates from both Jansen and Christian is pretty compelling. More importantly, just splitting the difference between the two higher estimates for 2013 China gold demand would have turned last week's "Gold Demand Down 15% in 2013" headlines into ones that read "Gold Demand at Record High in 2013", news that would surely have elicited a different response from investors.
It's no wonder that the Hong Kong Gold Exchange announced plans last week to build a 1,500 tonne gold storage facility in mainland China.
Meanwhile, Western analysts are turning a bit more bullish on precious metals, citing the less bearish views of Western investors, a subject that a lot of people, including myself, have been writing about in recent weeks. A research note from Citi FX said to "expect further gains" for both gold and silver, citing the recent double-bottom and some surprising similarities to the mid-point of the 1970s gold bull market.
UBS analysts Edel Tully and Joni Teves raised their 2014 average gold price forecast from $1,200 an ounce to $1,300 while noting that investors' attitudes toward the precious metals have improved. "Gold has started to shed its stigma, if slowly," they wrote in a report. Also, JP Morgan had a more positive outlook on gold as they said prices are likely to hit $1,450 by the end of the year on bullish fundamentals.
We may be in for some more consolidation over the next few weeks, but 2014 continues to look very promising for gold and silver.
Disclosure: I am long GLD. I wrote this article myself, and it expresses my own opinions. I am not receiving compensation for it (other than from Seeking Alpha). I have no business relationship with any company whose stock is mentioned in this article.
Additional disclosure: I also own gold and silver coins and bars