Facebook (NASDAQ:FB) has announced that it will acquire mobile messaging service WhatsApp for $19 billion in a cash-stock deal. The deal payment involves $12 billion Facebook stock, $4 billion in cash. The founders and employees of WhatsApp, about 55 in total, will be granted restricted stock worth $3 billion that will vest over 4 years after the deal closure. In this article, I will discuss the fundamentals, rewards, and risks of the deal.
Fundamentals
1) Revenue multiple
In 2013, WhatsApp reported revenue of $20 million. Facebook has paid 950 times the revenue generated by WhatsApp last year which indicates that this deal is very expensive.
2) Pay per user
Facebook is paying $42 per WhatsApp user, while the market value per Facebook user is $170. Facebook's average revenue per user or ARPU is $6.73. WhatsApp generates $1 per user annually after one year free subscription. Facebook has paid a higher price in terms of the revenue that can be generated per WhatsApp user.
2) EPS dilution
Facebook will have to issue additional shares as a part of this deal which will lead to EPS dilution. If WhatsApp generates $1 per user in FY 2014, then it can generate maximum $450 million of revenue which may not help to offset EPS dilution. If WhatsApp increases its user base, the new users will not generate revenue in FY2014 as users don't pay any fee in the first year.
Rewards
1) Active Users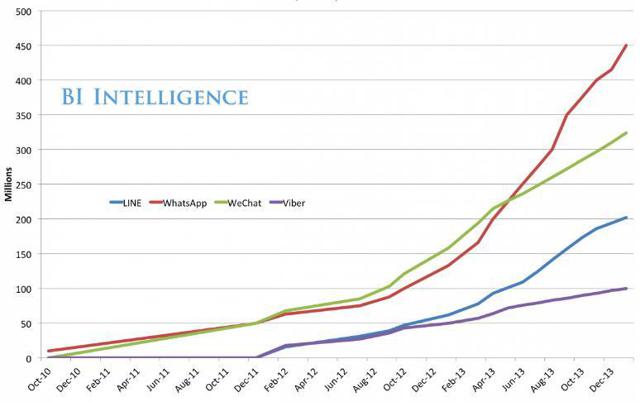 Source: Business Insider
Facebook has 1.23 billion users out of which 945 million use the service through their mobile phones or tablets. WhatsApp has 450 million monthly users, out of which 70% use it daily. The service adds about 1 million new users daily. Facebook expects WhatsApp to reach 1 billion users. Through this deal, Facebook can increase its users and connect with more people.
2) Revenue
WhatsApp service is available for $1 per user from the second year onwards. The app service charges no other fee, and it doesn't contain any ads. If I assume the service conditions remain unchanged and the existing 450 million WhatsApp users renew the service, then they will contribute to Facebook's fiscal year or FY 2014 revenue. However, new users will not generate revenue in the current FY as Facebook has no plans to use ads on WhatsApp.
3) Access to China
Facebook doesn't have any presence in China which has 1.23 billion mobile subscribers. The company's website was blocked in China in 2009, after protests in Xinjiang. WhatsApp service is available in China but it faces competition from message app services like WeChat and Viber. WeChat service is the most widely used with more than 270 million monthly active users. However Chinese users fear that their WeChat conversations may be monitored for politically sensitive content unlike WhatsApp which is not based in China. This can be used to attract more users towards WhatsApp in China.
Risks
1) Deal failure
Both Facebook and WhatsApp have the right to terminate the deal if it doesn't close on or before August 19, 2014. Facebook will pay WhatsApp $1 billion in cash and $1 billion in Facebook's stock if the deal falls through, including for failure to get regulatory approval. This penalty is about 25.42% of Facebook's FY 2013 revenue which is expensive.
2) Competition from other message apps
I am mentioning a few message app services which can give tough competition to WhatsApp in the coming years.
LINE
Launched in 2011, LINE is a text messaging service that offers voice calls and group chats. The app monetizes by selling both virtual goods and offline merchandise. Users pay to send their messages with stickers. Two years back, WhatsApp had 90% market share in Spain. Soon after LINE launched its service, it captured 50% market share at the end of 2012. In the last one year, LINE is expanding across Southeast Asia, India, Mexico, and South America through marketing campaigns, and TV commercials. In Japan, LINE has 47 million users, which is over 35% of the population while LINE is outdoing Facebook in Taiwan.
In the social networking category, WhatsApp is ranked number one in Saudi Arabia, Lebanon and the UAE. LINE competes with WhatsApp in these countries, ranked 8th in the UAE, 10th in Saudi Arabia, and 6th in Lebanon.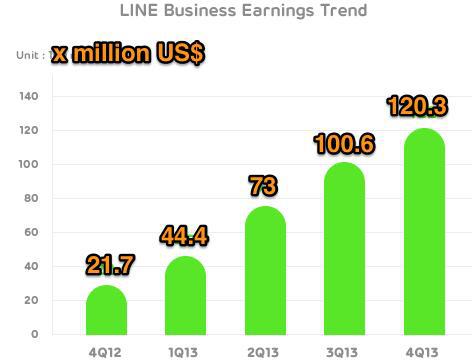 Source: TechinAsia.com
LINE has about 350 million registered users globally and it posted revenue of $338 million in 2013. In the fourth quarter of 2013, LINE reported revenue of $120.3 million, an increase of 454% year-over-year or yoy. LINE is also considering an IPO of $28 billion in 2014 to expand its global reach.
Viber
Viber is among the top five smartphone phone call and messaging apps downloaded globally. The app offers free Internet phone call function for its 280 million global users. Viber counts Russia, Australia and the U.S as its biggest markets. In 2013, Viber had 43% market share in India and South Africa. In the social networking category, Viber ranks 10th in Saudi Arabia, and is ranked 2nd in Lebanon and the UAE. In February 2014, Japanese e-commerce giant Rakuten bought Viber for $900 million to increase it user base and utilize the message app services.
WeChat
WeChat features include short voice messages and video calls over Wi-Fi. The app also has a payment feature which is used in e-commerce. WeChat generates revenue by selling online games and through its payment feature. The ARPU of WeChat is $7 which is higher in comparison to WhatsApp ARPU of $1. WeChat has 100 million users outside China where it is expanding its reach. Last year WeChat spent $200 million on promotion in markets such as India, Spain and South Africa.
WhatsApp could face tough competition from these message app developers which can hamper its user base and revenue. WhatsApp survival in these markets is important to generate revenue. Further, Facebook should increase revenue per WhatsApp user which has a limit of $1 annually.
Conclusion
This acquisition is in line with Facebook's strategy to connect people, increase its user base and increase its revenue. A lot depends on how WhatsApp will survive in this message app competition, and how Facebook integrates WhatsApp in its business model to benefit from this deal. However after considering the fundamentals, the deal appears expensive to me. The risks appear to be substantial in comparison to the rewards. This is entirely my opinion about this acquisition. I am not recommending readers to take any position in the company stock.
Disclosure: The author has no positions in any stocks mentioned, and no plans to initiate any positions within the next 72 hours. The author wrote this article themselves, and it expresses their own opinions. The author is not receiving compensation for it (other than from Seeking Alpha). The author has no business relationship with any company whose stock is mentioned in this article.