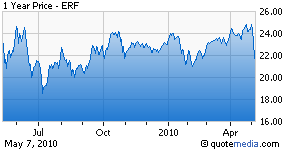 We believe that the units of Enerplus Resources Fund (NYSE:ERF) are attractive for income investors on the basis of a high distribution, sound management and low McDep Ratio. The Canadian Income Trust currently distributes C$0.18 a month for an indicated annual distribution yield of 9.0%. Under current oil price expectations, management apparently intends to maintain the same rate when the trust becomes a corporation next year. Chief executive Gordon Kerr has kept past payouts within conservative income parameters and has been quick to adjust distributions and debt to changing global conditions.
In a classic sense, our increased interest in the stock is triggered by the lowest McDep Ratio, shared with one other stock, among the 22 in our expanding small cap and income coverage. For immediate growth, Mr. Kerr has positioned Enerplus as an early driller in the oil shale frontier of North Dakota, Saskatchewan and Manitoba. More recently, Enerplus is a 30% partner with a private company shale gas pioneer that allows it to jump-start its own operated effort in the Marcellus formation in Appalachia. Longer term, the trust, soon-to-be company, owns valuable resource rights in the Kirby oil sands area of Alberta where future operations, possibly with an overseas partner, beckon.
Finally, the stock trades in an uptrend with current quote above its 200-day average, reinforced by long-term oil price also in an uptrend by the same measure.
Originally posted on April 16, 2010.