Lennar's (NYSE:LEN) rally is getting a lot of attention. It is testing the resistance at the $42 level on the chart. If it successfully passes this $42 level, then we will be looking at last spring's price level of $44. New highs will then likely be coming as we head into the late spring to summer building season.
Lennar Corporation Chart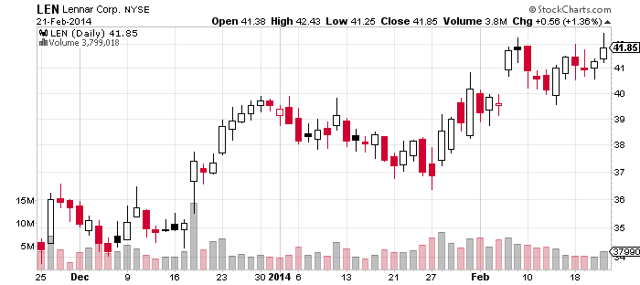 Fundamental Factors
There are a number of fundamental factors that are pushing stock prices higher at Lennar Corporation. The first factor is the collapse of interest rates instead of the expected run-up of rates with the Federal Reserve cutting its monthly bond purchases (the QE taper). The second factor is the demand for housing from Lennar with a backlog of 4,806 homes, which is up 19%. The third factor is Lennar pricing $400 million of 4.50% Notes due June 2019 for working capital and for general corporate purposes.
Collapse of Interest Rates
Housing interest rates have fallen from 4.6% at the beginning of the year to 4.3%-4.4% currently- source Marketwatch.com. This makes mortgages cheaper and cuts housing payments significantly. Many people will want to jump into the housing market to lock in this low rate. This creates more housing demand for Lennar Corporation.
Backlog of Homes
The demand for housing from Lennar is great, with a backlog of 4,806 homes as of December 18th. Many more houses will be ordered before spring. Lennar also received $1.4 billion in new orders in the 4th quarter of 2013. Lennar will be building and financing homes at a speedy pace this spring.
New Financing
The final reason Lennar will be building homes fast is the $400 million in new financing it just completed. This money will be used for working capital and for general corporate purposes. The loan rate is 4.50 percent interest which is quite reasonable. When news of this financing hit the market in February, the price of Lennar jumped several percentage points. This $400 million in new capital means Lennar will be ready to build as soon as the weather allows.
Future Earnings at Lennar
Lennar's P/E (price/earnings per share) is (19.5) and its projected (forward 12 months) P/E is (17.2). This means that the earnings are projected to improve over the next year. The earnings for the 4th quarter were 73 cents per share. The earnings for the first quarter of 2014 (winter months) was projected at 28 cents per share. The earnings for the 2nd quarter of 2014 (early spring) was projected at 52 cents per share. Naturally, I expect the spring earnings to be a little stronger given all the positive fundamentals. (Source Scottrade)
Conclusions
Lennar Corporation's price is moving up quickly. In my opinion, it will soon be challenging its last spring's highs of $44 per share. There are a number of strong fundamental factors that will help push the price of Lennar to new highs. Lennar's forward P/E of (17.2) should help power the rally into late spring.
Disclaimer: Please note that the author may be wrong with any projections or suggestions in this article. Do your own research before you make any decision.
Disclosure: I have no positions in any stocks mentioned, and no plans to initiate any positions within the next 72 hours. I wrote this article myself, and it expresses my own opinions. I am not receiving compensation for it (other than from Seeking Alpha). I have no business relationship with any company whose stock is mentioned in this article.