Last week was definitely a mixed bag for investors in Coca-Cola (NYSE:KO). The week started with the company posting what was widely regarded as a lackluster quarterly earnings report. However, a few days later, Coca-Cola surprised many with a large 9% increase to its dividend. At current prices, Coca-Cola yields slightly under 3.30%.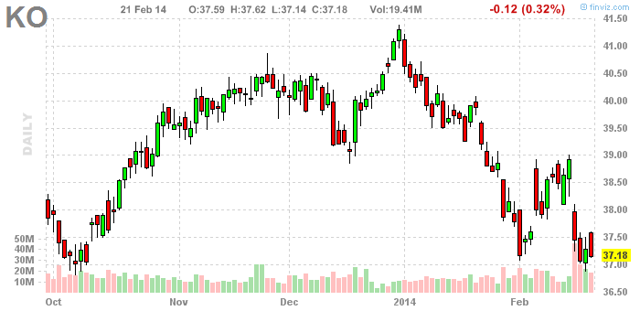 Dividend increased 9% to $0.305 per share
On February 20, Coca-Cola announced that its Board of Directors had approved a 9% increase to its quarterly dividend from $0.28 ($1.12 annually) per share to $0.305 ($1.22 annually) per share. This continues an impressive streak for the company of dividend growth and marks the 52nd consecutive annual dividend increase for Coca-Cola.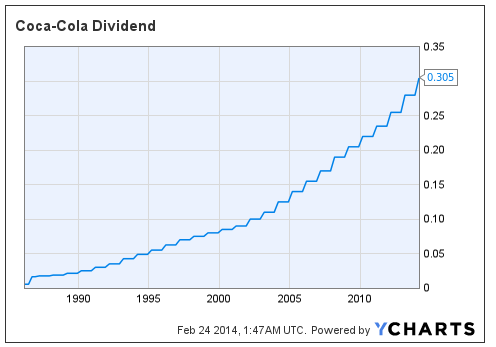 Why was Coca-Cola's increase so large?
I will admit that Coca-Cola's dividend increase caught me by surprise. It was a tad bit larger than what I had been expecting with my previous estimate calling for a 2 cent per share increase to $0.30.
I suspect Coca-Cola may have wanted to increase its dividend substantially while at the same time keeping its total capital return outflows at similar levels to last year's $9.8B ($5.0B in dividends and $4.8B in share repurchases).
With its current share count of around 4.40B, Coca-Cola's new dividend will result in additional dividend payments of about $440M to $450M per year. In total, Coca-Cola dividend payments in 2014 will probably be about $5.40B, not factoring in the effect of share repurchases.
However, Coca-Cola's 2014 guidance calls for share repurchases of only $2.5B to $3.0B, down from $4.80B last year. Assuming the high end of this guidance, Coca-Cola will at most return about $8.40B to shareholders this year, down 15% from the $9.8B in 2013. This will result in an estimated total shareholder return yield (dividends paid plus buybacks divided by market cap) of over 5%.
Do keep in mind that Coca-Cola's new dividend level is largely in line with the estimated currency neutral EPS growth rate of 7% to 9% in 2014. This is an important factor given that the company bases its future dividends on this metric.
However, Coca-Cola's payout ratio will increase given that its GAAP EPS is estimated to come in flat for 2014. Using the new dividend, Coca-Cola forward payout ratios are about 60% to 65% of 2014 EPS and roughly 70% of TTM FCF per share.
Why buy Coca-Cola?
Besides its dividend, there are other reasons to own Coca-Cola. While some may argue otherwise, Coca-Cola is much more than a soda stock. The company controls 17 billion-dollar brands, with many including vitaminwater, Powerade, Minute Maid, and Dasani outside Coca-Cola's traditional carbonated beverage segment.
In addition to its brands, Coca-Cola also runs the world's largest beverage distribution system, with an absolutely massive global footprint. Indeed, much of Coca-Cola's value proposition is based on its ability to produce, deliver, and market products effectively while maintaining high margins.
Conclusion
Coca-Cola is the definition of a blue-chip type investment, with its bountiful 3.30% yield, low debt levels, and massive moat. In addition, few other stocks can match its over 50 years of annual dividend growth.
Much like many other international focused stocks, Coca-Cola is operating well but is facing major forex headwinds. However, these currency headwinds are merely a short to medium term phenomenon and are not likely to be a long-term issue for the company.
Disclaimer: The opinions in this article are for informational purposes only and should not be construed as a recommendation to buy or sell the stocks mentioned. Please do your own due diligence before making any investment decision.
Disclosure: I am long KO. I wrote this article myself, and it expresses my own opinions. I am not receiving compensation for it (other than from Seeking Alpha). I have no business relationship with any company whose stock is mentioned in this article.